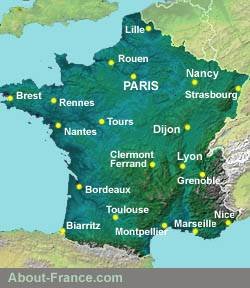 ---
France's biggest sporting event
Each year, hundreds of thousands of locals and holidaymakers turn up in spots all round France to watch not just the cyclists, but also the great "caravan" of floats, cars, media and officals go by... In recent years, the reputation of the Tour de France has been dogged by scandals involving steroids and stimulants. Yet the Tour de France is so big, that the show will go on whatever happens, in the hope that the problems of the past will one day be definitely laid to rest.




Tour de France route map

Map free to copy. Please credit About-france.com
Route map by About-France.com superimposed on enhanced NASA satellite photo of France.

Gites and holiday cottages in France
All regions : direct from the owners -

mostly English speaking


Gitelink.com

Tour de France 2011 - Result.

First five places

1 Cadel Evans Australia 86:12:22

2 Andy Schleck Luxemburg +1 min 34

3 Frank Schleck Luxemburg +2min 30

4 Thomas Voeckler France +3min 20

5 Alberto Contador Spain +3min 57


The route of the 2011 Tour de France

The 98th Tour de France set off on July 2nd from Passage du Gois, in the Vendée, a tidal causeway to the Island of Noirmoutier; this year's route then takes cyclists and their teams through Britanny, Normandy, the Loire Valley, the Centre, Auvergne and the Midi Pyrenees, before crossing to the Alps and heading slowly back north. Mountain stages will take place in the Auvergne (ascent of the Puy Mary) the Pyrenees, and the Alps the race will finish , 3,471 km later, on July 24th, as always on the Champs Elysées in Paris.
(Until 1960 the race finished at the Parc des Princes velodrome in Paris.)
The race can be watched anywhere along the route: near the start of the day's leg, riders tend to be very bunched, and the actual race passes in about a minute. Towards the end of a leg, riders are more spaced out, so the thrill of the race lasts longer. However most of the spectacle comes not from the riders themselves, but from the "caravan", an hour-or-more long procession of cars, floats and motorcycles from the Tour's sponsors and the teams. It's all

very

commercial, with freebies being thrown out to the spectators; cheap baseball caps, little packs of sweets, mini-pretzels, keyrings and other gimmicks. It's interesting to watch, and the kids love it. But if its the actual race you want to see, then it's far better to watch it on TV where the cameras follow the riders from start to finish.

The 2011 Tour de France route :



Stage
Date
Day's route (towns, regions)
Length in Km.
1st Stage
Sat 2 July
Passage du Gois - Mont des Alouettes (Vendée)


180 km

2nd Stage
Sun 3 July
Les Essarts - team trials
23 km
3rd Stage
Mon 4 July
Olonne-sur-Mer (Vendée) – Redon (Brittany)
.198 km
4th Stage
Tue 5 July
Lorient – Mur de Bretagne (Brittany)
172 km.
5th Stage
Wed 6 July
Carhaix - Cap Fréhel (Brittany)
.158 km.
6th Stage
Thu 7 July
Dinan (Brittany) - Lisieux
226 km.
7th Stage
Fri 8 July
Le Mans (Pays de la Loire) - Chateauroux (Centre)
215 km.
8th Stage
Sat 9 July
Aigurande (Centre) - Super-Besse / Sancy (Auvergne)
190 km.
9th Stage
Sun 10 July
Issoire - St. Flour (Auvergne)
208 km.
Rest Day

Mon 11 July
Le Lioran (Cantal, Auvergne)
none
10th Stage
Tue 12 July
Aurillac(Auvergne) - Carmaux (Midi-Pyrénées)
161 km.
11th Stage
Wed 13 July
Blaye les Mines - Lavaur
(Midi-Pyrénées)
.168 km
12th Stage
Thu 14 July
Cugnaux - Luz-Ardiden
209 km.
13th Stage
Fri 15 July
Pau - Lourdes
156 km.
14th Stage
Sat 16 July
Saint-Gaudens – Plateau de Beille (Midi-Pyrénées)
168 km.
15th Stage
Sun 17 July
Limoux - Montpellier
187 km.
Rest day
Mon 18 July
.
none

16th Stage

Tue 19 July
Saint-Paul-Trois-Châteaux (Rhone Alpes) - Gap
163 km.
17th Stage
Wed 20 July
Gap (Alpes-Provence) – Pinerolo (Italy)
179 km.
18th Stage
Thu 21 July
Pinerolo – Col du Galibier / Serre Chevalier (Alpes-Provence)
189 km
19th Stage
Fri 22 July
Modane - Alpe d'Huez (Rhone Alpes)
109 km
20th Stage
Sat 23 July
Grenoble - Grenoble (Rhone Alpes) time trials
41 km.
21st Stage
Sun 24 July
Creteil –

Paris

(Ile de France)
160 km.


Total length: 3,471 km
For the record: route of the The Tour de France 2008 : Tour de France 2009
Tour de France 2010


With almost 200 cyclists, including many of the world's best, the Tour de France - which first took place in 1903 - is certainly a great sporting event; nonetheless, it is an event that has been marred - even heavily marred - in recent years by doping scandals, with cyclists proving positive in anti-doping tests. The 2008 race was no different from others, and at a small number of competitors were withdrawn from the race following a positive doping test.

Yet in spite of the doping scandals, and the withdrawal in recent years of certain major teams, the "Tour" goes on, and it is difficult to imagine how it could not. This mega sporting event is worth millions of Euros in advertising, sponsorship and worldwide television rights, attracts millions of spectators, and is one of Europe's great media circus acts.
For the hundreds of thousands who turn up to line the route, the cycling is actually only a tiny bit of the show: While the time-trial races may offer a more long-drawn-out cycling experience for spectators, with competitors taking part one by one, on normal race days the riders may go past in just a minute, especially in the earlier part of a day's leg, before the participants have become more spaced out. But then, the actual race is just a small part of the show. Starting some two hours before the race, the "Caravan" is a cavalcade of floats, decorated cars and other vehicles that moves along the route, throwing out goodies and free samples to the spectators; it is a massive advertising stunt. The advertising caravan, made up of the Tour's official sponsors, is followed by a long line of official cars, technical vehicles, media and motorbikes, lights flashing, horns sounding, all warming up the spectators for the actual event itself. Then, at last, the riders come by - and are gone again as quickly as they appeared, pounding uphill or downhill at speeds that can reach 50 mph or more. A bit of an anti-climax.... And with that, the day's excitement is over.
Anyone wanting to watch the race in a serious manner would be well advised to do so on television; but for a day's outing, with all the fun of the crowds, the waiting, the caravan, and the atmosphere, watching the Tour go by is as good as many other events, and what's more it's free.
The Tour can be watched all over France, and each year the route is different, taking in at least one leg in another country. The 2011 Tour de France will start in the Vendée, on the west coast of France.
If you go to watch the Tour, specially with kids, take care! Don't let children stand too close to the road, and never cross the road while the caravan is passing.

Tourists wanting to book holiday accommodation along the route are advised to do so early.

Click here for

holiday cottages

or for

bed and breakfast accommodation

in France.

Visit the

Official site

of the tour de France

Tourist attractions in France, by region :

France in general:

The main historic monuments and tourist attractions in France

Follow these links for a more detailed list of major tourist attractions in the following regions:

Paris tourist attractions

Auvergne tourist attractions

Brittany tourist attractions Things to see and do in Languedoc-Roussillon Tourist attractions in Limousin

Tourist sites in the Midi-Pyrenees region

Tourist attractions in Normandy Tourist sites in the Pays de la Loire Tourist attractions in the Poitou-Charentes region Provence tourist attractions

A brief introduction to the

regions of France

Advertisements



***



---



***



---




Copyright © About-France.com 2009-2011