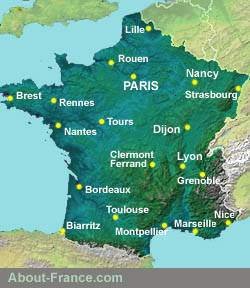 Hotel classification:
This guide classifies hotels into three categories, for three different types of traveller:
BCK

-

Hotels for backpackers

Cheap hotels or hostels offering very basic but acceptable accommodation essentially for younger travellers.

ECO

-

Budget hotels

Two or three star hotels providing the essential comforts for visitors on a limited budget.

UPS

-

Upscale hotels

,

High-end three star hotels and above, boutique hotels and other hotels offering comfortable and fully serviced accommodation.
Click the name of any hotel for full details and online booking at best rates
Page 2 : other cities
Return to page 1:
hotels near railway stations in the main French tourist cities: Paris, Dijon, Lyon, Marseille, Strasbourg, Nantes, Nancy, Bordeaux, Toulouse, Nice
►
Cities listed in alphabetical order
Hotels have been carefully selected from among the choice available, giving priority to well reviewed hotels, hotels offering good or reasonable value, and hotels in relatively quiet locations
Avignon
ECO

/

UPS

- Hotel Kyriad Avignon Courtine Avignon TGV station
Modern three star hotel with 100 rooms, located 500 metres from the station car park. No restaurant. Note that the Avignon TGV station is outside town, though there are regular bus services into town.


UPS

- Hotel Cloître Saint Louis, Avignon
Located three hundred yards from the Avignon city train station, this four-star hotel is housed in an old monastery on a side street within the old city of Avignon. It has a pool in season. Plenty of character in the old parts of the hotel, less in the modern wings. Located close to the Cours Jean Jaur�s, the main shopping street, and within walking distance of Avignon's historic sites.
Annecy
Besançon
ECO

/

BCK

- Etap hotel Besançn gare Viotte
Right opposite the station, close to the ramparts, this is a classic Etap hotel, clean and simple. A footpath running through attractive gardens links the station and the historic city centre. Notre that the new Besançon TGV station, opened 2011, is well outside town. There are shuttle trains from the TGV station to Viotte station, in town.
Cannes
ECO

Best Western Hotel Univers
This three star hotel with 71 rooms lies in the heart of old Cannes, between the railroad station and the sea front. Bar and breakfast room on the sixth floor, with views out over the rooftops of Cannes. Well furnished comfortable bedrooms, and a great location for exploring Cannes.

ECO

/

BCK

- Hotel PLM Cannes
Small, bright, clean quiet and friendly two star hotel, named after (or in American English, named for) the old Paris-Lyon-Marseille railway company. Lots of good reviews. A short walk from the train station, and from the beach and the famous Croisette boulevard. Plenty of caf�s and restaurants in the vicinity.
Grenoble
ECO

/

UPS

- Hotel Best Western - Terminus
Located just opposite the Grenoble railway station, the Hotel Terminus is a classic three-star hotel. Friendly staff, fairly spacious and comfortable rooms. There are plenty of restaurants in the area, including Chinese and other ethnic restaurants.

ECO

/

UPS

- Hotel Novotel Grenoble Centre
Large clean rooms, many with views to the mountains; friendly staff. The hotel has a restaurant and a bar, and fitness facilities. It is situated two minutes from the station, in a calm location in the Europole WTC convention centre, with easy access to the town centre.
Le Mans
ECO

- H�tel Chantecler *** Attractive modern three-star hotel with 32 rooms 500 metres from the station. The hotel is located in a quiet street. Clean, functional and spacious rooms. There are restaurants close by, and plenty more towards the town centre.
Lille
ECO

/

UPS

- Suite Novotel Lille Europe
Upscale three-star hotel located right beside the Lille Europe station (Eurostar from London, Brussels, TGVs from all over France). The hotel 126 spacious 30 m² suites, and a bar. It is in easy walking distance of the Euralille shopping mall, and in walking distance of old Lille, with its historic quarter and art galler'ies.

ECO

Ibis Lille centre gares
Located opposite the Lille Flandres train station (TGVs from Paris), and 500 metres from the Lille Europe station, this two star hotel is clean and comfortable, with welcoming staff. Very easy access on foot to old Lille.
Metz
Rennes
Rouen
Tours
ECO

- The Hotel Kyriad Tours - Saint Pierre des Corps TGV station
Hotel on the station forecourt, and a good choice for visitors arriving by train. 98 air conditioned rooms. Good restaurant and friendly staff. Plenty of public transport into town. Note: the Saint Pierre des Corps station is on the outskirts of Tours. It is served by TGV services on the Paris - Poitiers - Bordeaux route
Tickets online

Train tickets can be ordered online - and even printed out on your own computer like low-cost airline reservation forms
More details are available from the
Rail Europe site
. Rail Europe is the online international ticketing service of SNCF, the French national rail company. On the website you can check offers, buy rail passes, and get tickets sent to your address anywhere in the world
Click the map for full screen version

provided.