An interactive road map of France
Explore France and check out national and local routes in detail with this interactive map. To save and print any detailed map, take a screenshot of the selected area and save it as an image.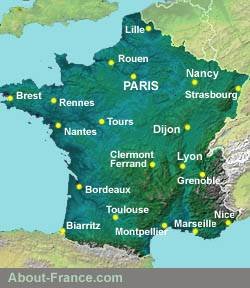 France in fine detail...
Please wait if detail is slow to load.
Road numbers
Zooming in further will progressively show up more road numbers and the names of smaller towns and villages.
Route maps
with descriptions and hotels
►
South & SW: routes via Rouen - E5, E9, E11
►
Southwest : A10 Paris-Bordeaux - E5
►
Southeast :
A26 - routes via Reims - E17, E15
►
Belgium to Normandy : A19 / A44 route
Routes through France avoiding tolls:

Options using minimal tolls;
Website and content © About-France.com 2007 - 2023 except when otherwise indicated