An interactive road map of France
Explore France and check out national and local routes in detail with this zoomable map. To save and print any detailed map, take a screenshot of the selected area and save it as an image. Map from Google.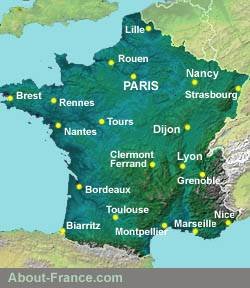 France in fine detail...
Zooming in in great detail using the "map" function, and then changing to the "satellite" function, will even allow you to view a street or a motorway junction or a hotel from the air in fine detail; check out parking areas, traffic lanes and the position of a building in relation to others round it.... as long as you can locate the right building.
Route maps
with descriptions and hotels
►
South & SW: routes via Rouen - E5, E9, E11
►
Southwest : A10 Paris-Bordeaux - E5
►
Southeast :
A26 - routes via Reims - E17, E15
►
Belgium to Normandy : A19 / A44 route
Routes through France avoiding tolls:

Options using minimal tolls,
Website and content © About-France.com 2003 - 2018 except when otherwise indicated