About-France.com
- the thematic travel guide to France
Buy French train tickets and Eurostar tickets online
All French train tickets can be ordered online - and even printed out on your own computer as an e-ticket, or stored on your phone as a QR code, like plane tickets. But not from all sources. And not all online ticket sellers sell worldwide, and some charge more than others.
About-France.com recommends
Trainline.com
Best rates, no extra fee, no surcharge, seating choice.
Available worldwide for print-your-own tickets or e-tickets or QR code.
Eurostar provides city-centre to city-centre high speed train services between London and Paris (and Brussels).
But there are also some other direct services, and plenty of other destinations can be reached with an easy change to French TGV services at Lille Europe station.

The most convenient
means of travelling by train from London to provincial cities in France is to take the Eurostar (click for the Eurostar website with prices and booking) from St. Pancras, Ebbsfleet or Ashford to
Lille Europe
, and connect at
Lille
to a French TGV.
There are direct TGV connections from Lille to the main towns and cities in most regions of France, including Bordeaux, Rennes, Nantes, Dijon, Besançon, Lyon, Avignon, Aix en Provence,
Marseilles
, Montpellier, Perpignan or Nice. By changing at Lille, travellers do not need to change stations and haul their luggage across Paris. At Lille Europe station, Eurostar trains from London and Brussels use the same platforms as French TGVs going all over France. See
Rail travel in France.
Eurostar direct services to France
The
fastest Eurostar service from London to Paris
is now just 2h 35 minutes from city centre to city centre; depending on the season, there are also seasonal direct Eurostar services from London to Bourg St Maurice in the Alps, and from London to Lyon, Avignon and Marseille, in
Provence. Eurostar also offer direct Disneyland special services to Paris-Marne la Vallée station. Apart from the direct services, the Paris Disneyland can be reached by changing onto a French TGV train at Lille Europe.
By changing at Lille Europe station you can reach a large number of destinations across France with just a single connection. France's SNCF has recently improved the connections schedule; and in France, when two trains are meant to connect, in the event of a delay the second train is held up until the first one has arrived - unless the connecting train is terribly overdue.
Visit Rome2Rio.com for more information on
Eurostar
►

Flying to France: check out the flight guide for France information page
►

Car ferries to France: check out the cross-Channel ferry information page
To contact About-France.com, use the
form
provided.
We are sorry but About-France.com does not have the resources to provide help with individual travel plans
.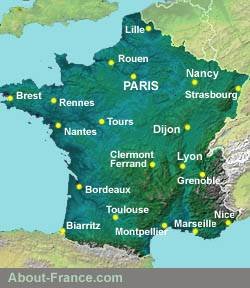 ►►Discover About-France.com
About-France.com home
Full site index
About-France.com site search
►► Principal chapters on About-France.com :
Guide to the regions of France

Beyond Paris, a guide to the French regions and their tourist attractions.
Guide to Paris
Make the most of your trip to Paris; Information on attractions,
Paris hotels
, transport, and lots more.
Accommodation in France
The different options, including
hotels
, holiday gites, b&b, hostels and more
Tourism in France
The main tourist attractions and places to visit in France - historic monuments, art galleries, seasides, and more
Planning a trip to France
Information on things to do before starting your trip to France.
Driving in France
Tips and useful information on driving in and through France - motorways, tolls, where to stay....
Copyright notice: Website and text © About-France.com 2003 - 2019 except where otherwise indicated.
Photo top of page by Florian Peppelin - Creative commons licence