About-France.com
- the thematic guide to France
Toulon - home to the French Mediterranean fleet
Toulon and vicinity
Toulon
is a historic French city on the Mediterranean coast, about 40 miles southeast of
Marseilles
. It is the most important naval base in France, and is home to the French Mediterranean fleet. It is also a ferry port with services to Corsica and to Sardinia.
The anchorage of Toulon is one of the best protected natural harbours on the Mediterranean.
Toulon has been a port city since Roman times. The Romans called the settlement
Telo Martius
, a name that with time turned into the modern name Toulon.
Toulon became a naval port at the end of the 15th century shortly after the death of King René of Provence, when Provence became part of France. From then on, it played a capital role in French naval campaigns in the Mediterranean . As an important military base, the city had its fortifications rebuilt and strengthened by Vauban in the seventeenth century.
For two years during the Napoleonic wars, the port of Toulon was blockaded by Nelson and a British fleet. During the second world war, the French Mediterranean fleet was scuttled in the anchorage of Toulon, to prevent it from falling into German hands; later the the naval area and much of the city nearby was subjected to intense Allied bombardment.
Today, other than for activities relating to the naval dockyards, Toulon is no longer an industrial city; as capital of the Var department, which encompasses a good part of the French Riviera, it is an administrative centre, with a university set up in the 1970s.
The Toulon suburbs of Six Fours les Plages and Saint Mandrier, both accessible by city buses, have some attractive coastline and small beaches. The nearest beaches to the centre of Toulon are located a mile south of the city centre, at Le Mourillon, and can also be reached by bus.
Tourist attractions in Toulon
Compared to other coastal towns and cities in the Var department, Toulon is not considered as a tourist city. However it has its share of historic monuments and other tourist attractions. These include notably
The old town.

Old Toulon is a typical Mediterranean city, with narrow streets and attractive squares and fountains.It has been considerably renovated in recent decades.

The port and quayside

. Boat trips round the port and anchorage.

Téléphérique du Mont Faron.

Just a mile from the old city, take a cable car to the top of Mont Faron, 584 metres above sea level. One of the only coastal cable cars in Europe. Views from the top are stupendous. It is also possible to drive nearly to the top of the mountain. However the zoo gets a lot of poor reviews.

Naval museum.

On the quayside, Avenue de la République. French national museum of naval history
Places to visit near Toulon
Cassis and the Calanques
Toulon is for many tourists a departure point for the ferry to Corsica or Sardinia; but there are plenty of tourist attractions nearby.
The French Riviera - stretching for 100 miles northeast from Toulon, the Riviera is the most famous part of Mediterranean coastline in Europe, with small and large resorts, including Saint-Raphaël, Saint Tropez, Juan les Pins, Antibes, Cannes and onwards to Nice. Many resorts can be reached by local train from Toulon, since the railway follows the coast for much of the way to Nice.

Les Calanques and Cassis

- to the west of Toulon. Dramatic cliffs overlooking the Mediterranean, with narrow inlets. France's newest National Park.

Port Cros National Park

- France's only marine national park, covering the islands of Port Cros and Porquerolles and the sea around them. Access by boat from Port Saint Pierre in Hyères, or from Le Lavandou. No vehicles.
Marseilles - 50 km west of Toulon. Museums, old port, cathedral

The Var

department, inland. Discover the wild countryside of the Var, away from the coast. Pine forests, vineyards, olive groves, and small towns and villages.
Location and access
Located on the French Mediterranean coast, Toulon has good road, rail and air links to Paris and many other European cities.
By air

Toulon airport is served by a few low-cost flights from the UK. The nearest major airport, with connections to many UK airports, is Marseille-Provence. For details see Fly to France.

By train

Toulon is accessible by direct high speed train services from Paris and many other French cities. Timetables and tickets

By car

Driving from Calais to Toulon : Distance (via Reims and Lyon) 1135 km. Driving time - around 10½ hours.
Driving from Paris to Toulon; 850 km, via A6 and Lyon. Time around 8½ hours.

By Ferry.

Direct ferries from Corsica and Sardinia.
Copyright © About-France.com 2007 - 2023 except where otherwise stated.
Key information for Toulon :

Region
:
Provence - Alpes - Côte d'Azu
r
Nearby cities
:
Marseilles
Nearest airports

:
Toulon, Marseilles
Population
: Urban area: about 560,000 - the ninth largest urban area in France.
Toulon hotels
The About-France.com selection
★★★
Hotel des Voiles
- Three star hotel a short distance from the beaches and from ferry terminal. Some rooms with sea views. Use of private beach. Free public parking close by.
★★
Ibis budget Toulon Centre
- Budget hotel located close to the old town and the ferry port. Public parking close by.
★
★
★
★
Grand hotel des Sablettes
- boutique hotel with sea views just by the isthmus to Saint Mandrier. Pools, sauna, jacuzzi. Secure parking on site (daily charge)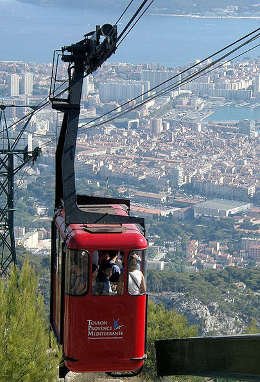 Cablecar to Mont Faron
►► Site guide
About-France.com home
Full site index
About-France.com site search
►► Principal chapters on About-France.com
The regions of France

Beyond Paris, a guide to the French regions and their tourist attractions.
Accommodation in France

Guide to Paris
Tourism in France
The main tourist attractions and places to visit in France - historic monuments, art galleries, and more
Planning a trip to France
Information on things to do before starting your trip to France.
Driving in France
Tips and useful information on driving in and through France - motorways, tolls, where to stay....
Maps of France
Cities, towns, departments, regions, climate, wine areas and other themes.
The French way of life
A mine of information about life and living in France,
A-Z dictionary of France
Encyclopedic dictionary of modern France
Copyright © About-France.com except;
Photo top of page. Creative commons photo by David Monniaux.
Cablecar photo by M. Specht
Map enhanced from a base by Openstreetmap.org