About-France.com
- the thematic guide to France
In order to establish a "top fifty" of the "best places to see in France", we have taken into account a number of criteria, notably urban environment and cityscape, museums, historic monuments and other attractions, accessibility, and things to see and do in the immediate vicinity. Yet like any "best of", the classification is by nature subjective, an opinion of the reviewers. Every traveller will have his or her own best places in France, depending on what they have actually seen, and what they are interested in.
In choosing our top fifty best cities, About-France.com has not taken into account criteria such as hotels, restaurants, and shopping, as these are part of the fabric of any city.
The ten biggest cities in France , ranked in "must see" order




| Rank | City | Stars | Points of interest and attractions |
| --- | --- | --- | --- |
| 1 | Paris | ***** | Paris is in a category of its own, and in any competition for "best cities in France", it has to be top. There is just so much to see and do in Paris; world class museums, monuments and other attractions. From the Eiffel Tower to the Louvre or Disneyland, Paris has it all, and lying at the hub of France's national and international communications networks, it is by far the most accessible of French cities. |
| 2 | Nice | **** | Located on the French Riviera between rugged hills and the azure waters of the Mediterranean, the city of Nice has a great deal to offer the visitor, from its beaches and its renowned flower market, to its old town, its several art galleries and its old port. The long sweep of the Baie des Anges is a magnificent beach, bordered by the Promenade des Anglais - named after the first tourists who, in the late 18th century, began to transform a sleepy fishing port into the Mediterranean's premier resort. The area round Nice is breathtaking, and Nice airport is well served by international carriers. |
| 3 | Strasbourg | *** | Today seat of the European parliament, Strasbourg is one of the great historic cities of Europe. The old city, with its magnificent gothic cathedral, narrow streets, half-timbered houses and canals, is one of the finest old city centres in France. Strasbourg is accessible by TGV from Paris, and easily accessible from Germany and Benelux. |
| 4 | Lyon | *** | Lyon has an historic centre, between the rivers Saône and Rhône. The Place Bellecour is a fine urban piazza. To the west of the Rhone the old quarter of Fourvière rises steeply up from the quais of the Saône. The urban ensemble, which is a UNESCO world heritage site, is attractive and historic but not breathtaking. Lyon is great for a weekend break, and the city has a good selection of museums, lots of shops, and is particularly famous for its many good restaurants, making it the gourmet capital of France. |
| 5 | Toulouse | *** | The "pink city" has an attractive and quite distinctive old centre with a distinct Mediterranean flavour. Worth visiting are the magnificent St Sernin basilica, the Jacobins church and cloisters, and the Place du Capitole, a very fine city piazza. The Bemberg foundation is one of the better provincial French art galleries. Beside the city centre is the Canal du Midi, the oldest canal in Europe and a UNESCO world heritage site. Toulouse - home to Airbus - also has a popular aerospace museum and aircraft museums. |
| 6 | Marseille | *** | This ancient Mediterranean port has a vibrant city centre, with its main thoroughfare La Canebière. Worth seeing are the city's cathedrals and the medieval St. Laurent church. The old port area is very attractive, and boat trips can be taken to the historic fortress on the Ile d'If, lying in the middle of the bay. |
| 7 | Bordeaux | *** | This great old port city, on the banks of Gironde estuary in southwest France, has a large old centre, much of it dating from the 17th to 19th centuries with some fine monuments. and a good art gallery. The 18th century theatre is the finest theatre of its period in France. The area round Bordeaux is famous for its vineyards. Cruise liners tie up on the embankment right in the heart of the old city. |
| 8 | Lille | ** | The old city centre of Lille is famous for its Flemish squares and belfries. See also the 17th century Citadel, and the Lille art gallery, reputed to be the second best in France after the Louvre. Lille also boasts a good modern art gallery, and there is another must-see gallery, La Piscine, in the suburb of Roubaix. The Lille zoo is a popular place with locals and tourists alike. |
| 9 | Nantes | ** | The old city centre has narrow pedestrian streets, with an almost Parisian feel. The city's two main monuments are the St. Pierre cathedral and the Chateau of the Dukes of Brittany. Boat trips can be taken up the Erdre river, flanked by a succession of old mansion houses. |
| 10 | Toulon | * | A naval port city with an industrial heritage, Toulon has an attractive old quarter near the old port; but it is the city's beautiful Provençal hinterland and the fine coast to the east and the west that are generally more visited than the city itself. |

While France's ten biggest cities have plenty to offer, for many visitors the best and
most interesting
places to see in France are the smaller cities, places that are not necessarily on the main tourist routes. More French, less cosmopolitan, easier to take in, all of these smaller regional centres are very much worth the visit.
Some of the cities in this second table - like Grenoble, Rennes or Montpellier, are large cities, with up to half a million inhabitants; others like Annecy, Albi or Vichy are much smaller.
(In
red bold
type: cities that are or contain UNESCO world heritage sites)
Most popular smaller cities in France :



Star rating

Towns and cities

***

Aix-en-Provence,

Albi

, Annecy,

Arles

,

Avignon

,

Besançon

, Carcassonne, Dijon, La Rochelle,

Nancy

, Nimes, St. Malo,
**
Angers, Cannes, Chambéry, Clermont-Ferrand, Colmar, Grenoble, Le Puy en Velay, Metz, Montpellier, Poitiers, Orleans, Pau, Rennes,

Reims

, Rodez, Rouen, Tours Troyes,
*
Angoulême, Arras, Beauvais, Biarritz, Blois, Bourges,

Chartres

, Laon, Le Mans, Limoges, Narbonne, Périgueux, Quimper, Vannes, Vichy
Even smaller : Small towns and villages in France
And for those whose idea of a holiday is to escape the metropolis or the urban environment, France has thousands of small towns and villages – not to mention its châteaux, remarkable landscapes, coasts, forests and other sites worth visiting. For further details, explore About-France.com, and in particular:
Click here for a
detailed map of France
, which you can scroll and zoom on any area.
Copyright © About-France.com 2008 - 2018 except where otherwise stated.
Fifty places to visit in France. Paris and the rest – the big cities and the smaller ones that are well worth seeing

Nice - the old port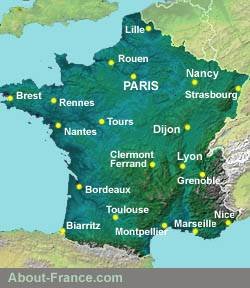 Old Strasbourg
►► Site guide
About-France.com home
Full site index
About-France.com site search
►► Principal chapters on About-France.com
The regions of France

Beyond Paris, a guide to the French regions and their tourist attractions.
Accommodation in France

Guide to Paris
Tourism in France
The main tourist attractions and places to visit in France - historic monuments, art galleries, and more
Planning a trip to France
Information on things to do before starting your trip to France.
Driving in France
Tips and useful information on driving in and through France - motorways, tolls, where to stay....
Maps of France
Cities, towns, departments, regions, climate, wine areas and other themes.
The French way of life
A mine of information about life and living in France,
A-Z dictionary of France
Encyclopedic dictionary of modern France
Other "

bests

" pages on About-France.com