About-France.com
- the connoisseur's guide to France

On this page .......
►
Route maps - from Calais / Le Havre to the south of France and beyond
1.
►

HGV driving restrictions in France

Most heavy goods vehicles over 7.5 tonnes are banned from the French road and motorway network every weekend between the hours of

10 p.m Saturday

and

10 p.m Sunday.

There are exceptions for trucks carrying perishable produce or refrigerated produce, trucks servicing sporting events or trade fairs, and a few other cases
Additional Summer weekend HGV bans in France.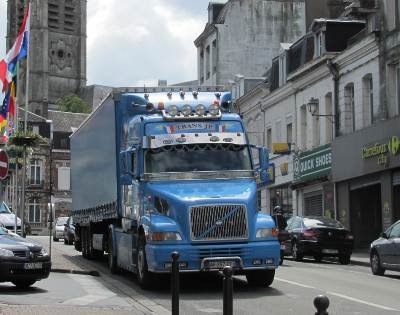 The weekend truck ban is longer from early July to mid August, when HGVs are banned from Saturday 7 a.m. to 7 p.m., and then from Saturday 10 p.m. to Sunday 10 p.m. In other words, during these July and August weekends, there is a 3 hour window of opportunity on Saturday from 7 p.m. to 10 p.m. for HGVs to reach their destination or get out of France to a country without weekend HGV bans (unless the Saturday in question is a public holiday - see below.)
HGV's are also banned on
public holidays
, normally from 10 p.m the night before, until 10 p.m on the holiday itself. The two big summer public holidays in France are 14th July and 15th August. When these public holidays fall on a Saturday or Sunday, Lorries are banned 24/24.
Paris area HGV restrictions:
Further restrictions apply for HGVs in the Paris area,
HGVs cannot
enter
the Paris area on Mondays and day following a public holiday, from 6 a.m to 10 a.m),
HGVs cannot
leave
the Paris area on Fridays and days preceding a public holiday, usually from 4 p.m. onwards.
This means that trucks cannot transit via the inner ring road of Paris (boulevard périphérique) during these hours.
HGV restrictions on Alpine motorways
There are also extra weekend lorry bans on Alpine motorways in February - though given the traffic jams that are possible here at the time, these routes are best avoided by anyone not needing to use them - lorries or cars, ban or no ban.
Other parts of Europe:
Note that trucks are also banned on Sundays in Italy, Luxembourg and Germany (full ban Sundays, part ban on Saturdays). Trucks are banned in Switzerland on Sundays.
Weather conditions
Check out weather forecasts for France, specially in winter. With the general exception of western routes via Tours and Bordeaux, routes crossing France towards Germany, Switzerland, Italy and Spain (Portugal) may be subject to heavy snow, notably in mountain areas (Alps, Vosges, Massif Central). Most of the time the snowplough teams will do a good job keeping traffic moving, but sometimes the snow falls faster than it can be removed.... and it just takes one jacknifed HGV to cause chaos...
Trunk roads not accessible to HGVs
There are a small number of trunk routes in France from which HGVs over 7.5t or over 19t. are permanently banned.
The most important of these are:
In other places, HGVs may be banned from short sections of route, and obliged to use a nearby alternative.
2. HGV motorway tolls
French motorway tolls for HGVs:
Most French motorways are toll routes. The price per kilometre varies from toll motorway to toll motorway, but generally speaking, for trucks or lorries it is between 18 centimes per kilometre and 35 cts./km
There are two
classes of tolls
for HGVs : Class 3 tolls apply to lorries with two axels; class 4 tolls apply to vehicles with more than two axels - notably articulated trucks and semitrailers.
Sample toll charge for HGVs:
Paris - Strasbourg (480 km on motorways):
Class 3 toll 86.10 € ( 18 centimes per kilometre)
Class 4 toll 114.30 € (24 centimes per kilometre)
Class 1 toll (cars) (8 centimes per km.)
More information:
3. Secure truck / HGV parking areas on French motorways
There are a number of secure HGV parking areas on French motorways. Some are on service areas, others are a few hundred metres from the motorway. These areas provide secure lit parking for trucks 24/24 and 7/7, and are manned by security staff and watched closed-circuit TV cameras.
A1 Vermars west service area, southbound Lille-Paris only (Just before Paris)
A1 Exit 20 - Lesquin, near Lille
A2 Valenciennes, exit 20 (Between Paris & Brussels) Off motorway park with 300 spaces.
A 10 junction 11 A10/A83 interchange. Off motorway secure parking for 40 trucks
A 16 exit 48 near Calais Transmarck Polley secured lorry park. Off motorway, 210 spaces.
A 16 exit 48 near Calais All4Trucks secured lorry park. Off motorway, 150 ->300 spaces.
A 31 Junction 6, Langres south (between Reims and Dijon or Nancy & Dijon) Private off-motorway park.
A 43 L'Ile d'Abeau North service area, between Chambery and Lyon, Lyon direction only.
A 46 Lyon eastern orbital motorway. Communay service area secure truck park, south of Lyon
A 7 Montelimar east service area. Between Lyon and Avignon. 129 places
A 9 Lunel interchange. Near Nimes between Avignon and Montpellier 149 spaces.
A9 Beziers - Exit 36 Beziers west. Off motorway park with 330 spaces
A9 Narbonne - Exit 38 Narbonne south. Euro-Diesel Services truck park. Off motorway
---
Other useful sites:
Text and photos copyright 2007 - 2023 About-France.com