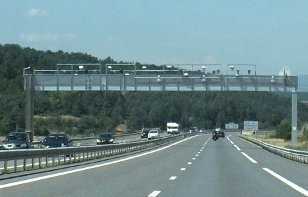 This photo shows an ecotax camera gantry, not an average speed camera gantry
The map above shows the principal arterial routes through France;

red
for toll motorways,
blue
for free motorways, and
green
for main trunk routes, which are mostly dual carriageways or divided highways – though this is not always the case. For detailed information on certain specific routes, see below.
Average speed cameras - called radars tronçon - have graced French roads since 2012. Don't look for a gantry; in most cases they are just mounted on posts on the roadside, like other speed cameras only slightly higher up. Though mainly on motorways and major trunk routes, they can be found on minor roads too.
The large
gantries
spanning free motorways and major dual carriageway routes (photo right) are not speed cameras, but ecotax cameras solely for HGVs over 7.5 tonnes. For more about this, see
HGVs in France
page.