Motorway map of France.
The French motorway network,

2017

, plus other non-motorway trunk routes.


Map Key
–
Toll
motorways
–
Free
motorways
–
Non-motorway
trunk routes, mostly dual- carriageway / divided highway.
Note:
HGV
s . Trunk routes and "free" motorways are not free for HGVs. See
HGV information for France
►► Site guide
About-France.com home
Full site index
About-France.com site search
►► Principal chapters on About-France.com :
The regions of France

Beyond Paris, a guide to the French regions and their tourist attractions.
Guide to Paris
Tourism in France
The main tourist attractions and places to visit in France - historic monuments, art galleries, seasides, and more
Planning a trip to France
Information on things to do before starting your trip to France.
Driving in France
Tips and useful information on driving in and through France - motorways, tolls, where to stay....
Maps of France
Cities, towns, departments, regions, climate, wine areas and other themes.
The French way of life
A mine of information about life and living in France, including working in France, living in France, food and eating, education, shopping.
A-Z dictionary of France
Encyclopedic dictionary of modern France - key figures, institutions, acronyms, culture, icons, etc.
Map of the French motorway network, plus main non-motorway trunk routes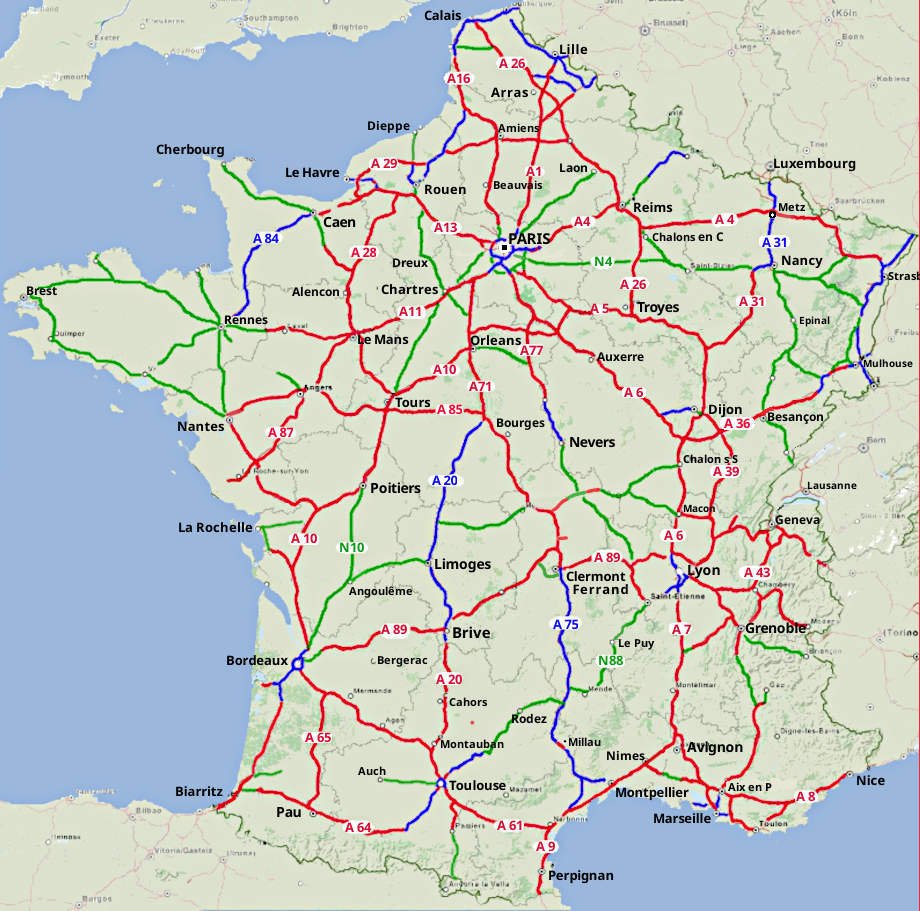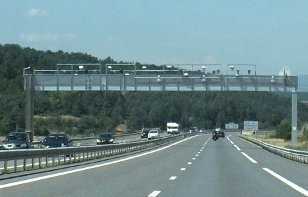 This photo shows an ecotax camera gantry, not an average speed camera gantry
The above map shows the principal arterial routes through France;

red
for toll motorways,
blue
for free motorways, and
green
for main trunk routes, which are mostly dual carriageways or divided highways – though this is not always the case. For detailed information on certain specific routes, see below.
Average speed cameras and ecotax cameras.
Average speed cameras - called radars tronçon - were introduced in France in 2012, and they are appearing in many places. Don't look for a gantry; in most cases they are just mounted on posts on the roadside, like other speed cameras only slightly higher up. Though mainly on motorways and major trunk routes, they can be found on minor roads too.

The large

gantries

spanning free motorways and major dual carriageway routes (photo right) are not speed cameras, but ecotax cameras solely for HGVs over 7.5 tonnes. For more about this, see

HGVs in France

page.




More information on France:



Return to About-France home page Full site index

To contact this website, send an email to info "at" about-france.com



Copyright notice:

Website and text © About-France.com 2003 - 2017 except where otherwise indicated.

Motorway map based on open source background map of France from Openstreetmap.org