Information and tips:
Book
early to avoid disappointment: hotels on the Brittany coast can book up fast at holiday times. Particularly if you plan to visit Brittany in July and August, the advice has to be: book now, if the hotel still has vacancies for your dates. next week it might be too late....
Choice of hotels:
About-France.com does not propose a large choice of hotels. This is because we apply strict criteria. To be listed on About-France.com, hotels must meet our criteria for location, value and good user reviews.
Booking:
for further details of each hotel, and for booking, you will be redirected to one of the major online booking portals, or, for hotels belonging to the Accor group, directly to the group's website. These booking portals all guarantee the best prices which can represent a considerable saving compared to standard room rates. As with air travel, advance booking of hotel rooms is not just a guarantee, it generally means better rates too.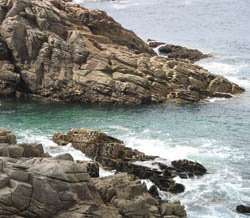 The rocky coast of Brittany
---
Hotels beside the sea in Brittany, France
Click map to enlarge

Cette page en français
Only
well reviewed hotels .....
Hotels at the seaside or on the clifftops. A small, because carefully selected, choice of hotels located less than 500 metres from the water's edge, and in many cases right on the shoreline; hotels in towns, villages or isolated locations. Direct online booking

Click any hotel name

for

more details photos location map & direct online booking
►
View Brittany hotel locations on the map
On the
north coast of Brittany, from east to west
Saint Malo

(35 Ille et Vilaine)


Hôtel Beaufort *** . Difficult to find a bad review of this hotel, located in a calm area on the sea front at Saint Malo. Everyone loves it as an ideal location for a seaside stay. The hotel gets commended for cleanliness, value, the friendliness of the staff, and the location, right on the sea front and in easy walking distance of the historic walled city centre.
Saint Malo

(35 Ille et Vilaine)


Hôtel Oceania ****. This smart modern hotel stands on the beachfront on Sillon Beach. It offers luxury accommodation, and has an open-air jacuzzi. The air-conditioned guest rooms have views to the walled city or the sea. The terrace has a panoramic sea view. Good restaurants close by, parking, three minutes on foot from the walled city; well recommended by travellers.

Sables -d'Or les Pins, Fréhel


Hotel Logis de Diane *** This hotel, with 47 rooms, has been in the same family for four generations; a classic three star hotel combining an established tradition with the expectations of today's guests. It stands in spacious grounds, a couple of hundred yards from a fine sandy beach. Situated just north of Erquy.
Saint Quay Portrieux
The *** Au Ker Moor hotel sits on the clifftop near the harbour of this small Brittany fishing village. 27 rooms, most with wonderful sea views. Very quiet location, friendly atmosphere, and good breakfasts. Five minutes walk to the beach


Ploubazlanec

near

Paimpol (22 Côtes d'Armor)


Le Relais De Launay *** . A delightful small Breton hotel with ten rooms, in the seaside village of Ploubazlanec. Rooms with sea view, excellent value for money. Garden, parking, easy reach of beaches and coastal footpath. Excellent reviews. Between Saint Brieuc and Paimpol.

Ploumanach,

near Perros Guirec (22 Côtes d'Armor)
Hôtel de l'Europe ** . Out-of-the-way two-star hotel in a small seaside village just north of Perros Guirec. The hotel is in a quiet location just a few yards from a sandy beach and rocky coves. Reasonable sized rooms, good breakfast, and good value for money according to guests who have stayed here.
Perros Guirec
The

Hotel Best Western les Bains

*** Perros Guirec has 49 rooms, and stands 40 m from the beach and 500 m from the town centre. The hotel offers easy access to beaches, seaside activities, local bars and restaurants

Trebeurden, near Perros Guirec


The Hotel Ti al Lannecec *** Hotel Ti al Lannec three star manor house hotel in gardens overlooking the sea

Roscoff, old town


The ** Hotel Ibis

Roscoff

is located in an old building on the water's edge, just a short distance from the ferry terminal. Quiet location, apart from the church bells, and plenty of restaurants nearby. The rooms are fairly small, but not cramped, and there is free parking in the square or streets nearby.
At the tip of of Brittany, west of Brest & Quimper
(north to south)
Landeda,

on the north coast due north of Brest (29 Finistère)
The

Hotel Baie des Anges

*** is an upscale three star hotel with welcoming staff, standing in a quiet village location right on the water's edge, on a sheltered inlet. Harbour close by. Swimming pool, spa, great breakfasts. Easy access to plenty of beaches and walks.


Plougenvelin, Pointe St Mathieu

(29 Finistère - west of Brest)


The **

Hotel Vent d'Iroise

is a bright two-star hotel based on old Breton cottages, near the lighthouse at Pointe St Mathieu, west of Brest, on the relatively unspoilt western point of France. The hotel provides easy access to coastal footpaths and walks, and is near sandy beaches. A place for people wanting to go as far as you can get ....
Plogoff, Pointe du Raz, (29 Finistère - south of Brest)
the *** Hotel Ker Moor is housed in a 100-year old building almost at the extreme western tip of France, on the cliffs three hundred metres from a sandy beach, and four miles from Pointe du Raz. 12 rooms, marvellous location, heated indoor pool, excellent reviews for the hotel, the location and the restaurant.

On the south coast of Brittany, from west to east

Going further: tourist information and Brittany accommodation:

Copyright © About-France.com 2008 - 2011