About-France.com
- the connoisseur's guide to France
Discover Paris - stay, see, get round
Paris passes : choose the right one for your needs
Confused ?
Between the
Paris Pass
or the
Paris City Pass
or
Paris Museum pass
or
Paris Visite
or other options or buying tickets à la carte ??
To compare the passes, the prices and what is included just
click here
Important:
Paris passes do not include the Eiffel tower; but visiting the Tower without a booking in busy holiday periods will mean at best standing for ages in a long line, at worst disappointment.
See best solutions
for pre-booking your visit on our
Eiffel tower
page
A very short history of Paris
PARIS ! City of lights, city of love, and one of the most visited cities in the world.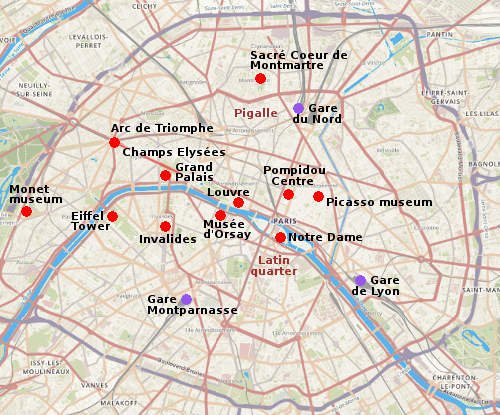 Paris
is a city with a proud and very ancient history. Originally founded in the third century BC, on an island in the middle of the Seine, it was the capital city of a tribe known as the Parisii, who gave it their name.
In Roman times, the city expanded beyond the islands in the Seine, and became known as
Lutetia
.
During the decline of the Roman Empire, northern France was overrun by a Germanic tribe called the Franks, whose new kingdom - part of the Holy Roman Empire - became known as
West Francia
, with its capital at Paris.
In the early Middle Ages, West Francia became
France
, and Paris grew in importance as a European city. By the 12th century, when
Notre Dame cathedral
was built on the largest of the islands in the Seine, Paris was the capital of one of the most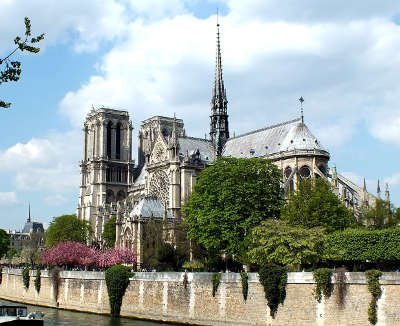 Notre Dame Cathedral - as it was until 15th April 2019, and as it will be again.
powerful kingdoms in Europe, and its importance as an international city has never waned.
Many of the great buildings of Paris, such as the
Louvre
and the
Panthéon
, date from the 17th and 18th centuries when royal power in France was at its peak. Yet the "shape" of modern Paris was largely determined in the mid 19th century, when a radical city-planner, Baron Haussmann, was given the job of opening up the old city with its narrow twisting streets. Haussmann designed a city criss-crossed by broad tree-lined
boulevards
, flanked by spacious apartment buildings – which is essentially the Paris we know today. The
Eiffel Tower
was added for the Universal Exhibition of 1889.
Though the city walls are long gone, central Paris is now known as "Paris intra-muros", or Paris within the walls, which is the area with almost all the main tourist attractions. Where there once stood city walls, there is now the "boulevard périphérique" or inner ring road, clearly visible on the map. Beyond that the modern city of Paris extends in all directions.
On this and other pages, discover the About-France.com visitor guide to Paris, providing you with all you need to know when planning a trip to this magnificent city.
Paris info and pages on About-France.com
►
For Paris travel on your mobile: see
Paris travel information for mobile devices
IMPORTANT: Eiffel Tower :
None
of the Paris passes include the
Eiffel Tower.
(One pass offers a second floor Eiffel Tower ticket for 15 € extra... But a second floor ticket is only 11 € on the official Eiffel Tower site !) Tower access must always be purchased separately, or as part of certain specific tours . Buy your
Paris City Pass
or your
Paris Pass
online, then buy Eiffel tower ticket online from the official site. See
Eiffel Tower
information.
GETTING AROUND IN PARIS
Like most
French cities,
Paris is
not
a place to visit by car. Parking can be an expensive nightmare (though less so than London), and the city has a great public transport network, with a fast underground or subway network that stretches well into the suburbs.
Public transport
The public transport system includes buses, the underground and overground
metro
, some modern tram lines, and the RER (regional express rail).
If you plan to use public transport, it may make sense to buy one of the passes that includes it.
For more information about using the excellent public transport network in Paris, see below.
For more ideas on keeping down your travel costs, visit the
Budget Paris
page.
Tourist transport :
In addition to hop-on hop-off tour buses (see
tourist passes
), there is a range of other travel options for tourists. Apart from taxis, other more picturesque options include pedicabs and rickshaws, tours by
historic 2CV
(the iconic little French car),
Segway
tours,
bike tours
and walking trips.
There is also a city-wide bike share system known as "Velib". How to make use of this system is explained on the
Budget Paris
page.
Make the best use of Public transport in Paris 2019
When visiting Paris, if you plan to use the metro or the bus from time to time but less than six times in a day,
opt for a
"carnet"
(pronounced Car-nay). This is simply ten standard tickets at a reduced rate (€ 14.90 for ten in January 2018), and can be bought from the ticket dispensing machines at any metro station, from ticket offices at those metro stations that have them, and from other Paris transport offices. Carnet tickets have no date limit, and can be shared among members of a group. If you have some left over at the end of your stay, keep them for next time. They are valid on buses, the metro and the "RER" within the cental area, and on metro and RER journeys they allow as many changes as you want.
Changing:
Just one important point to note: while you can change metros or change buses on a standard journey ticket, you can't change from a bus journey to a metro journey, or vice-versa.
Though the Metro is mainly an underground system, several parts of the network are above ground, and offer an interesting way to see Paris from well above street level.
Note: Neither a standard Paris metro ticket nor a central Paris pass are valid on the RER for travel into the suburbs, and notably for travel to Charles de Gaulle or Orly
airports.
For such destinations, you must buy a specific ticket.
Specific destination tickets and carnets are available at all metro stations, and from automatic machines which accept credit cards. Carnets can also be bought in some main French railway stations outside Paris.
See the full size map:
►
Metro map for your phone
or computer
or
►
PDF metro map to print out
Finding your way in the metro.
This is no big problem. Using the maps available, check the line number and terminus station of each line you want to take. If you need to change routes, follow the "Correspondance" signs on the platform and through the foot tunnels; these indicate the line numbers and the termini. Just follow the right one. The RATP (Paris transport authority) provides free maps which are usually available in hotels, metro stations and other places.
Travelling outside Paris:
use the
trains
or hire a car at a location on the
outskirts of Paris
, to avoid having to drive in the streets of Paris. See tips on
car hire on the outskirts of Paris
. Click here for travel to and from
Paris airports
General Paris transport tips :
TIP -

Train or bus from the airport:
Generally speaking, the RER train service is fast, and cheapest. See
Paris airport guide
.
TIP -
If you arrive by air in Paris for a day trip, buy the 1 day "Paris visite" visitor pass for zones 1-5, which includes the airports. that way you also have unlimited public transport during your day in Paris
TIP -
Changing trains at "
Chatelet
" metro hub. Chatelet is the biggest interconnection station on the Paris metro system: three main RER (Regional Express Rail) routes cross here, notably B (for the airports) and A (serving the Gare de Lyon and Disneyland). If you are changing from a southbound "B" train to a south/east bound "A" train, (for instance, coming from Charles de Gaulle airport and heading for Gare de Lyon or Disneyland, a common combination), just cross the platform. The same goes if you are taking these routes in the opposite direction (for example coming from Gare de Lyon and heading for Charles de Gaulle airport). Nothing could be simpler!
For other changes, follow the indicator boards, having noted which RER or metro routes you want.
TIP -
Your ticket. Always keep your ticket until your journey is finished, even if it is just a single journey ticket. If you use the RER in the central urban area of Paris (which you can do, of course), you will need to put your ticket through the machine both to get onto the platforms and again to get out of the RER area.
Taxis
There are plenty of taxis available in Paris, though prices are high by world standards (less than Los Angeles, but more than San Francisco). There is also an Uber platform for Paris.
Buses and metros:
With a day ticket, you can take buses and metros as much as you want. If using a single ticket, you can in theory you get a single ticket and explore the inner Paris network all day.
Click here for
Paris tourist attractions guide
:
Eiffel tower
, Notre Dame, the Louvre,
Montmartre
, Moulin Rouge, and much more