PARIS 2017
The
About-France.com
guide
A website about Paris : getting round Paris, tourist attractions, where to stay, and other things to see and do.
PARIS
is Europe's most fantastic city, a place that has everything for the traveller or visitor. Whether you visit Paris on a day trip, Paris in the Spring, Paris for a week or for far longer, this is a city that has it all! Museums, theatres, shops, fantastic historic monuments, a beautiful riverscape, Paris has all of these. this website helps you plan your visit to Paris, and get the best out of your stay in the French capital.
Disneyland Paris... just click
NEW IN PARIS
Opened 2014 in the Bois de Boulogne, a major new contemporary art gallery. The futuristic Louis Vuitton foundation museum is the work of Los Angeles based architect Frank Gehry, who also designed the iconic Guggenheim Museum in Bilbao.
Metro line 1 - les Sablons.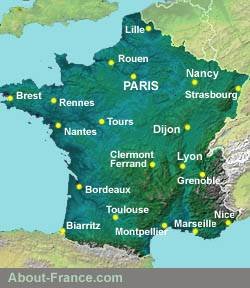 ►► Site guide
About-France.com home
Full site index
About-France.com site search
►► Principal chapters on About-France.com
The regions of France

Beyond Paris, a guide to the French regions and their tourist attractions.
Accommodation in France

Guide to Paris
Tourism in France
The main tourist attractions and places to visit in France - historic monuments, art galleries, and more
Planning a trip to France
Information on things to do before starting your trip to France.
Driving in France
Tips and useful information on driving in and through France - motorways, tolls, where to stay....
Maps of France
Cities, towns, departments, regions, climate, wine areas and other themes.
The French way of life
A mine of information about life and living in France,
A-Z dictionary of France
Encyclopedic dictionary of modern France

The Eiffel Tower






►

For Paris travel on your mobile: see Paris travel information for mobile devices



Paris passes : choose the right one for your needs

Important:

Paris passes do not include the Eiffel tower; but visiting the Tower without a booking in busy holiday periods will mean at best standing for ages in a long line, at worst disappointment.

See best solutions

for pre-booking your visit on our

Eiffel tower

page



Like most French cities, Paris is

not

a place to visit by car. Parking can be an expensive nightmare (though less so than London), and the city has a great public transport network, with a fast underground network that stretches well into the suburbs.
The public transport system includes buses, the underground and overground metro, the RER (express transit metro), and of course taxis. Taxis in France are ordinary vehicles with a taxi sign on the roof, not special vehicles as in London. They are quite expensive, and there are not enough of them.
If you plan to use public transport, it makes best sense to buy one of the passes that includes it. See below.


For more ideas on keeping down your costs, visit the Budget Paris page



Information on the main Paris passes:

There are several different "passes" available for visitors to Paris, and it is a good idea not to get the wrong one, as this will mean either paying too much or else getting less than you bargained for.....

Passes will not necessarily offer great financial savings, but they

will

offer savings in time

. During a short visit to Paris, few tourists want to spend several hours waiting in long queues to get into the top attractions. With a Paris Pass you can

avoid the ticket queues

and

skip the lines

at the entrance to popular sites.


IMPORTANT: Eiffel Tower :

None

of the Paris passes include the

Eiffel Tower.

(One pass offers a second floor Eiffel Tower ticket for 15 € extra... But a second floor ticket is only 11 € on the official Eiffel Tower site !)

Tower access must always be purchased separately, or as part of certain specific tours – but since the Paris Pass includes tour buses anyway, don't buy Paris Pass

and

a tour. Buy your

Paris Pass

online, then buy Eiffel tower ticket online from the official site. See

Eiffel Tower

information.




The main passes are:

The Paris Pass

[

Includes Skip the line at Museums and other attractions, sightseeing bus, and public transport

]
This is the the "all you need" pass covering transport, museums and attractions. It is the most comprehensive of the different Paris passes, giving free admission to some 60 monuments / museums in and around Paris, plus free use of public transport (buses and metro) , the Cars Rouge tour buses, a Seine river cruise, a wine-tasting session, a free Paris guide book, and lots more. Includes the Louvre, Orsay museum for the Impressionists, Arc de Triomphe, Versailles, the Dali museum and more - but not the Eiffel Tower.
Buy your pass in advance, and

avoid the queues

to get in. The Paris Pass now offers a

refund guarantee

insurance, in case you have to change your travel plans. Many other online ticket sellers do not offer this.

Jan 2017 Paris Pass Prices

- before discounts
2-day pass: Adults: 129 € , Teens under 18: 79 € Children 44 €
3-day pass: Adults: 159 € , Teens under 18: 92 € Children 49 €
4-day pass: Adults: 189 € , Teens under 18: 105 € Children 55 €
6-day pass: Adults: 229 € , Teens under 18: 1215 € Children 72 €,

10% off with About-France.com

Special

About-France.com

discounts on the Paris Pass
10% discount on

all

passes with About-France.com

This is the best deal available on Paris Pass

USE C0DE

ABOUTFRA

in the "additional products" section when keying in your payment details. For the ABOUTFRA discount code to work, you must go straight to the Paris Pass website from About-France.com, not from an advertisement that may show up on other pages. So

►

Buy your Paris Pass now

.

Paris visite:

[Public transport only ]

Visitors who plan to use lots of public transport in Paris may find that the best or cheapest solution is to take a

visitor's pass

, "Paris Visite", though this is

not necessarily the case

(see below). The Paris Visite passes are available on a 1, 2, 3 or 5 day basis, and cover all types of official public transport in the central area or central area and suburbs, depending on the option chosen.


DO NOT

BUY A PARIS VISITE PUBLIC TRANSPORT PASS if you have bought, or plan to buy, a Paris Pass for visiting attractions and museums. Public transport is already included in the Paris Pass. See above
Paris Visite - gives unlimited use of the metro / RER / bus network for a given numer of days.

Prices

start at €12.85 for a one day adult pass covering zones 1 to 3 or 21 €uros for 2 days (As of

Jan 2017

). Full details in English, plus downloadable Paris Metro and public transport maps from the official Paris visitor website,



Take care...

Where to buy Paris visite pass ?
The simplest is to buy it

when you reach France

, from any Paris area train / metro station, airport, information point or tourist office. Buy it at the ticket office, not from a machine (unless renewing). If you want to buy it

on line in advance

, only do so here; you'll get the tickets at the official price, but you will pay extra (at least 9 Euros) to have them mailed to you.

DO NOT

purchase in advance from other online websites that sell these tickets well above the real cost, and charge excessively for delivery too. You could end up paying double the cost......

Paris Museum pass

[Museums only ]

- giving unlimited admission to some 60 monuments / museums in and around Paris, excluding the Eiffel Tower.

Prices

start at 48 €uros for two days or 62€ for four days. This pass - best purchased

on the day at the first museum

you visit - does not include any transport, so things like Seine river cruises, metro tickets and sightseeing tours must be purchased separately. See below. The Paris Museum Pass is included in the Paris Pass (see above).

Other passes:



PASSES are often the easiest solution, but not necessarily the cheapest way to visit Paris ...


METRO and Bus information for Paris

When visiting Paris, if you plan to use the metro or the bus from time to time but less than six times in a day, opt for a "carnet" (pronounced Car-nay). This is simply ten standard tickets at a reduced rate (€ 14.50 for ten in January 2017). Carnet tickets have no date limit, and can be shared among members of a group. If you have some left over at the end of your stay, keep them for next time. They are valid on buses, the metro and the "RER" within the cental area, and on metro and RER journeys allow as many changes as you want.


Changing:

Just one important point to note: while you can change metros or change buses on a standard journey ticket, you can't change from a bus journey to a metro journey, or vice-versa.
Though the Metro is mainly an underground system, several parts of the network are above ground, and offer an interesting way to see Paris from well above street level.
Note: Neither a standard Paris metro ticket nor a central Paris pass are valid on the RER for travel into the suburbs, and notably for travel to Charles de Gaulle or Orly airports. For such destinations, you must buy a specific ticket.
Specific destination tickets and carnets are available at all metro stations, and from automatic machines which accept credit cards. Carnets can also be bought in some main French railway stations outside Paris.



Glimpse of the hypercenter of the Paris metro network Click this small map for a larger map, or click the following link for a

printable PDF Central Paris metro map

.

Set printer options to "Landscape" (horizontal) for best printing

Finding your way in the metro.
This is no big problem. Using the maps available, check the line number and terminus station of each line you want to take. If you need to change routes, follow the "Correspondance" signs on the platform and through the foot tunnels; these indicate the line numbers and the termini. Just follow the right one. The RATP (Paris transport authority) provides free maps which are usually available in hotels, metro stations and other places.





Travelling outside Paris:

use the trains or hire a car at a location on the outskirts of Paris, to avoid having to drive in the streets of Paris. See tips on car hire on the outskirts of Paris. Click here for travel to and from Paris airports




---

General Paris transport tips :

TIP - Train or bus from the airport: Generally speaking, the RER train service is fast, and cheapest. See Paris airport guide.

TIP - If you arrive by air in Paris for a day trip, buy the 1 day "Paris visite" visitor pass for zones 1-5, which includes the airports. that way you also have unlimited hop-on hop-off public transport during your day in Paris

TIP - Changing trains at "Chatelet" metro hub. Chatelet is the biggest interconnection station on the Paris metro system: three main RER routes cross here, notably B (for the airports) and A (serving the Gare de Lyon and Disneyland). If you are changing from a southbound "B" train to a south/east bound "A" train, (for instance, coming from Charles de Gaulle airport and heading for Gare de Lyon or Disneyland, a common combination), just cross the platform. The same goes if you are taking these routes in the opposite direction (for example coming from Gare de Lyon and heading for Charles de Gaulle airport). Nothing could be simpler!
For other changes, follow the indicator boards, having noted which RER or metro routes you want.

TIP - Your ticket. Always keep your ticket until your journey is finished, even if it is just a single journey ticket. If you use the RER in the central urban area of Paris (which you can do, of course), you will need to put your ticket through the machine both to get onto the platforms and again to get out of the RER area.

Click here for Paris tourist attractions guide : Eiffel tower, Notre Dame, the Louvre, Montmartre, Moulin Rouge, and much more



In an emergency in Paris:





---

24 hr chemist / pharmacies

:
a) 84, av des Champs-Elysées 75008, tel


0145 62 02 41


b) 6, place Clichy 75009, tel


0148 74 65 18

.



English-speaking pharmacies:


British Pharmacy
62, Avenue des Champs-Elysées
75008 Paris
0143 59 22 52

British-American pharmacy,
1 rue Auber, 75009
0142 65 88 29



English-language crisis line;


SOS-Help
Daily 3 pm - 11pm
01 46 21 46 46



Ambulance:


Call/phone: 15



Hospitals:


Hertford British Hospital: 3, rue Barbès, 92300 Levallois-Perret
Tel 0146 39 22 22

American Hospital of Paris
63, Bd Victor Hugo
92200 Neuilly-sur-Seine
0146 41 25 25









Special 10%

discount off Paris passes

with About-France.com

Click here to book

Use code

ABOUTFRA

**




Copyright © About-France.com 2003 - 2017