About-France.com - a thematic guide to France
The best art galleries in France by area
Star rating, area

Galleries

Three stars

***



Paris

:
Lille (59 - northern France)

Musée d'art moderne

,

Palais des Beaux Arts

Two stars

**
Paris

Musée d'Art Moderne ( Palais de Tokyo),
Musée Carnavalet,
Musée Delacroix,
Musée Rodin,
Musée du Petit Palais. (free)
Fondation Louis Vuitton (opened 2014) - impressive new contemporary art gallery, designed by Frank Gehry

**
Northern France
**
Mediterranean France
**
West and Southwest France
The Best value Paris pass
The
Paris City pass
is the cheapest of the full Paris visitor passes - up to 24% cheaper than other passes for adults, and up to 50% cheaper for children. Prices start at just 19,90 Euros for a day pass for children and 99.90 Euros for a two day adult pass
Check it out now
►
Going further :
Copyright © About-France.com 2007 - 2019 except where otherwise stated. Photos; public domain
Photo top of page. Renoir - Chemin montant dans les hautes herbes. Paris - Musée d'Orsay
Defining the "best" art galleries in France is a matter of taste;
but all the art galleries listed on this page present high quality collections of old masters or modern art. Some of the art galleries listed below are centered round the works of a single artist, others have more general collections; some, like the Louvre, are big, others are relatively small; but
all
are top quality galleries, and all are worth a visit
Cézanne - Maison du Dr. Gachet -
Paris, Musée d'Orsay art gallery
The best of France

by theme
Roman France - the best sites
Living history museums (coming)
>►► Site guide
About-France.com home
Full site index
About-France.com site search
►► Principal chapters on About-France.com
Accommodation in France

Guide to Paris
Tourism in France
The main tourist attractions and places to visit in France - historic monuments, art galleries, and more
Planning a trip to France
Information on things to do before starting your trip to France.
Driving in France
Tips and useful information on driving in and through France - motorways, tolls, where to stay....
Maps of France
Cities, towns, departments, regions, climate, wine areas and other themes.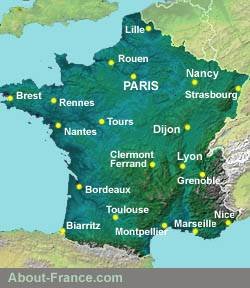 Text copyright © About-France.com 2008-2018

All photos copyright About-France.com