About-France.com
- the reliable guide - France as it really is
Holiday time on the French Riviera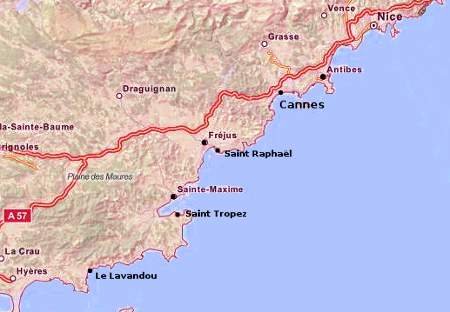 I
t's no surprise that the French Riviera is a major tourist attraction. Situated at and to the east of the point where the Alps meet the Mediteranean, it is an area that enjoys a wonderfully mild to warm climate all year round, despite being one of the more northerly coasts on the whole Mediterranean. Through Autumn and Winter, the Riviera is protected from cold north winds by the Alps in its hinterland; since frosts and snow are rare, Spring comes early, bringing the first mimosas into bloom by February; by April the days are normally sunny and warm, and gardens already filled with flowers. F
Looking down on Monte Carlo
rom May to September or October, the climate is ideal, with plenty of sunshine and warm to hot days and beautifully warm nights. For much of this period, resorts and beaches are not overcrowded, since they are set up to cope for the summer holiday crowds; but July and August are very busy, and during this period advanced booking for hotels, camping sites and even bed and breakfast is highly advisable and in many places essential.
Main areas and resorts of the French Riviera
East of Nice
(From the Italian border to Nice) This is the most spectacular part of the French Riviera, and also the most up market in terms of tourism. This is where the Alps meet the Mediterranean, and mountains come almost down to the waters' edge. Old towns such as
Menton
or
Villefranche sur Mer
are crowded in between the water's edge and the mountains behind. The most famous of these towns is
Monte-Carlo
,
Monte Carlo
In the tiny Principality of Monaco, an independent state surrounded on three sides by France, and on the fourth by the Mediterranean, and ruled by the Grimaldi family since the 13th century.
Monte-Carlo, most famed for its casino, is an opulent micro-state, with the world's highest per-capita GDP: hemmed in between the mountains and the sea, it is also one of the most densely populated states in the world. It is a tax-haven in so far as residents do not pay any income tax, but it is not a tax-free country, and VAT is the same as in France. This does not prevent Monaco from abounding in prestigious luxury shops, and for visitors searching for the most famous brands in designer clothing, jewellery and other luxury goods, Monaco offers great shopping opportunities (as does Nice).
The village of Eze, overlooking Cap Ferrat
Some of the most expensive houses in France are clustered onto the small peninsula of
Saint Jean Cap Ferrat
, between Eze and Nice. In the past, Saint Jean was home to actors, princes and rich businessmen from Paris or Switzerland. The Villa Ephrussi de Rothschild, a house and gardens now open to the public, is a beauful vestige of a bygone age; today Saint Jean Cap Ferrat is home to the international jet set.
Inland, a few twisting mountain roads take visitors past breathtaking views, and up to old villages such as
Eze
, huddled into narrow valleys or clinging resolutely to the sides of steep slopes. But this part of the Riviera is resolutely turned to the sea.
Nice - beach in frront of the Promenade des Anglais
From Nice to Cannes
Nice
the French Riviera is largely built up. Nice is France's sixth city, as well as being the biggest resort on the French Riviera. Nice is a city that has masses to offer, including historic quarters, a beautiful long seafront (from the Promenade des Anglais and westwards), a famous flower market, some interesting sites and sights, including the Matisse museum, the Chagall museum, and the famous Russian Orthodox basilica . It is also very well endowed in hotels, from five-star palaces such as the Negresco, to backpacker hotels away from the tourist quarter. And of course it is a city with plenty of nightlife and plenty of opportunities for shopping, in all seasons.
►
More on
Nice
Cagnes sur Mer
This town has a historic old quarter, as well as a famous racecourse (for horse racing), and a Renoir museum. Inland from Cagnes lies the old village of
Saint Paul de Vence
, known as the artist's village, and famous for its art galleries, most importantly the
Fondation Maeght
, with a remarkable collection of 20th century art and sculpture.
A few miles south of Cagnes,
Antibes
is one of the classic resorts of the French Riviera. With its old town, its marina, its 48 beaches and its rocky headland, Antibes has long been a popular resort. It too has a number of museums, including the Picasso museum, with one of the best collections of Picassos in France.
Just west of Antibes lies
Juan les Pins
, another very smart but small Mediterranean resort, popular with film stars and actors. of course, both Antibes and Juan les Pins offer plenty of night life, specially in season.
Cannes

,

Lying to the west of Antibes, Cannes is the other main city of the French Riviera: Cannes is of course most famous for its annual

Film Festival,

which after the Hollywood Oscars ceremony is the biggest annual event in the world of film. Cannes is also a popular venue for trade fairs, including the annual music industry fair, the Midem, that takes place in late January. During these events, the town attracts visitors hoping to get a glimpse of their favourite film-star or musician; and of course, it is a town with plenty of tourist accommodation and beaches. Anyone thinking of visiting Cannes at the time of a major event should book their accommodation months in advance.

A few miles inland from Cannes lies the small town of

Grasse

, capital of the

French perfume industry

. The famous Fragonard perfumery offers free guided factory visits and perfume museum visits.
The Esterel coast - la Napoule - Fréjus
This part of the coast is less developed, mainly on account of the hills and forests that come almost to the water's edge. Apart from
Fréjus
and
Saint Raphaël,
the resorts are small, offering a quieter holiday style. The dry and rocky
Esterel
hills, with their Mediterranean pine forests, are popular with hikers and walkers. The coastline between
Miramar
and Saint Raphaël is full of little coves, many of them only accessible by foot from the coastal road, the "Corniche de l'Esterel", a scenic route offering magnificent views of the coastline and out to sea.
San Raphaël is a small resort, with hotels, sandy beaches and a casino; its neighbour, Fréjus, slightly larger, is a historic city dating back to before Roman times, most popular these days on account of its large marina.
South of Fréjus - the western Riviera
South of Fréjus, the coast is again rocky and forested, and there is little in the way of coastal plain between the hills and forests of the Massif des
Maures
, and the sea. the main resort in this part of the French riviera is Saint Tropez, perhaps the most famous of all Riviera resorts.
Saint Tropez
, an old Mediterranean seaport standing on the south shore of a very sheltered bay, the Gulf of Saint Tropez, has long been a classically chic Mediterranean resort, frequented by stars and Parisians. With its old port and its historic centre, it remains popular to this day with jet-setters, and offers an idyllic holiday environment with plenty of shops, hotels, beaches, cafés and restaurants.
The other popular resorts in this part of the Riviera are the small towns of
Sainte Maxime
and
Le Lavandou
, old towns with harbours, shops, and markets as well as hotels and campsites.
On the capes to the east and the west of le Lavandou, and on the offshore islands, the
Port Cros national park
is France's only maritime national park, covering both terrestrial and marine environments. There are boats from le Lavandou out to the island of Port Cros.
Click for
French Riviera hotels
pre-selected by area and category - from budget to luxury hotels
Copyright © About-France.com 2007 - 2019 except where otherwise stated.
Until a few eccentric Englishmen arrived in the late 18th century, France's famous Riviera - known to the French as the Côte d'Azur - was an area of sleepy fishing villages, with little contact with the outside world. Then tourism was invented, and foreigners, at first mostly from Britain, began arriving in increasing numbers. The seafront at the little town of Nice became known as "La Promenade des Anglais" - and so it is still called to this day. Today the French Riviera is one of the world's most famous coastlines; and in spite of heavy development, it still boasts many fine beaches and plenty of beautiful shorelines
►► Site guide
About-France.com home
Full site index
About-France.com site search
►► Principal chapters on About-France.com
The regions of France

Beyond Paris, a guide to the French regions and their tourist attractions.
Accommodation in France

Guide to Paris
Tourism in France
The main tourist attractions and places to visit in France - historic monuments, art galleries, and more
Planning a trip to France
Information on things to do before starting your trip to France.
Driving in France
Tips and useful information on driving in and through France - motorways, tolls, where to stay....
Maps of France
Cities, towns, departments, regions, climate, wine areas and other themes.
The French way of life
A mine of information about life and living in France,
A-Z dictionary of France
Encyclopedic dictionary of modern France