About-France.com
- the thematic guide to France
Lille

- once the industrial capital of France
Lille and Roubaix - connected by metro and tram routes
Lille is to France what Manchester is to England – the regional capital and powerhouse of what was in the past the nation's industrial heartland.
The capital city of French Flanders was, until the 1950s, at the heart of a thriving industrial area, built up around three of the great sectors of the industrial age, coal, machinery and textiles. The last coal mine in the Nord - Pas-de-Calais area closed in 1990, but since before then the area's towns and cities have been looking for ways to move on to a new post-industrial economy.
The conurbation of Lille, Roubaix and Tourcoing has moved on considerably. Lying right on the Belgian border, and at the junction of three new high-speed rail routes, Lille in particular has positioned itself as a new European hub, a city that is less than an hour and a half by high-speed train from London, Brussels and Paris, and ideal location for international companies, importers and exporters.
To attract new business, the conurbation had to modernise. In 1983 it became the fourth city in France to open a metro (underground railway), and now has the second most extensive metro system in France, after Paris. Lille's metro might have come sooner were it not for the fact that Lille was also one of the two cities in France to have kept its trams going, so already had a tram network at a time when other sities were thinking of rebuilding networks that had long since closed.
The city also took drastic measures to rid itself of the old reputation of being a dirty industrial city: redundant industrial buildings were pulled down or renovated as office blocks, and the city centre, around the splendid Flemish-styled Great Square (la Grande Place) was cleaned up and pedestrianised.
Lille can be visited on foot, or by
bus
(run by the Tourist office) , by minivan by
open-top 2CV,
by bike or by Segway. There are guided tours departing from near the Tourist Office. During the week (Mon to Fri) there are even Free walking tours of old Lille.
The conurbation now promotes itself as a centre for the arts, having no less than three top quality art galleries. The Lille Palais des Beaux Arts is one of the best and most complete provincial art galleries in France, and includes works by Raphael, Rembrandt, Van Dyck, Goya, El Greco, David, Corot, Courbet, Delacroix, Rubens, Manet, Seurat and Picasso and more.
Located in Villeneuve d'Ascq (Metro 1) the "LaM" or Lille Metropolitan area museum of modern and contemporary art, is one of the best in France, and has a wide collection of paintings and sculpture including works by Braque, Picasso, Klee, Kandinski, Miro and Modigliani. Many of the sculptures are located outside the museum, in the landscaped grounds.
The Piscine (Swimming pool) art gallery in Roubaix (Metro 2, Tramway R) is the most original of the three pajor galleries in the Lille area. It is housed in and around the town's former Art Deco public swimming pool, opened in 1932 ... which is now a feature of the museum - surrounded by sculptures. La Piscine houses a substantial collection of 19th century and early 20th century French painting and sculpture including works by Fantin-Latour, Ingres, Bastien Lepage, and many lesser-known artists.
An art-lovers trip to Lille is incomplete without a visit to one or two outlying art galleries, either the Louvre Lens, a subsidiary of the Paris Louvre in the former mining city of Lens, or else a trip to the Matisse Museum in the small town of Le Catteau which is a bit further away.
Tourist attractions in Lille
The Lille tourist information office is located between the Grand Place and the Palais des Beaux Arts fine arts museum.
Address
: 3 rue Rihour, opposite what remains of the 15th century
Palais Rihour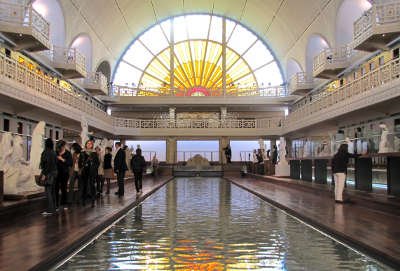 Piscine art gallery - Roubaix
Places to visit near Lille
Not particularly sought-after by tourists, the area within 60 km of Lille - about an hour's drive or less - is nonetheles home to plenty of interesting sights
Cassel

40 km northwest of Lille, is an attractive hilltop town - built on one of the rare hills in this essentially flat part of France.

Ypres (Belgium)

, One of the major battle sites of the first World War. It's magnificent Cloth Hall has been meticulously rebuilt.

Lens

. Le Louvre, Lens. A modern satellite of the Paris Louvre, in a former mining town, le Louvre Lens exhibits works of art from the main Louvre, including major works that wre leant temporarily.
For more things to see in the area, check out the
Nord–Pas-de-Calais area guide
Accommodation
Click here for a
►
choice of hotels in Lille
at best online rates, and the About-France.com hotel selection for Lille.
Location and access
By air

Lille airport is not served by any regular flights from the UK. Nearest airports are Paris Charles de Gaulle or Brussels. For details see Fly to France.

By train

Lille is accessible by direct Eurostar services from London and Ashford, or direct Thalys services from Amsterdam and Brussels, as well as direct high speed train services to Paris and many other French cities. For timetables and online tickets (SNCF, Eurostar) , see Trainline.com

.

By car

Lille can be reached by car from Calais in about an hour.
Copyright © About-France.com 2007 - 2023 except where otherwise stated.