About-France.com
- the connoisseur's guide to France
Hostels or cheap hotels?
Generally speaking, though there are exceptions, hostels are geared towards the under-30s, or the backpacking generation. They provide rooms and dormitory accommodation. Some of them are pretty smart places, others less so. They cater for the needs of young travellers, often providing services including a kitchen, maybe a bar, and sometimes a buffet restaurant.
Cheap hotels are what they say; hotels that are cheap. They cater for all ages, and may be clean modern no-frills establishments, such as those in the
Première Classe
chain , or may be rather basic and sometimes shabby small hotels with few facilities. Always check out visitor review scores for cheap hotels before booking online. If it's really a hotel you're after, and you're going to Paris, check out our choice of
cheap hotels in Paris
.
France has a reputation as a chic but not entirely cheap destination, a great holiday destination if you have the money to enjoy its delights. But France is also ideal for
budget travelers.


Many of the top sights in cities such as Paris are free (see
Paris for free
), cheap but top quality food is easily available in a bistro or from local markets, and
budget accommodation
can be found in all regions of France, from quaint guesthouses in the countryside to city center hostels.
Not just for students and backpackers, the humble
hostel
has had a slick makeover in France, with many properties offering private and ensuite rooms, and top class facilities as well as regular dormitories. If you search for a room for two people,
hostel prices
may seem no cheaper than cheap hotels; but check out prices for a solo traveller, or for a group of five, and you'll see dormitory rates, which can be
less than 30 € per person
per night in Paris (2019 prices).
Paris hostel guide - four recommended Paris hostels
►

Click here

◄
for a full list of Paris hostels bookable through Booking.com
You'll find some thirty hostels in all, offering bed and breakfast generally in the range of
30€ - 50 €
per person per night.
Take care
once you're on the Booking.com website; after you key in your dates, in order to show just
hostels
, you may well need to apply
filters
again in the left column (desktop) or in the filters tab (mobile): select price range 0-50 €, and further down select Hostels under "property type"
One popular cheap Paris hostel is the
Regent Montmartre hostel
, a backpacker hostel that can cater for all ages. It is located in the heart of the Montmartre district, with easy access to the metro and the Sacré Coeur.
Close by is another well recommended hostel, with some very cheap accommodation, the
Village Boutique Hostel
, which is located between Pigalle and Montmartre, so fairly central. It's just 200 metres from Anvers metro station, and 200 metres from the Montmartre funicular and gardens, from the top of which you get fabulous views out over Paris, specially in the evening.
Run by the official French Youth Hostel Association (FUAJ), the
Hi Paris Yves Robert youth hostel
is within walking distance of Gare du Nord and Gare de l'Est and 400 metres from La Chapelle metro station. Twin riooms, quad rooms and dormitories
Another hostel that gets good write-ups is
St Christopher's
, near the Gare du Nord. St Christophers has a nightclub and bar serving cheap drinks, a lounge area and restaurant on site, and with a tours and travel desk, and helpful staff giving out travel tips, it's the perfect introduction to Paris. However compared some other hostels, it's more pricey though likely to be a better bet than cheap hotels at the same price (there are a few). The large private and shared rooms have cool décor and lockers in the rooms, and best of all, there's a free breakfast to fuel up for a day of sightseeing.
A hostel that gets lots of good crits is
the Loft
, in the 20th arrondissement. It's not quite central, but 500 metres from the metro, clean and comfortable, and offers cheap dorm accommodation or rooms, and free breakfasts.
It's the facilities that make these hostels popular with backpackers and budget travelers alike.
You may also like to check out our selection of
cheap Paris hotels
other than hostels. The choice includes a number of small hotels plus some large budget hotels.
Nice hostels
Nice
is the capital of the French riviera, and has a number of hostels among its hundreds of hotels.
The
Villa St. Exupery beach hostel
has all the facilities of a hotel, a lively social calendar and a whole host of extras geared towards budget travelers. There's a free breakfast, internet, air-conditioned rooms, a cheap bar serving drinks for €1 and a restaurant serving home-cooked pizzas.
Most hostels in Nice are right in the city center, but the
Meyerbeer Beach
offers the best of both worlds , being located 50 metres from the sea front and also 2 minutes on foot from the centre of the old city. It offers a range of rooms, from single rooms to dorms for ten people. Don't expect to find Formule 1 level prices; this is the centre of Nice, where prices are high, but the Meyerbeer is cheap by Nice standards
If you want somewhere cheap and close to the sea.... but nearer the airport than the centre, check out the one-star
Première classe hotel
, which in 2018 has triple rooms for under 50 € (though don't expect this in summer!) . It also has parking (paid).
Beds from 12 € a night ? Check out
more hostels and cheap hotels in Nice by clicking
►
here
Lyon hostels
Lyon
, France's second city, is a UNESCO world heritage site, and there are several hostels in or close to the city centre..
One that gets good reviews is
Le Flaneur
, located in the 7th district of Lyon, not far from the centre. Nearby, and offering good rates, is the
SLO Living
hostel in the 3rd district.
Close to the historic old Lyon, and located beside the River Saône, is the
Alter Hostel
, which gets very good guest reviews.
This scenic city also offers a wide choice of
budget hotels
. One convenient modern budget hotel is the
Première Classe
, right near La Part Dieu station, where the TGVs and airport rail link come in. This is a large modern hotel with air conditioning and a car park.
Alternatively the Hotel de La Marne is in the heart of downtown Lyon, and offers refurbished rooms which are thoroughly modern, with slick décor and flat screen TVs. With several restaurants and shops around the corner, the main sites of the city are all within walking distance. The private ensuite rooms make the hotel a stylish but reasonable place to stay, and the friendly staff will make you feel right at home.
Other cities - hostels and budget hotels
There are hostels in other towns and cities too, though not so many, apart from traditional youth hostels (see French
Youth Hostel
federation) with some 120 establishments in cities and much smaller places.
In smaller locations, the best budget accommodation solution come in the form of low-cost budget hotels, rather than hostels, though these hotels are usually sited somewhere on the outskirts, rather than in city centres. For instance, check out the
Première Classe
chain
Copyright notice:

Website and text © About-France.com 2007 - 2023 except where otherwise indicated.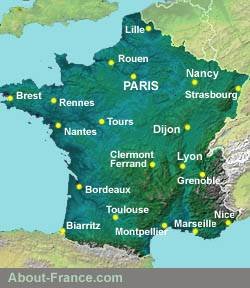 About-France.com is an independent user-supported website that does not track visitors,
We may receive commission from sales made on selected partner websites reached through affiliate links.
►► Site guide
About-France.com home
►► Principal chapters on About-France.com
The regions of France

Beyond Paris, a guide to the French regions and their tourist attractions.
Accommodation in France

Guide to Paris
Tourism in France
The main tourist attractions and places to visit in France - historic monuments, art galleries, and more
Planning a trip to France
Information on things to do before starting your trip to France.
Driving in France
Tips and useful information on driving in and through France - motorways, tolls, where to stay....
Maps of France
Cities, towns, departments, regions, climate, wine areas and other themes.
The French way of life
A mine of information about life and living in France,
A-Z dictionary of France
Encyclopedic dictionary of modern France
Photo top of page the Loft, Paris, from Booking.com