About-France.com - the connoisseur's guide to France
Lyon Airport: Saint Exupéry - LYS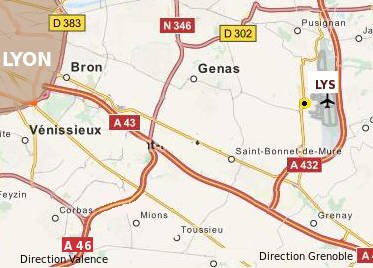 Lyon Saint-Exupéry airport
is located some twenty kilometres to the east of the city of Lyon, beside the outer orbital motorway A432, just to the north of the A43 Lyon-Grenoble motorway. It is also easily accessible from the Lyon-Geneva and Lyon-Bourg-en-Bresse motorway, as well as from other motorways in the area.
Lyon
is France's second city, and
Lyon Saint Exupéry airport
(formerly known as Lyon Satolas, and airport code LYS) is one of the main provincial airports in France. It serves a whole sector of central and central eastern France, and is the most convenient major airport for the
Rhone Alpes
region of France, and parts of the neighbouring regions of
Burgundy
,
Franche Comté
and
Auvergne
. It is very easily accessible from the cities of Lyon, Grenoble, Chambery, St. Etienne and Valence.
► Lyon airport hotels
Hotels
in Lyon
Click here
for a choice of hotels in and around Lyon
There are two hotels actually on the airport at Lyon Saint Exupéry, the four star
NH Hotel
and the three star
Comfort Hotel
hotel.. The next closest hotel is the **
Campanile
, 4 km from the terminal buildings.. but there is no free shuttle. Otherwise, choose a hotel in or near
Lyon
.

► Access to Lyon airport by fast tram
The airport offers easy and rapid access to and from the centre of
Lyon
on the Rhonexpress light-rail link in just 29 minutes, with services every 15 minutes. The Rhonexpress airport shuttle takes you directly to Lyon Part-Dieu station, Lyon's main train station.
► Access to Lyon airport by TGV train

St. Exupery Airport also has its own high-speed rail line, offering direct TGV connections with Paris, Provence, Annecy, Valence, other parts of southern France, and even Turin. However, TGV services are far more frequent from Lyon Part-Dieu station.
► Car parking
The Airport has parking space for over 6000 cars, though rates are relatively expensive. There are private operators offering car parking a short distance from the airport, at considerably cheaper rates.
Of the official airport car parks, Lyon airport's "e-Park" is cheaper than other airport parkings (45 € for up to 1 week, 55 for up to 2 weeks + reservation fee).
Finding clear information on Lyon airport's
official site
is not easy – and the site is notoriously lacking in transparency on parking tariffs.
For
dropping off and picking up
, the very-short-stay carpark (signposted "
Depose Minute
"), located in front of Terminal 2 (photo right), offers 20 minutes FREE parking, but after that the rates are exorbitant, 1 euro every four minutes extra. Be warned! This parking area is just a few metres from the terminal building, so twenty minutes is quite long enough to accompany someone into the terminal, say goodbye, and return to one's car, or else meet an arriving visitor at a pre-arranged time.
► Car hire and rental
The major car-hire companies all provide full services at this airport; smaller local suppliers also offer services at Saint Exupéry, often at cheaper rates - though check out a
range of car hire companies
first.
► The terminals
Lyon is a provincial airport, so terminals are not far apart. The three terminals can be easily reached on foot from the "depose minute" car park, and from each other.
► Checking in
The Airport authorities recommend checking in at least one hour before your flight is due to depart.
Flights
Lyon Saint Exupéry airport has developed considerably in recent years.
►
There are scheduled flights to many countries in Western and central Europe, and Scandinavia, including flights to
London Heathrow, Gatwick and Stansted.
►
There are regular flights to and from
New York
(Air France / Delta), and
Montreal
and
Toronto
(Air Transat).
►
Several companies operate scheduled flights to the
Mediterranean area
(Europe, North Africa) and to
Eastern Europe
..
►
Easyjet
has established a hub at Lyon, with a dozen regular destinations and other seasonal ones.
There are also a large number of charter flights serving holiday destinations.
Further information:
Official Lyon Airport
website
(rather slow)