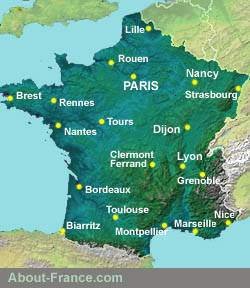 Hotel classification:
This guide classifies hotels into three categories, for three different types of traveller:
BCK

-

Hotels for backpackers

Cheap hotels or hostels offering very basic but acceptable accommodation essentially for younger travellers.

ECO

-

Budget hotels

Two or three star hotels providing the essential comforts for visitors on a limited budget.

UPS

-

Upscale hotels

,

High-end three star hotels and above, boutique hotels and other hotels offering comfortable and fully serviced accommodation.
On this page, About-France.com has carefully selected a choice of hotels near the main railway stations in France. All hotels on this page are in

easy walking distance

of the station, and are good bases for anyone travelling round France by train.

If visiting a city for a night or two, it makes sense to take a hotel close to the station, and avoid having to lug bags and suitcases around with you more than necessary. As an added cost advantage, without your bags you may prefer to walk into town, see the sights as you go, and save on expensive taxi fares.
Click the name of any hotel for full details and online booking at best rates
Hotels near train stations in PARIS
ECO

- Gare de l'Est, Gare du Nord: Holiday Inn Gare de l'Est
Right opposite Gare de l'Est (trains from Strasbourg, Germany etc.) , this hotel is in a large nineteenth-century Parisian building, and is only a couple of minutes from Gare du Nord

ECO

-

Gare de Lyon

- Ibis hotel Gare de Lyon - Ledru Rollin
Mid-range hotel near Gare de Lyon station, close to Bastille, river Seine, Jardin des Plantes


BCK

- Gare du Nord - Hotel de Maubeuge
Small traditional Paris hotel 5 minutes on foot from the Gare du Nord station. In walking distance of Sacr� coeur. Easy access to the rest of Paris by bus.

UPS

-

Gare du Nord -

The Mercure Paris Terminus Nord
Located right opposite the Gare du Nord railway station (trains from London, Amsterdam, Brussels etc) this is a classic Paris hotel with 236 recently renovated air-conditioned rooms,

ECO

-

Gare Montparnasse -

Ibis hotel Paris Gare Montparnasse
45-room hotel located on Avenue du Maine close to the Montparnasse railway station (trains to Bordeaux, Brittany, western France etc) . Restaurants and public transport close by.

UPS

-

Gare Montparnasse -

The Mercure Paris Gare Montparnasse
Modern 185-room hotel located on a small street close to the Montparnasse railway station (trains to Bordeaux, Brittany, western France etc) . Easy access to the whole of central Paris.
NANTES
ECO

-

Nantes -

Hotel Astoria
Located just a few minutes walk from the train station and tourist attractions including the castle, the cathedral, and the museum, this is a handy base for anyone visiting Nantes without a car.

ECO

-

Nantes

- L'Hôtel
Just called "L'hôtel" (nothing more) this is a small midscale hotel a few minutes from the train station. Rooms either look out over the castle (the front of the hotel) or onto the gardens at the back. Small comfortable hotel, friendly staff, rooms average size.
NANCY
DIJON
ECO

/

UPS

- The Hotel Kyriad Dijon Gare
Hotel located opposite the railway station, and a good choice for visitors arriving by train. This air-conditioned upper ** hotel, with swimming pool, is well located for exploring Dijon and the area, and is well reviewed by travellers. Restaurants close by.

ECO

- Hotel Campanile Dijon gare
Almost next door to the Kyriad hotel, the 83-room Campanile is a cheaper option. Standard two-star chain hotel quality, not much character, but fine as a place to spend a night or two while visiting Dijon and the surrounding area.
STRASBOURG -
ECO

- All Seasons hotel Strasbourg gare
Rates at this hotel include breakfast + unlimited Wi-Fi. The 48-room hotel is located close to the railway station, and on the street leading to the historic city center. Easy access to the city center, cathedral, shops and historic Petite France area on foot or by bus.

ECO

/

UPS

- Mercure Strasbourg gare
Modern upscale *** hotel across the piazza in front of the TGV train station, suitable for business trravellers and tourists. 10 minutes' walk from the city center and the picturesque "Petite France" district .
BORDEAUX
ECO

- The Hotel du Faisan Bordeaux
The two star Hotel du Faisan is a traditional hotel located in a calm location on a pedestrian square opposite the Bordeaux Saint Jean station. It has 62 rooms . A simple hotel with friendly staff, and good value for money.

ECO

/

UPS

- Best Western Royal Saint Jean hotel
Classic three star hotel just north of the Saint Jean station, between the station and the river. 37 rooms. Easy access to the historic city center by tram, or on foot. .
TOULOUSE
.

UPS

- Hotel Pullman Toulouse Centre
Elegant modern four-star hotel, fully air conditioned, three hundred metres from the station. Located on the All�e Jean Jaurïès, close to the Canal du Midi, and the historic centre of Toulouse. The hotel gets good reviews, apart from the price of the breakfast; but there are plenty of caf�s nearby, where breakfast can be enjoyed at more normal rates.

ECO

- The Hotel de Bordeaux Toulouse
A small, clean, friendly two-star hotel just 200 metres from Toulouse Matabiau station. The hotel overlooks the Canal du Midi, a UNESCO world heritage site, and is in easy walking distance of the Place du Capitole and St. Sernin Cathedral. Good value for money
LYON
.

UPS

-

Part Dieu station

Novotel Lyon Part Dieu
There no four-star hotels less than 500 metres from Lyon Part Dieu station; but the Novotel Lyon Part Dieu hotel is a quality three-star hotel in easy walking distance of the station. This hotel has 124 comfortable, fully soundproofed and air-conditioned rooms. Easy access to the centre of Lyon by bus or tram

UPS

/

ECO -

Part Dieu station

Athena Hotel
Modern hotel right beside the Lyon Part Dieu train station (TGV high-speed trains from Paris, Brussels, Lille, etc). Clean and well soundproofed, and being right beside the station this hotel is well located for urban transport links - bus or tram

BCK

-

Part Dieu station

Première Classe Lyon Part-Dieu centre
Just a couple of hundred metres south of the station, this is a modern one-star hotel. Rooms are clean but basic, and buffet breakfast is available. There are restaurants and bars at the station, and others nearby in the Part-Dieu area..

ECO

- Perrache station Hotel du Simplon
Traditional 37-room hotel is a quiet side street just a short walk from Lyon Perrache station. Friendly staff, basic facilities, good value for money. Good location in Old Lyon, between the two rivers. There are plenty of bars and cafés in this part of town. Trains link Perrache and Part-Dieu stations every few minutes.
MARSEILLES
ECO

- Ibis hotel Marseille Gare Saint Charles
Located beside the station, the Ibis Gare St. Charles stands on a promontory overlooking the old city, so many rooms come with a view over the rooftops. Plenty of buses for transport into town, but the old port is only a ten minute downhill walk, the second half of it on the Canebière, the city's most famous street.

ECO

/

BCK

- Hotel Lutétia Central Marseille
A five minute walk from the station, ten minutes from the old port, and close to the Canebière, the most famous shopping street, the Hotel Lutetia gets generally good writeups. There is a friendly and homely atmosphere, rooms are small but clean and comfortable, and the staff are welcoming. Good value for money.
NICE
UPS

- Hotel Boscolo Exedra
This is the closest top quality four-star hotel to Nice railway station, slightly over 500m. It is a finely restored Belle Epoque hotel offering a level of service more in line with five stars than four. Indoor pool, spa, sauna, terrace, fitness room, bars and restaurants. Five hundred yards from the Promenade des Anglais and the sea.

ECO

- Ibis Nice Gare
Large modern hotel, 199 rooms, right next to the Nice train station. Air conditioning, terrace, pool. Easy access by modern tram to the centre of Nice, the old town, and the beaches. Convenient location for discovering Nice and towns and villages along the coast (the railway follows the coast).

ECO /

BCK

- Nice - Hotel Trocadero
This is a two-star hotel on rue de Belgique, a couple of hundred metres from the station. Compared to other low-cost hotels in the vicinity, it gets much more favourable reviews. The hotel has 40 rooms, and is in a part of town with shops, restaurants and other facilities..
Tickets online

Train tickets can be ordered online - and even printed out on your own computer like low-cost airline reservation forms
See
top of page
for more details
Click the map for full screen version

About France
cannot
answer enquiries about individual travel plans
provided.