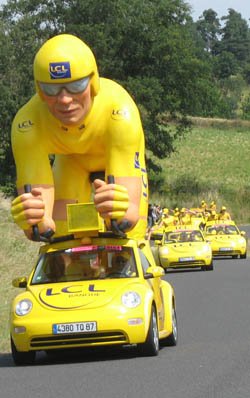 The tour de France "caravan"

Tour de France 2014 FINAL RESULT
1. Vincenzo Nibali - ITA

2.
Jean-Christophe Péraud FRA

3
.
Thibaut Pinot - FRA

4. A
lejandro Valverde - ESP
5 .
Tejay Van Garderen - USA
►► Site guide
About-France.com home
Full site index
About-France.com site search
►
Cycling in France
►► Principal chapters on About-France.com :
The regions of France

Beyond Paris, a guide to the French regions and their tourist attractions.
Guide to Paris
Tourism in France
The main
tourist attractions
and places to visit in France - historic monuments, art galleries, seasides, and more
Planning a trip to France
Information on things to do before starting your trip to France..
Driving in France
Tips and useful information on driving in and through France - motorways, tolls, where to stay....
Maps of France
Cities, towns, departments, regions, climate, wine areas and other themes.
The French way of life
A mine of information about life and living in France, including working in France, living in France, food and eating, education, shopping.
A-Z dictionary of France
Encyclopedic dictionary of modern France - key figures, institutions, acronyms, culture, icons, etc.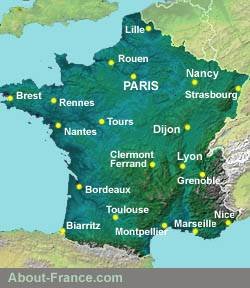 ---
Contact:


By email to contact at about-france dot com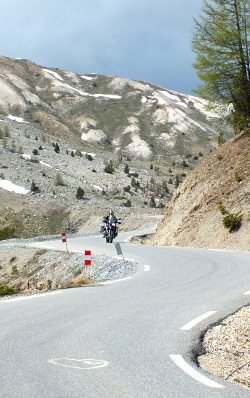 Descent from the Col d'Izoard, high point of the Tour, stage 14



Carcassonne - start of stage 22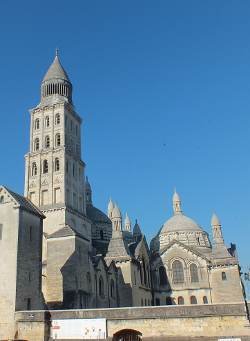 Périgueux - finish of stage 26





France's greatest sporting event
Tour de France in the
UK

- 2014

The 101st edition of the Tour de France started in the UK. Starting from the city of

Leeds

, Riders enjoyed two days of cycling through the spectacular scenery of

Yorkshire

before a third day's riding on the flatter land of the southeast, between

Cambridge

and

London

. And it only rained during the final kilometres into London !

For map and details of the British legs, see
Le Tour

2014

the route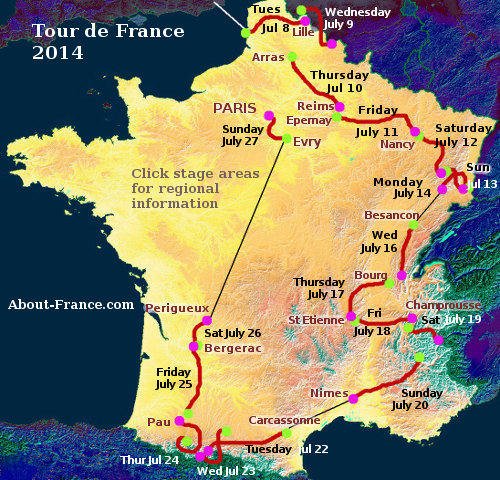 Clickable

Tour de France route map by About-France.com.


Click stage areas

for regional tourism information .

Copying permitted only by permission.

The route of the 2014 Tour de France
The One hundred and first edition of the Tour de France was distinguished by three factors.

1) A start in England, with two stages in the hills of Yorkshire, and one between Cambridge and London (route) .

2) Four days in the north eastern regions of France, in areas that from this year on will be commemorating the hundedth anniversary of the Great War (1914 - 1918).

3) There was only one day of individual time trials this year, rather than the two days that have been the norm in recent years.

See the stage by stage guide below to follow the Tour round France, and click on the links for more information about the regions and areas of France through which the riders and the media circus travelled in 2014. Alternatively, click on the map opposite to bring up regional information.


The 2014 Tour de France route stage by stage

Stage
Date
Day's route (towns, regions) and terrain
Length in Km.
1st Stage
Sat 5 July
Leeds to Harrogate (Yorkshire)
191 km
2nd Stage
Sun 6 July
York to Sheffield (Yorkshire)


198 km

3rd Stage
Mon 7th July
Cambridge to London (East Anglia, Home counties)

159 km
4th Stage
Tues 8 July
Le Touquet Paris Plage to Lille (Nord - Pas de Calais) A first stage in areas that saw fighting in the Great War
164 km
5th Stage
Wed 9 July
Ypres (Belgium) to Porte du Hainault (Nord - Pas de Calais) - Through the fields of Flanders past memorials of the Great War but also including some of the celebrated cobbled roads of northern France.
156 km
6th Stage
Thur 10 July
Arras (Nord - Pas de Calais) to Reims (Champagne) - another stage through a part of France that is commemorating the centenary of the First World War
194 km
7th Stage
Fri 11 July
Epernay (Champagne) to Nancy (Lorraine)
A last day through the former battlefields of the Great War
233 km
8th Stage
Sat 12 July
Tomblaine, near Nancy, to Gérardmer (Lorraine) - including a notorious climb to the Col de Grosse Pierre pass.

161 km
9th Stage
Sun 13 July
Gérardmer (Lorraine) to Mulhouse (Alsace) Up and down the Vosges mountains, then down to a finish on the Alsace plains.
166 km
10th Stage
Mon 14 July
Mulhouse (Alsace) to La Planche des Belles Filles. (Franche Comté). Seven climbs, and a finish at 1,035 metres in the Vosges.
161 km
Rest day
Tue 15 July
Besançon (Franche Comté)
none


11th Stage

Wed 16 July
Besançon (Franche Comté) to Oyonnax (Rhône-Alpes). A stage through the hills and valleys of the Jura mountains
186 km
12th Stage
Thur 17 July
Bourg en Bresse to Saint-Etienne, (Rhône-Alpes)


183 km
13th Stage
Fri 18 July
Saint Etienne to Champrousse (Rhône-Alpes)
Eastwards into the Alps. Two big climbs, including a finish at Champrousse at 1,730 metres.
200 km
14th Stage
Sat 19 July
Grenoble to Risoul (Rhône-Alpes)
Second Alpine stage. Three climbs, including the Col d'Izoard at 2,360 metres, and a finish at 1,855 metres.
177 km
15th Stage
Sun 20 July
Tallard (Provencal Alps) to Nimes (Languedoc-Roussillon)
222km
Rest day
Mon 21 July
Rest day - Carcassonne (Languedoc-Roussillon)
none
16th Stage
Tues 22 July
Carcassonne (Languedoc-Roussillon) to Bagnères de Luchon (Midi-Pyrénées), including a climb of almost 12 km to Port de Balès (1755 metres)
237 km

17th Stage

Wed 23July
Saint-Gaudens to Saint-Lary-Soulan Pla d'Adet (Midi-Pyrénées). First Pyrenean mountain stage, with a section in Spain, and four passes, including a summit finish at 1680 metres.
125 km
18th Stage
Thur 24 July
Pau (Aquitaine) to Hautacam (Midi-Pyrénées)
Second Pyrenean mountain stage
145 km
19th Stage
Fri 25 July
Maubourguet Pays du Val d'Adour (Midi-Pyrénées) to Bergerac (Aquitaine). Across the rolling landscape of Gascony
208 km
20th Stage
Sat 26 July
Bergerac to Périgueux (Aquitaine) Individual time trials. The Tour in the Dordogne
54 km
Sun 27 July
Evry –

Paris

(Ile de France) - Through the outskirts of Paris, and on to the finish on the Champs Elysées
136 km


Total length: 3656 km

For the record: route of the The Tour de France 2008 : Tour de France 2009
Tour de France 2010 : Tour de France 2011 Tour de France 2012 Tour de France 2013


With British cyclists winning the Tour de France for the last two years, all eyes will be on the 2014 Tour to see if British riders can make it a hatrick. Will Chris Froome or Bradley Wiggins pull it off again? Or will the 101st Tour be won by an Australian rider, or an American rider? Or even – as was so often the cas in the past – by a French rider?

And will the event be marred again in 2014 by doping scandals? Hopefully not; in 2013, 443 blood texts were carried out on riders before during and after the race, and none tested positive for forbidden substances such as steroids. Is it safe to say that the age of riders pumping performance-enhancing products is now over?

Now in its second century, the "Tour" goes on, and it is difficult to imagine how it could not. This mega sporting event is worth millions of Euros in advertising, sponsorship and worldwide television rights, attracts millions of spectators, and is one of Europe's great media circus acts.

For the hundreds of thousands who turn up to line the route, the cycling is actually only a tiny bit of the show: While the time-trial races may offer a more long-drawn-out cycling experience for spectators, with competitors taking part one by one, on normal race days the riders may go past in just a minute, especially in the earlier part of a day's leg, before the participants have become more spaced out. But then, the actual race is just a small part of the show. Starting some two hours before the race, the "Caravan" is a cavalcade of floats, decorated cars and other vehicles that moves along the route, throwing out goodies and free samples to the spectators; it is a massive advertising stunt. The advertising caravan, made up of the Tour's official sponsors, is followed by a long line of official cars, technical vehicles, media and motorbikes, lights flashing, horns sounding, all warming up the spectators for the actual event itself. Then, at last, the riders come by - and are gone again as quickly as they appeared, pounding uphill or downhill at speeds that can reach 50 mph or more. A bit of an anti-climax.... And with that, the day's excitement is over.

Anyone wanting to watch the race in a serious manner would be well advised to do so on television; but for a day's outing, with all the fun of the crowds, the waiting, the caravan, and the atmosphere, watching the Tour go by is as good as many other events, and what's more it's free.

The Tour can be watched all over France, and each year the route is different, taking in at least one leg in another country.

If you go to watch the Tour, specially with kids, take care! Don't let children stand too close to the road, and never cross the road while the caravan is passing.

Tourists wanting to book holiday accommodation along the route are advised to do so early.

Click here for

holiday cottages

or for

bed and breakfast accommodation

in France.

Visit the

Official site

of the tour de France

Tourist attractions in France, by region :

France in general:

The main historic monuments and tourist attractions in France

Follow these links for a more detailed list of major tourist attractions in the following regions:

Paris tourist attractions Things to see and do in Languedoc-Roussillon Tourist attractions in Champagne Tourist sites in the Midi-Pyrenees region Tourist attractions in Nord-Pas de Calais region Tourist sites in Lorraine

A brief introduction to the

regions of France




Accommodation

for the Tour de France

All hotel rooms in and around the start and finish points get booked up very fast by the teams and the media.

To avoid disappointment, check out available hotel rooms as soon as possible, using the major online portals

booking.com

or

Hotels.com

,


***





---




Copyright © About-France.com 2009-2014