Explore France ►
Essential pages
Travel in France
Where to go
What to see and do
About-France.com
- the connoisseur's guide to France
Covid and the Tour de France 2021
Barring any unforeseen worsening of the Covid crisis, the 2021 Tour de France will take place at the normal time of year in 2021, starting on June 26th. However, with many Covid restrictions still in place, it will not be "back to the good old days". Social distancing measures will not have been lifted by summer 2021, so densely packed crowds will be discouraged all along the route, specially at the start and finish locations. Anyone planning to follow the Tour, or just to watch the riders and the caravan go by, is strongly advised to select a spot in the country, well away from the crowds. With riders chasing glory over more than 3000 kilometres of French highways and byways, there's no lack of choice. See
stage details
below
Tour de France route map by About-France.com
Detailed map - click for regional tourism info
Copyright : If you copy this map on your blog or non-commercial website, you must credit it to About-France.com
A GUIDE TO THE ROUTE


In 2021 the Tour de France will take riders right across France twice, once from the northwest to the Alps, and then from the Alps to the southwest, taking in some inevitable days of gruelling mountain roads in the Alps and the Pyrenees.
The route is less hilly than in recent years, and notably than the 2020 event that included multiple stages across hilly parts of southern France.
With four full days in Brittany, the Tour will spend as much time in this region in 2021 as it has in the previous seven years combined - adding to the region's attraction as an easily accessible tourist area in the age of Covid travel restrictions.
The route also takes in the area of the Châteaux of the Loire, passing through some of the Loire valley vineyards and beside the fabulous Renaissance castle at Chenonceaux. Riders will pass through other vineyard areas between the Côtes du Rhône and Languedoc vineyards, and with a penultimate day where time trials follow a route ending in the bijou vineyard town of Saint Emilion.
No vineyards on the final day, of course, which will take riders from Chatou, in the western suburbs of Paris, to the end of the race, a sprint up the Champs Elysées in Paris.
Accommodation

for the Tour de France
All hotel rooms in and around the start and finish points get booked up very fast by the teams and the media.
To avoid disappointment, check out available hotel rooms as soon as possible, using the major online portals
booking.com
or
Hotels.com
,
Tour de France
2021 -stage details
The
2021
Tour de France starts on
Saturday 26th June
in Brest, a naval port in the west of Brittany
Click links for guides to the regions and towns along the route of the 2021 Tour de France
Stage
Date
Day's route (towns, regions) and terrain
Length in Km.
1st stage
Sat 26th June
Brest to Landerneau (Brittany)

187
2nd Stage
Sun 27th June
Perros Guirec to Mur de Bretagne (Brittany)
182
3rd Stage
Mon 28th June
Lorient to Pontivy (Brittany)
182
4th stage
Tues. 29th June
Redon to Fougères (Brittany)
157
5th stage
Wed 30th June
Time trials: Changé to Laval (Pays de la Loire)

27
6th stage
Thurs 1st July
Tours to Chateauroux (Loire châteaux area)

144
7th stage
Fri 2nd July
Vierzon (Centre-Val-de-Loire) to Le Creusot (Burgundy)

248
8th stage
Sat 3rd July
Oyonnax to Le Grand Bornand (Rhône-Alpes)
151
9th stage
Sun 4th July
Cluses to Tignes (Rhône-Alpes)
145
Rest day
Mon 5th July
Rest day Tignes (Alps)


10th stage
Tues 6th July
Albertville to Valence (Rhône-Alpes)
186
11th stage
Wed 7th July
Sorgues to Malaucène (Provence)
199
12th stage
Thur 8th July
Saint-Paul-Trois-Châteaux to Nimes (Languedoc)
161
13th stage
Friday 9th July
Nîmes to Carcassonne
220
14th stage
Sat. 10th July
Carcassonne to Quillan (Languedoc)
184
15th stage
Sun 11th July
(Pyrenees) Céret to Andorra
192
Rest day
Mon 12th July
Rest day - Andorra
16th stage
Tue 13th July
Pas de la Case to Saint Gaudens (Pyrenees)
169
17th stage
Wed 14th July
Muret to Saint-Lary-Soulan (Pyrenees)
178
18th stage
Thur 15th July
Pau to Luz Ardiden (Pyrenees)
130
19th stage
Fri 16th July
Mourenx to Libourne (Nouvelle Aquitaine)
203
20th stage
Time trials
Sat 179th July
Time Trials: Libourne to Saint Emilion (Nouvelle Aquitaine)
31
21st Stage
Sun 18th July
Chatou to Paris - Champs Elysées
112

Visit the
Official site
of the tour de France
A brief introduction to the
regions of France
Copyright © About-France.com 2007 - 2021 except where otherwise stated.
Page
READY TO PRINT
The spectacular Roman "Maison Carrée" in Nimes
Medieval gateway to Carcassonne
A Pyrenean pass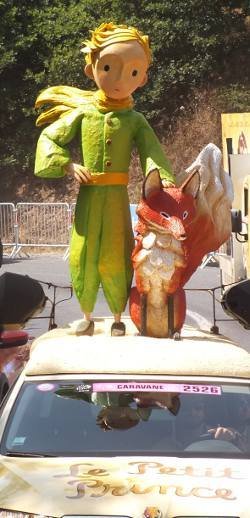 Part of the "caravan" - that preceeds the riders round the course.
France you don't know...
Discover
Offbeat France,
a selection of wacky sites and attractions that most visitors have never heard of !.