Explore France ►
Essential pages
Travel in France
Where to go
What to see and do
About-France.com
- the connoisseur's guide to France
Covid and the Tour de France 2022
The 2022 Tour de France set off from Copenhagen on July 1st. Since June, the number of Covid infections in France and elsewhere in Europe has been rising, and although levels are (so far) nowhere near the peaks seen during earlier surges, the French government is again encouraging caution. The wearing of facemasks is again recommended (though not yet mandatory) in public transport, and in crowds and crowded spaces. Those eligible for a second Covid booster jab (a fourth jab) – which in France means the over-65s – are strongly encouraged to get it.
Yet with the Tour de France, there's no need for enthusiasts to put themselves in situations where there is a real risk of infection. Anyone who remains wary of catching the disease should select a spot in the country, well away from the crowds. With riders chasing glory over 3000 kilometres of French highways and byways, there's no lack of choice. See
stage details
below
Tour de France route map by About-France.com
Detailed map - click for regional tourism info
Copyright : If you copy this map on your blog or non-commercial website, you must credit it to About-France.com
A GUIDE TO THE ROUTE


This year's Tour de France highlights the eastern half of the country, totally avoiding the regions of the west. Passing through six of the main upland or mountain areas of France, it is also more international again, with stages in or partly in Denmark, Belgium and Switzerland.
Following three days in
Denmark
, riders will fly down to France for the start of stage 4 in France's most northerly city Dunkirk, or Dunkerque as it is spelled in French. From then on every stage barring the last is in hilly country. The official designations of stages 13 (Bourg d'Oisans to Saint-Etienne) and stage 15 (Rodez to Carcassonne) as "flat" when stages 4,and 5, in the flat and gently undulating land of the north of France are designated as "hilly", is a trifle misleading.
After stage 6 (Thur. 7th Jul) in the
Ardennes
and stage 8 ending at the Planche des Belles Filles high in the
Vosges
, stage 9 takes the riders across the French and Swiss
Jura
mountains. During stages 9 to 13, riders will have 5 days grappling with the traditional difficulties of the
Alps
, including two ascents of the challenging Col du Galibier, which may take them above the snowline. Stage 14, on Friday 15th July, takes riders out of the Alps, across the Rhone valley and into the hills to the west, for a finish at Saint Etienne. After that it's a day in the
Massif Central
, crossing one of the loneliest parts of France, the Lozère, to Mende. The next day riders will cross the undulating southwest flank of the Massif Central from
Rodez
to
Carcassonne
, where Monday 18th July is the second rest day.
Carcassonne is the departure point for the traditional Pyrenean stages of the tour, but with only three - or indeed two and a bit - days in the
Pyrenees
this year, the final one ending at Lourdes, the renowned Catholic shrine at the edge of the mountains. Expect lots of witticisms from commentators that day about hoping for miracles.
The final full cross-country stage of the race, from Castelnau, crosses the plains of Gascony before entering the hill country of the Lot department, for a finish in the small historic town of Cahors. After that all that is left is a day of time trials with a finish at another famous pilgrimage site, Rocamadour, followed by the habitual short circuit (well, just 112 km) around Paris for the final sprint up the Champs Elysées.
Accommodation

for the Tour de France
All hotel rooms in and around the start and finish points get booked up very fast by the teams and the media.
To avoid disappointment, check out available hotel rooms as soon as possible, using the major online portals
booking.com
or
Hotels.com
,
Stage 14
crosses the sparsely populated uplands of Lozère; Chateauneuf-de-Randan, near Mende
Tour de France
2022 -stage details
The
2022
Tour de France starts on
Friday July 1st
with time trials in and around Copenhagen, Denmark.
Click links for guides to the areas and towns along the route of the 2022 Tour de France
Stage
Date
Day's route (towns, areas)
Length in Km.
1st stage
Fri 1st July
Time trials: Copenhagen - Denmark

2nd Stage
Sat 2nd July
Denmark
3rd Stage
Sun 3rd July
Denmark


Mon 4th July
Nothing - Transit DK > FR
4th stage
Tue 5th July
Dunkirk to Calais (Nord / Pas de Calais)
172 km
5th stage
Wed 6th July
Lille to Arenberg (Nord)

155 km
6th stage
Thur 7th July
Binche (Belgium) to Longwy (Lorraine)

220 km
7th stage
Fri 8th July
Tomblaine (Lorraine) to Planche des Belles Filles (Franche-Comté)

176 km
8th stage
Sat 9th July
Dole (Franche-Comté) to Lausanne (Switzerland)
184 km
9th stage
Sun 10th July
Aigle (Switzerland) to Les Portes du Soleil (Rhône-Alpes)
183 km
Rest day
Mon 11th July
Rest day Morzine - Portes du Soleil (Alps)


10th stage
Tues 12th July
Morzaine to Megève (Rhône-Alpes)
148 km
11th stage
Wed 13th July
Albertville to Col du Granon / Serre Chevalier (Rhône-Alpes)
149 km
12th stage
Thur 14th July
Briançon (High Provence) to Alpe d'Huez (Rhône-Alpes)
166 km
13th stage
Friday 15th July
Le Bourg d'Oisans to Saint-Étienne (Rhône-Alpes)
193 km
14th stage
Sat. 16th July
Saint Etienne (Rhône-Alpes) to Mende (

Massif-Central

)
195 km
15th stage
Sun 17th July
Rodez to Carcassonne (

Occitanie

)
200 km
Rest day
Mon 18th July
Rest day - Carcassonne
16th stage
Tue 19th July
Carcassonne to Foix (Pyrenees)
179 km
17th stage
Wed 20th July
Saint-Gaudens to Peyragudes (Pyrenees)
130 km
18th stage
Thur 21st July
Lourdes to Hautacam (Pyrenees)
143 km
19th stage
Fri 22nd July
Castelnau-Magonac to Cahors (Gascony)
189 km
20th stage
Time trials
Sat 23rd July
Time Trials: Lacapelle-Marival Rocamadour (Midi-Pyrenees)
40 km
21st Stage
Sun 24th July
Paris la Défense to Paris - Champs Elysées
112 km
Visit the
Official site
of the tour de France
A brief introduction to the
regions of France
Copyright © About-France.com 2007 - 2022 except where otherwise stated.
Page
READY TO PRINT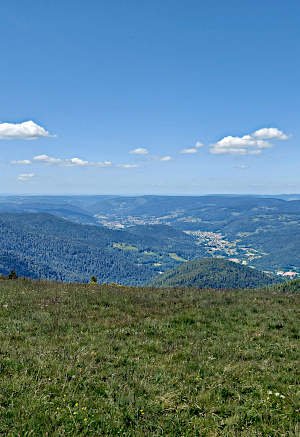 Day 7 ends with riders climbing to the summit at the Planche des Belles filles, the southern peak of the Vosges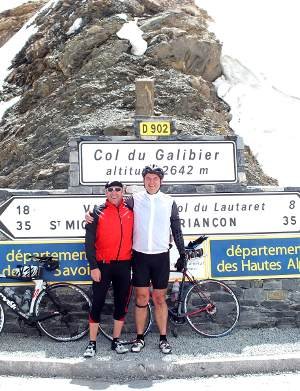 Riders will take in the 2642 metre Alpine Col du Galibier twice during the 2022 Tour
Medieval gateway to Carcassonne - Stages 15 & 16
Stage 19 ends up in Cahors, on the river Lot, with its remarkable medieval fortified bridge.
France you don't know...
Discover
Offbeat France,
a selection of wacky sites and attractions that most visitors have never heard of !.