About-France.com
- the connoisseur's guide to France
ALL 2021 INFORMATION IS PROVISIONAL AND THE OPERATION AND SCHEDULES OF ALL SERVICES ARE DEPENDENT ON THE EVOLUTION OF THE COVID PANDEMIC AND TRAVEL RESTRICTIONS
From the shortest crossing, Dover - Calais, to the longest, Hull - Zeebrugge and Plymouth - Roscoff, there is a good choice of ferry and tunnel operators running from a number of UK ports.
►
Booking directly
with the ferry company protects you from any possibility of a third-party failure, and may make it
easier and cheaper
to change or
cancel
a booking if you have to
change
your ticket. Though
take note:
most of the cheapest tickets available are now sold on a "no change / no refund / no cancellation" basis, and in this case it make little difference if you have booked directly through the ferry company, or through a fare-comparison site. And since the cost of a flexible ticket is almost the same as the cost of a new cheap-rate ticket anyway, paying extra for flexibility doesn't make sense unless you really think you might miss that ferry !
► Which route ? It depends on your priorities, and where you're going.
Price

:For the cheapest crossings, take a ferry from

Dover

, and avoid peak periods and peak hours. Early morning or late night crossings are cheapest.

Speed

of crossing: Take the Eurotunnel shuttle, it's fastest but expensive

Convenience

: (

and maybe price and speed too

) Drivers bound for the western half of France or Spain should check out crossings from

Portsmouth

or further west. They are more expensive, but can result in much shorter driving distances.

For example

a journey from the western outskirts of London to Tours or anywhere in southwest France involves about 320 kilometres or over

200 miles less driving

if taking a Portsmouth-Caen crossing, rather than Dover-Calais. Or a trip from Birmingham to central Normandy is a 500 km drive via Portsmouth but 820 km via Dover. By taking a night crossing, you can also save time or a hotel bill.
All the ferry routes from UK to France
Route
Ferry operator
► See Eurostar page for trains from London or Ashford to France and Belgium

Dover - Calais

- three carriers including Eurotunnel (from Folkestone)
The shortest and quickest services to France.
Appropriate for reaching any region of France. Check out
Routes from Calais
Eurotunnel le Shuttle - up to 4 crossings each hour
DFDS Seaways Up to 10 crossings a day
P&O Ferries Up to 23 crossings a day

Dover

- Dunkirk
DFDS Seaways Up to 9 crossings a day

Hull

Zeebrugge (Belgium) The least hassle from the North of England . Quick access to France
P&O Ferries 1 overnight crossing in each direction

Newhaven

- Dieppe
DFDS Seaways Up to 3 crossings a day

Portsmouth

- Le Havre
Brittany Ferries Seasonal late March to late October: usually 1 crossing each day, generally leaving at 7 a.m. from Thursday to Sunday, or 11.15 Monday to Thursday

Portsmouth

- Caen. May save time for trips to western France ... but usually much more expensive than short crossings.
Brittany Ferries Daily up to 3 sailings a day


Portsmouth

- Cherbourg
Brittany Ferries 1 sailing a day by fast catamaran - 3 hrs. Seasonal: late April - early September

Portsmouth

- St Malo
Brittany Ferries 1 sailing most nights; outward crossing departs 8.15 pm. Crossing time about 11 hours

Poole

- Cherbourg
Brittany Ferries Daily 3 Jan to 8 March, then 30 Apr. to 01 Nov. One sailing a day usually at 8.30 am - outward.


Plymouth

- Roscoff (Brittany) Useful only for reaching Brittany and the Atlantic regions of France
Brittany Ferries Seasonal : sporadic in winter, daily from 12th March to 25th Sept. One crossing a day - very varied departure times depending on day

** It is also possible to sail to France using
Condor Ferries
, but most UK-France sailings on Condor involve a change of ships in the Channel Islands
Copyright © About-France.com 2007 - 202
1
►This page includes links that will take you directly to the ferry company's own website where you can book online at lowest rates.

Check out the options and best prices for the days when you want to travel
►Driving down through France?

Check out the About-France.com route guides for France, from this page:
Routes from Calais
Best routes, route maps , route guides and easily accessible places to stay.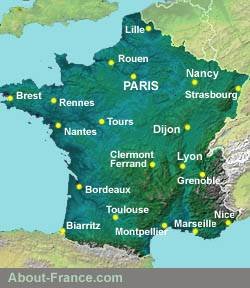 ►►Discover About-France.com
About-France.com home
Full site index
About-France.com site search
►► Principal chapters on About-France.com :
Guide to the regions of France

Beyond Paris, a guide to the French regions and their tourist attractions.
Guide to Paris
Make the most of your trip to Paris; Information on attractions,
Paris hotels
, transport, and lots more.
Accommodation in France
The different options, including
hotels
, holiday gites, b&b, hostels and more
Tourism in France
The main tourist attractions and places to visit in France - historic monuments, art galleries, seasides, and more
Planning a trip to France
Information on things to do before starting your trip to France.
Driving in France
Tips and useful information on driving in and through France - motorways, tolls, where to stay....
Maps of France
Cities, towns, departments, regions, climate, wine areas and other themes.
The French way of life
A mine of information about life and living in France, including working in France, living in France, food and eating, education, shopping.
A-Z dictionary of France
Encyclopedic dictionary of modern France - key figures, institutions, acronyms, culture, icons, etc.
Places to stay in France