About-France.com
- the connoisseur's guide to France
Explore France ►
Visiting Paris
Stay and get round in Paris
France beyond Paris
More useful pages
All you need to know about hotels in France
A practical to guide to finding the right hotel in France: classic hotels, city hotels, hotel chains, budget hotels and more
With over

18,000 hotels

and over 800,000 beds,
France has more space than any other country in the world outside the
USA. France's hotels vary from the five-star hotels such as
Fouquet's
and the Hôtel Crillon in Paris, or the Majestic in Cannes, to rundown 0-star hotels in the side-streets of provincial towns or suburbs. Between them lie the rest, national and international hotel chains plus a wealth of privately run independent establishments, often in town centres or small towns, and the thousands of beds offered by the modern hotel chains, most of whose establishments are located on the outskirts of towns and cities, close to main roads or motorway exits. Click for
Paris hotel guide
Note
for American and Canadian visitors: prices quoted for hotel rooms in France, as for restaurants, always include sales tax (known in France as TVA) , as is customary throughout retail selling in Europe.
Star classification of hotels in France
The hotel sector is regulated, and most hotels are registered and classified by the tourism authority, through regional prefectures. The five-star ranking is highly selective, meaning that certain top hotels in France offering services that would entitle them to five stars in some other countries, will remain four-star hotels in France. The official French star rating system is based more on amenities than on the quality of the amenities. Other organisations may provide unofficial quality-based rankings.
Since stars cost money, hotels do not always apply for the number of stars to which they ought to be entitled; consequently, for example, it is quite common to find good two-star hotels in France which have all the quality and services of a good three star hotel, but do not have the stars. Conversely, as in any country, there are also some hotels that manage to obtain more stars than they deserve; but generally speaking, the number of stars is a fair guide to hotel quality.
Some hotels do not apply for a star ranking at all; in such cases, price is usually the best guide to quality - though again, among small independent hotels, it is quite possible to find very good quality small establishments at very reasonable rates.
Hotel chains in France
France
is European leader when it comes to hotel chains. There are two big groups dominating the market, Accor and Louvre hotels, and both operate a number of chains offering different levels of quality to cater for different types of customer. By far the biggest hotel chain in France is Accor - who had 1631 hotels in France in 2017 .
Accor is the world's third largest hotel group, and its hotels in France - from five-star to one star chains - include five of the country's six largest chains.
Luxury hotels in France:
The chain of five-star hotels with the specific
French touch
is the
Lucien Barrière hotel
chain, with hotels in Paris,
Cannes
,
Deauville
, La Baule, and several major resorts. Other five-star hotels such as the emblematic
Crillon
in Paris are independent, or attached to other more diverse chains. There are also some international chains with outlets in France, such as
Intercontinental Hotels
.
Four or five star hotel chains
The largest selection of four-star hotels in France are the
Sofitel
and
Pullman
hotels, belonging to the Accor group; there is also the
Kyriad Prestige
chain. These chains have a number of outlets in the main cities and on the Riviera.
Three-star or four-star chains:
The largest chains are
Novote
l and
Mercure
; under the same brand, different hotels have three or four star ratings according to local needs – though the quality and essential services remain similar throughout the brand.
Budget hotels in France:
Among the largest chains in the 2 - 3 star budget sector are
B&B hotels
Ibis
,
Ibis budget
,
Campanile
and
Kyriad
.
In the
super-budget category
- 1 star - the largest chains are F 1 (Formule 1) and
Première Classe
. The one-star chains offer super low-cost accommodation. Formule 1 is reputedly the cheapest hotel chain in France; rooms are small, accommodate up to three people, but do not always have toilets or showers - these being communal in some establishments. They do however provide a basic breakfast, normally in cramped conditions, but at super low rates.
Outside of the major groups, there are a number of other chains, including
Marmotte hotels,
Balladins
and
Fasthotels
, as well as hotels affiliated to a number of international chains such as Best Western or Comfort Inn. While the big chains do have city centre establishments, particularly at the top end of the range, most chain hotels are to be found in the suburbs, on main roads or
near motorways.
The one-star brands are frequently located right on main roads, and sometimes even in business parks, so they are not to be chosen if you are wanting to enjoy the colour of local life, or are looking for a hotel in a calm location. But if it is an no-hassle overnight stop you want, the chains are ideal.
Independent hotels and chains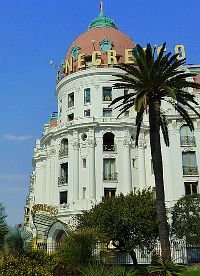 Hotel Negresco in Nice
Independent hotels are for travellers wishing to stay in city centres, or in small towns or the country; they will generally be preferred by travellers who prefer hotels with character to the featureless chain hotels. Eighty-three percent of French hotels are independent establishments; however, by and large they are much smaller than the chain hotels, and actually account for less than half of the total annual number of bed-nights in France. They vary from the very best, such as the fabulous and very famous
Negresco
(not as expensive as you might imagine, out of season) on the Promendade des Anglais in Nice, to the very poor.
The majority of them - though by no means all - are old hotels, establishments that have been in operation for many years, which is why they are often to be found in city centre locations, or else in small towns or even in the country. Some offer delightful and very homely accommodation, but while most independent hotels offer reasonable-to-good value for money, and most have invested in modern facilities, it is still possible to come across low-graded hotels, notably in cities where running costs are high, with small cramped or noisy rooms. It is always a good idea to check out a hotel's website, if it has one, or to follow the recommendations of other travellers, particularly if you are wanting to book a room for more than one or two nights.
Click here for a selection of
small hotels in France
offering charm, character and good value for money, specifically in quiet locations.. A fair number of independent hotels belong to voluntary groups or referral chains (associations of independents) such as
Logis
de France or
Best Western
. Most hotels in this chain are traditional establishments in towns, villages or the country – but not all; the chain also includes some modern suburban hotels, so it is best to check any establishment out on the Internet.
France also offers a growning number of bed and breakfast establishments, in everything from castles to converted country hotels. Click here for a choice of
Bed and Breakfasts in France
.
Wifi in hotels in France
Free wifi is now standard in most hotels, just as a television in the room became the norm a generation ago. However it's worth checking when making a
booking
.
Hotel rates and prices in France
All hotels must by law display room rates clearly in the room. The rate dispayed is the "rack rate" (i.e. the basic undiscounted cost of the room, including tax), which may be higher than the price you have paid, specially if you have booked through a discounting intermediary. The rate displayed in the room should not be lower than the rate you paid, unless you booked through an agency charging commission on top of the price. The rates shown normally do not include the local tourist tax, if there is one; but this is generally no more than one euro per person per night, and often less, except in top-of-the range hotels and tourist locations.
Generally speaking, hotel prices in France are quite reasonable, by international standards. Prices are always quoted per room, though some hotels may have variable prices on a room, according to the number of people using it.
Hotel prices in France vary considerably according to location and - to a lesser extent - by season. Out of the main tourist seasons, many chain hotels, that cater mainly for professionals during the week, offer attractive weekend rates to encourage tourists.
The best rates can usually be had by booking online in advance using one of our partners.
About-France.com
is partnered with the leading discount hotel booking portals
Booking.com
and
Hotels.com
to bring you the best online hotel booking rates possible.
Secure online booking:
►
The hotel links on About-France.com take you to one of these well-established portals, or directly to Accor, or occasionally another reliable booking agency, for secure online booking at the best discounted rates available.
Don't waste your time looking for
hotel discount coupons
: the hotel sites listed above all guarantee best rates, which are announced directly on their own websites. Market leader
Booking.com
even state categorically that they
do not do
discount coupons for anyone. All their offers are served up on their own site .... which does not stop a lot of unscrupulous websites advertising Booking.com discount codes.
Advanced Internet booking means plenty of discounted offers that are not available to visitors who just show up at the door. As with budget airlines, many hotels offer best rates to people who book online well in advance, so advance booking will often save money.
Eating
: Basic hotel prices do not usually include breakfast, though all hotels provide breakfast as an optional extra. This is normally a "continental breakfast", a croissant, bread butter and jam, and coffee or tea being the standard staple. In a two star hotel, breakfast usually includes a glass of fruit juice as well, and from good two-star hotels upwards, the breakfast menu generally includes a selection of cereals, yoghurts, possibly even fresh fruit, ham and cheese. Few hotels, except those at the top end of the range, will provide a cooked breakfast. In a two-star hotel, you should not expect to pay more than 9-12 €uros per person (2020 price).
Mission statement:
About-France.com is a fully independent website committed to providing accurate, objective and useful information about France for travellers, visitors, students, and anyone else searching for travel or general information on France or French life and institutions.
To contact About-France.com, use the
form
provided.
Copyright notice: Website and text © About-France.com 2003 - 2023 except where otherwise indicated.
Photo of hotel Negresco by Miniwark - licence Creative Commons