About-France.com
- the conoisseur's guide to France
This page is a hub. Use the links below to discover the different types of holiday accommodation that are available in France - a wide choice that goes well beyond just staying in a hotel..
Other hotel and accommodation pages
Hotel information and regional selections

Specific regional hotel pages.

Other types of accommodation

►

From up-market holiday villas and campsites to backpacker hostels and camping "à la ferme", France has an extensive range of different holiday accommodation options.


Cheapest hotel rates ?

About-France.com

is partnered with

Booking.com

,

Accor hotels

,

Hotels.com

and others, to bring you the best rates possible. It is pointless to go looking for better rates on

coupon sites

, since our partners already offer the best discounted rates. Market leader Booking.com, for one, state categorically that they do not do special coupons... not for anyone. Which does not stop a whole bunch of websites from claiming to offer them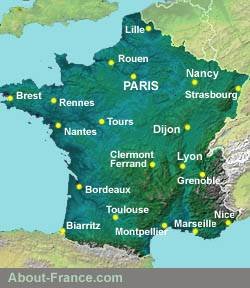 The world's number one tourist destination, France is extremely well equipped in accommodation facilities; it has the largest number of hotels of any western country outside the USA, and a range of hotels varying from the exclusive and expensive to the cheap and friendly.... even sometimes the cheap and unfriendly !
France's Accor group is the largest hotel chain in Europe, and one of the largest in the world.
But hotels are by no means the only option for finding accommodation in France. France also has plenty of backpacker hostels and youth hostels, as well as a good network of holiday villages - though these usually cater essentially to French tourists.
In rural France, and to a lesser extent in French towns and cities, many local residents, including plenty of English-speaking expats, run friendly and attractive bed and breakfasts. And throughout the French countryside, there are thousands of "gites", the French word used to describe holiday rental cottages. For hikers and cyclists in particular, there are also "gites d'étape", cheap and simple accommodation often fairly similar to the youth hostels of bygone years.
France is also a camper's paradise, with thousands of campsites. These vary from luxury five-star campgrounds offering ready-equipped tents, chalets and even yourts, as well space for campers to pitch their own tent, RV or caravan, down to simple small "campings à la ferme" or farm camping, with no facilities beyond a friendly welcome and awashroom
Mission statement:
About-France.com is a fully independent website committed to providing accurate, objective and useful information about France for travellers, students, and anyone else searching for travel or general information on France or French life and institutions.
Copyright © About-France.com 2007-2019
France has the largest choice of accommodation of any country in Europe : as well as hotels, there are hostels, b&bs, holiday cottages, châteaux, campsites and other kinds of place to stay
in. Use this
page to explore
the options
►► Site guide
About-France.com home
Full site index
About-France.com site search
►► Principal chapters on About-France.com :
Guide to the regions of France

Beyond Paris, a guide to the French regions and their tourist attractions.
Guide to Paris
Make the most of your trip to Paris; Information on attractions,
Paris hotels
, transport, and lots more.
Tourism in France
The main tourist attractions and places to visit in France - historic monuments, art galleries, seasides, and more
Planning a trip to France
Information on things to do before starting your trip to France.
Driving in France
Tips and useful information on driving in and through France - motorways, tolls, where to stay....
Maps of France
Cities, towns, departments, regions, climate, wine areas and other themes.
The French way of life
A mine of information about life and living in France, including working in France, living in France, food and eating, education, shopping.
A-Z dictionary of France
Encyclopedic dictionary of modern France - key figures, institutions, acronyms, culture, icons, etc.
►► other sample pages :
Climate and weather
What weather to expect in different regions of France
Regional map of France
Essential facts and figures
Doctors and emergencies
Skiing & ski areas in France
School holiday calendars
Essential French for

visitors
French rail travel
Keeping safe in France
Ferries & Channel tunnel to France
Flights to France