Going to university in France ...
Language schools: There are hundreds of language schools offering French for foreigners. Full details are given below.
► Full time studies - enrolling in a French university

The preliminaries -

Choosing a course

-

Choosing a university



Who can apply, and how?

But befrore you bin that UCAS form, weigh up the pros and the cons of packing up your bags and heading across the Channel for three years or more on the other side.


The Pros and the Cons of studying in France
The Cons:

You've got to be fairly

competent in French

before you start; so unless you already are, you'll probably need to spend a gap year in France, getting competent in the French language. That, however, will give you a chance to get the know the country first, and decide if you really are ready for the big plunge. It will also give you the chance to check out on a few universities.
Depending on the course you follow, you may find that it does not really help you find a

job

in the UK afterwards. That depends very much on what you study. On the other hand, UK employers recruit large numbers of graduates with foreign qualifications, so there is a fair amount of opportunity.
You'll be living a

long way from home

. But with low-cost flights available to and from many French university cities, particularly outside holiday periods, that may not be too much of a problem. But take care... students acquire a lot of luggage, and excess baggage can be expensive.
Less

social life

on campus. French universities are really mostly about studying, and far less about campus life than UK universities. There are lots of hours of classes each week, and the going can be tough. There is a high

dropout

(or chuckout) rate – though generally speaking if you are ready to work hard and put in the hours, or you're brilliant, you'll sail through.
The

administrative hassle

; in any country, administrative hassle is greater for foreigners than for locals, and France is no exception.
The Pros.
The cost!

Tuition fees are about £150 per year in French universities (2016 prices), and student residences and restaurants are heavily subsidised. Public transport in French cities is half the price of the equivalent in British cities, or less. And if you want social life, of course the wine and the restaurants are relatively cheap too.
Note that the standard tuition fees apply in all French universities; they do not however apply in the "Grandes Ecoles" (specialist undergraduate or postgraduate schools), in schools of commerce or other private institutions authorised to award degrees or their equivalents.

The experience gained.

After 3 years in a French university, you'll be virtually bilingual – a skill that is very useful in a country like the UK where so few people speak a second European language properly. Besides, if you want to get a job with international prospects and travel, experience of living in at least two countries for good lengths of time is always a bonus on any CV.
The chance to study in a

UK university

for one year of your course, without paying exorbitant UK tuition fees! Indeed, if you enrol in a course that has a Socrates or Erasmus link with a UK university, you may be able to come over to the UK for a year (subject to availability of places) and study as a "French" student back home! What's more, you should get a grant ! Further details below
Choosing a course
One thing

not

to choose is "English"….. or at least, not unless your aim is to become a secondary school teacher in France or in England. The UK graduate teacher training programme currently recruits in French universities, so if you want to become a qualified secondary school teacher in the UK, you can get into the system with a degree from a French university as easily as with one for a UK institution.


If you have a bent for languages,

and have A level in French and Spanish

or

French and another language, try "

LEA

" (Langues Etrangères Appliquées - Applied foreign languages), which is a joint degree course run in about 50 universities, and is basically two languages and business. The business content tends to vary from university to university, but it can be quite substantial, and graduates are well placed for applying for management jobs in the international departments of companies in the UK or France, or an MBA or a specialised masters course in the field of business. Here are two or three university links: Aix-en-Provence, Avignon, Besançon , Clermont Ferrand, Créteil (Outer Paris).

Otherwise, if you are looking for an

arts qualification

, why not study for a degree in

French

(called "Lettres" in France) or (French)

history

. This is certainly a good preparation if you want to become a French teacher back in the UK; and even if you do not, your bilingualism will be a big asset if you complete your French degree with some short postgraduate professional qualification.

There's no point in studying

law

, unless you want to work in international law.



Economics

courses tend to be far more theoretical than in the UK system.



Science

courses are fine – but as with many courses in French universities, you may find yourself rather swamped in first year classes, which are often less specialised than in UK universities.



Medicine

courses take at least five years, and though there are plenty of places in first year, the fight for places in second year and beyond can be serious!

Other subjects that can be studied equally well in the UK or in France include

geography, sociology, linguistics, pharmacology,

and various other less common disciplines.


Which University?

Points to consider:
a) Transport connections b) Size of university and town
Click here for list of French towns and cities ranked by population
Click here for an overview of

Higher education in France





Transport


Almost all French university cities are easily accessible from the UK either by low-cost flight, or by Eurostar, with connections to the French TGV system at Lille. You can connect at Lille (same platform) to direct TGV's from Besançon in the east to Rennes in the west. But if you plan on driving back and forth to the UK, you'll be better off staying within 400 miles of Calais. that puts you within 8 hours drive of London. That puts the limit at an arc running through Strasbourg, Besançon, Dijon, Poitiers, Angers and Rennes.



Which university town ?




In short, the answer for most candidates will be "anywhere but Paris".


While a degree from the Sorbonne carries weight, getting into the Sorbonne can be hard, as Paris universities operate a redistribution system for excess candidates. You may apply for the Sorbonne, then be told you have to study at "Nanterre", a sprawling campus in the northern suburbs, between high rise housing estates and railway tracks. Paris has more than a dozen universities, most of them in the suburbs; so if you really want to study in Paris, apply rather to another central university (such as Paris III, good for languages), or to one of the more attractive suburban universities such as Creteil. And be warned, accommodation in Paris is not cheap! Even for students!



Try a provincial French university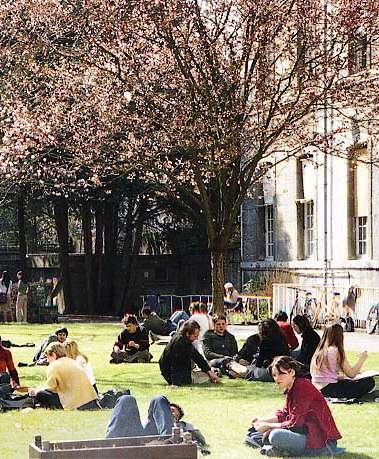 As a foreign student, you will find it easier integrating into French student life and society by enrolling in a provincial university. There are big universities in big cities like Lyons, Lille or Toulouse. There are big universities in medium-big cities like Bordeaux, Grenoble, Montpellier, Rennes, Nancy and Strasbourg. And there are smaller universities in a lot of lesser known, but attractive, regional centres such as Aix-en-Provence, Amiens, Angers, Avignon, Besançon, Caen, Clermont Ferrand, Dijon, Orleans, Le Mans, Limoges, Nice, Pau, Poitiers, etc. In many respects, it is in the smallest university towns that integration is easiest.
Among the smallest and most user-friendly French universities are the university of La Rochelle in the Charentes, and Champollion university in Albi, Midi-Pyrenees.

A word of warning however… Universities in the south of France get a lot of applications from foreign students, and thus tend to be less responsive, and less generous in the way they treat them. There are accommodation shortages for students in many towns, and in recent years they have affected, among others, Aix en Provence, Montpellier and Grenoble.

So if you're interested, get onto the universities' websites, read up about them, write (in French) to the department you are interested in, and even go over and visit.
Let's build tomorrow's Europe today. What are you waiting for?


Differences between French and UK universities:
French universities have a different ethos to UK universities; they are run on much tighter budgets, and they are less concerned about "prestige" than UK universities. There are few French universities in the "Top 100" rankings of worldwide or European universities because, to put it bluntly, they do not have the research funding that so-called "top" universities have. Their mission is not principally to turn out small elites of research students, but to educate as many students as possible to a good first degree level, and increasingly to the level of a Masters degree; and on this score (which is not measured by any international league tables) they do relatively well.
That is not to say that French universities do not have good research laboratories; they do. And given the relatively limited funding available to many French university research laboratories, they often produce surprisingly good results.
► A year in a French university
ERASMUS

There is plenty of opportunity for students in other countries to undertake a year of their degree course in a French university, under the Erasmus or Socrates programme. But in order to benefit from this EU funded programme, and the grants that go with it, a student must be enrolled in a university department (or faculty) that has an Erasmus / Socrates link with a French university department. The Erasmus/Socrates programme operates on the basis of bilateral exchanges betwen university departments, and in most cases French universities will only enroll students who are sent as an officially recognised Socrates student by a partner institution.
Note that most French Grandes Ecoles also participate in the Erasmus programme, so it is even possible in some cases to study for a year in one of these elite institutions instead of a year in a French university. However Erasmus programmes involving Grandes Ecoles tend only to be found in top-ranking UK and European universities

In the absence of an appropriate departmental Erasmus programme, it is often possible for students to take up unused places available in other departments; but this is entirely discretionary, and each department and university has its own rules.

If you plan to study chemistry at university, but like the idea of a year in France, it is would be a good idea to find out first, and apply to a UK chemistry department that has an existing and operating exchange programme with a French university. Generally speaking, UK universities do not fill all the exchange places that they have negotiated with their French partner institutions.
Note that a year on an Erasmus programme is not a way of saving a year's UK fees; the principle of the whole Erasmus programme is that students always pay fees in their home institution, never in the host institution in which they spend a semester or a year.


OTHER STUDENT EXCHANGE PROGRAMMES

Many French universities participate in the ISEP (International student exchange program) scheme, which is a worldwide student exchange program. Many French universities also have bilateral student exchange agreements with other universities in other parts of the world.

► Language Courses in France




Paris or the provinces?

Some of the relative advantages and disadvantages of studying in Paris are dealt with above. The disadvantages of Paris are far less when it is a matter of a short stay, and of course with language courses, it is you, the student, who will choose where to study. However, Paris is still a big city, still expensive, and if you are thinking of a summer course in August, remember that Paris can be very hot.

Private school, university or public organisation? Obviously, the choice of locations is far greater if you decide to choose a private school. Some are excellent, but others - notably those that just open for the summer months - may employ relatively inexperienced teachers. If you are thinking of choosing a private school, check its credentials first.
Apart from private schools, the best-known choice is the Alliance Française, the French equivalent of the British Council, which has been in the business of teaching French and French culture for generations. Then there are three or four reputed centres attached to universities; the Centre de Linguistique Appliquée at Besançon, CAVILAM at Vichy, and the CAREL at Royan, on the Atlantic coast.
Schools situated in university towns and cities often have the advantage of being able to offer cheap subsidized student accommodation in halls of residence, notably during the summer vacation period. There is also hostel accommodation available in most French cities.

For a fairly full list of links to language schools in France, visit lefrancais.com.
For all

other criteria

, it is best to check out the individual websites of different schools.