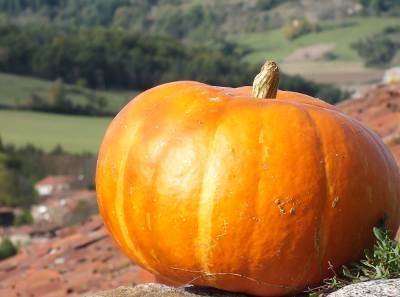 The great thing about farmhouse soup recipes is that they are easy. There are no complicated quantities; the traditional farmhouse soup was just a pot filled with available vegetables and perhaps a bit of meat, some salt, some seasoning, some herbs, plus maybe some leftovers. This was just left to simmer for a few hours on the stove, ready to be eaten when workers returned from the fields.
Over time, farmers - usually farmers' wives - learned their own successful blends, and remembered the recipes in their head. These recipes were passed down from generation to generation. But they were always simple.
This farmhouse pumkin soup recipe (in French
Soupe au potiron
or
crème de potiron
) is simple in the traditional manner. Some guideline quantities have been added for reference, and in line with modern practice; but basically, these quantities are only a guideline, and can be varied as the cook wishes.
Ingredients (in order of use):
Serves 6+
Olive oil or sunflower oil
1 onion, cut into pieces.
1 or 2 cloves of garlic (according to taste)
2 lbs or 1 kg of pumpkin
1 or two medium sized potatoes
1 or two medium sized carrots
Salt (at least one level teaspoon) and pepper, plus your own choice of herbs or spices. But don't overdo the herbs.
Water
Half a cup of fresh cream (French "crème fraiche" if available)
Preparation.
Put some

oil

in a pressure cooker or large pot.
Chop the

onion and garlic

, add to the oil, and simmer
While the onion and garlic are simmering to brown, peel the

pumpkin

and cut it into cubes of about an inch or 3 cm.
Throw them into the pan when all is ready.
Peel and cut up the

carrots and potatoes

: add them to the pan.
Add

water

to the pan, to just cover the contents.
Add

salt, pepper and herbs

. Fresh coriander is a great addition.
Cover and simmer for at least 20 minutes in a pressure cooker, at least an hour in a normal pot.
Final stage:
Take off the boil, blend until relatively smooth, then add the fresh

cream

.
Test for saltiness and thickness. Add more salt if needed (a matter of taste); add more water if the soup is too thick
Stir and bring back briefly to the boil.
Serve.
Bon appétit !
Serving ideas:
For a fully nourishing meal-in-a-soup, add in pieces of cheese after serving (Comté, Beaufort, Gruyère, or even Roquefort), or pieces of chopped ham or bacon.
Varying the quantities and ingredients.
This is a great soup for keeping for two or three days in a row - in classic farmhouse style. Left in the fridge for 24 hours, it will thicken on its own, so add more water before heating up and serving.
The essential secret of this soup is to make sure that pumpkin represents between 75% and 90% of the vegetable content. This way, the soup retains its definite pumpkin flavour. But there is no problem adding more or less onion or garlic, and varying the amount of cream. It can even be eaten without cream, but is definitely better with.
Experiment for yourself! Other vegetables can be added in, according to what is available. Tomatoes are a good addition, as are leeks.
Tip: Preparing a pumpkin.
Remove the pith and pips first.
Then cut the pumpkin into slices about 3 inches or 8 cm thick in the middle.
Peeling is the last step: it is far easier if the pumpkin is in slices. Use a broad potato peeler if the pumpkin skin is not too tough. For older hardened pumpkins, the only way to peel is using a knife - but you lose more pumpkin this way.