Explore France ►
Essential pages
Travel in France
Where to go
What to see and do
About-France.com
- the connoisseur's guide to France
Camping In France has long been a popular summer activity ! And as a cheap alternative to other types of holiday accommodation, camping has been one of the rare sectors of the French tourist industry that has actually benefited from the economic downturn.
With so much opportunity for camping, France is a camper's paradise, and there are campsites to suit all tastes - from the exclusive up-market sites offering full comfort for caravans and even ready-to-use tents, to the most basic rural campsites offering little more than the essentials. In other words, camping can be a whole range of different experiences, to it is not a bad idea to be able to distinguish the different types of camping that are available in France.
New camping and glamping
In recent years, large numbers of French campsites or all types have moved beyond just offering spaces for campers with their own tent or camping car; they now include a few chalets or mobilehomes, and sometimes other more exotic forms of fixed accommodation including "roulottes" (gypsy caravans, or similar) or yurts, for people who like the idea of camping without the bother of having to set up a tent, or buy or hire a motorhome. On up-market campsites, facilities provided can be quite luxurious, a type of camping known as "glamping".
Not surprisingly the word is now being abused by many campsites that offer pretty basic mobilehome chalet accommodation, which is a long way away from the core meaning of the word glamping, which implies sites that offer just a small number of quality furnished units, set in a spacious natural environment. For a selection of such sites in France see
Good-glamping.com
.
Find campsites:
Here are some links that will help you find different types of campsites in France
►
Classification of campsites in France
Driving in France
See
Driving information pages
for France. Tips and info, rules of the road, motorways, restrictions, dates to avoid, fuel prices and lots more
Compare the differences....
Like hotels, regulated campings or campgrounds are classified according to a star-rating system, from one star to four stars, according to their amenities. Compared to a one-star site, a four-star camping is a very different experience indeed. Prices generally reflect the number of stars, the number of people per pitch, and vary according to the period. The average cost of a night's camping for four in the summer holiday peak season is about 28 Euros.
Fixed or mobile accommodations
In recent years, there has been a big move towards campsites catering with a mix of fixed accommodations for hire (chalets, bungalows, fixed caravans), and mobile accommodation (bring your own tent, caravan or camper-van). Most campings cater for tents, caravans or mobile homes (camping cars), though with smaller sites it may be advisable to check caravan access.
There are currently three categories of registered campsites in France:
"

loisirs

" (leisure) where over half the pitches are for fixed residential accommodation;
"

tourisme

" where over 50% of pitches are for mobile accommodation - tents, caravans, mobile-homes
"

aire naturelle

" which are traditional campsites with no chalets or other fixed accommodation. Previously limited to 25 pitches, aires naturelles can now - since 2014 - have up to 30 on an area of at least one hectare. They must have toilets; most have more than just that.
Star ranking of French campsites
All categories
must provide showers, toilets and washing areas – but beyond that there are considerable differences. To help you compare facilities and prices, here are
the main features
of the different types of campsite in France. They represent the minima required at each level of rating; many campings offer more than the minima.
One star campsites:
(about 1500 campsites, many of them small)
Individual shower cabins with cold water (though many have hot), washing area, dish-washing sinks, Pitches of at least 90 m². Prices are very variable, starting from about 8€ per night for a pitch.
Two star campsites:
(over 4000 campsites, almost half the total number)
As for one star,
plus
: Individual shower cubicles with hot water, Individual washbasins, power points for small electrical equipment.
Three star campsites:
(over 2000 campsites, many of them quite large)
As for two-star,
plus
: Warden in attendance 24/24, tiled floors in washing / shower areas, private washing cabins, equipped children's play area, flowers, vegetation between pitches, safe-keeping for valuables, foodstore on site or close by, soft drinks available, English-speaking wardens (not always fluent !), etc. In peak weeks, prices will normally be in the range of 32€ - 40€ per night for four people.
Four star campsites:
(about 700 campsites, generally large)
As for three-star, plus: private washing cubicles with hot water, dish-washing and clothes-washing sinks with hot water, Larger pitches (at least 100m²), tarred vehicle ways within the site, games room, common room. Depending on the location and the time of year, prices tend to vary from 20 € a day off season, to between 40€ and 50 € a day during peak weeks, for four people with a tent, a bit less for just two people.
Farm camping
"Camping à la ferme" is a label offered to farmers who offer a small area for camping, with a maximum of six pitches; the similar "aire naturelle de camping" is an area with a maximum of 25 pitches. They must all provide toilets and wash basins, electric power points, and dustbins, as well as at least one warm shower.
These are just the
main
criteria used in the classification of campsites in France. Many three or four-star campsites also have a bar and a restaurant, as do some one or two-star campsites. Many campsites offer more than the minimum required, for example there are plenty of one-star campsites with hot water in the washroom, though this is not obligatory.
Camping sauvage, camping in the wild in France
For more on this see
Wild camping
on Rural-camping.com .
There is great confusion as to the legality or illegality or camping in the wild, and whether it is advisable to do so. Pitching a bivouac for the night on public land seems to be legal, as long as it is a dusk-till-dawn pitch; parking a camper van beside the road for the night, or on public land, also seems to be legal, unless it is prohibited by a local bylaw. Camping on private land, with the owner's consent, is legal. Leaving one's waste or emptying one's waste-water from a camper van, is not legal. Particular restrictions apply in national and regional parks, though responsible hikers,
cyclists
and campers who stop overnight in these areas do not usually have any problems, as long as they do not clearly flout the law. It is important to remember that laws and bylaws on camping in the wild are mainly there in order to protect the natural environment, to protect heritage areas, to defend the interests of local residents, or to prevent accidents – not to annoy campers.
Click here for information on the
wild areas of France
.
Choosing a campsite, making a reservation

.

For sedentary camping holidays in three or four-star campsites, booking is always recommended. The big holiday campsites on the coast and in tourist locations are very busy in the summer weeks (July and August), so booking is advisable here too, if not essential. For other campsites, notably one-star and two-star campsites, booking is not usually necessary, except for some sites in particularly attractive areas during the peak weeks – especially if the campsite is being used for a one-night stopover. Nevertheless, all campsites have telephone access and many have websites and email, so booking ahead or checking availablilty is never a bad idea.

Protected Areas, national parks, regional natural parks
Here is a map showing most of France's (few) national parks , plus a large number of "Parcs naturels régionaux".
National parks are indicated in purple, the main regional natural parks are shown in green. These include the parks of Lorraine, the Morvan, the Chaîne des Puys, the Forez-Livradois, Millevaches en Limousin, Monts d'Ardèche, Grandes Causses, Luberon, Vercors, Haut-Jura, and others. Many areas not included officially in "parks" are protected areas under EU natural heritage programmes.
Related pages:
Click here for a
detailed map of France
, which you can scroll and zoom on any area.
Camping in France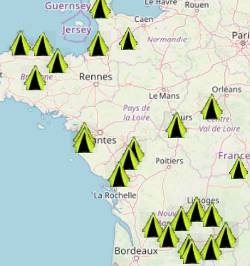 Find rural campsites - map search
More accommodation in France

Text copyright © About-France.com

All photos copyright About-France.com except Photo top of page by John S Barber - licence Creative Commons 2.