About-France.com
- the thematic guide to France
Facts and practical information
Location:
Paris,
Region:
Ile de France.
Height
: 324 metres (1,063 ft)
First opened:
1889
Nearby attractions and other monuments:
Musée des Invalides (Military museum), Musée d'Orsay (for the Impressionists), Musée d'Art Moderne (modern art), Seine river cruises
Plan your visit in advance
The official Eiffel Tower website sells tickets online, at the official rates, for between 1 month and 4 months ahead. For example on January 1st, you can buy tickets for days from Feb 1st to April 30th. But be warned; for Spring and Summer months, these tickets sell out very fast.
If you're too late for tickets on the official site, or there are none left, you'll either have to risk standing in a long line (in the hope that there are places available on the day), or else buy a last minute ticket which may come at a highly inflated price. Continue reading for our "best buy" tips, and to avoid getting ripped off.
Last minute tickets for the Eiffel Tower
Unfortunately, these days large volumes of tickets for the Eiffel Tower get bought up by tour operators and online resellers, as soon as they go on sale: so independent travellers will find it almost impossible to get tickets from the official Eiffel Tower website, except in very low season. And even then not last-minute. To avoid the risk of disappointment, or of having to stand in a long long line, visitors need to look at the offers from online resellers.
Don't get ripped off.
Many online resellers, specially those advertising heavily on the Internet, resell the Eiffel tower tickets they have bought at a large markup – sometimes more than three times the official price.
► Our choice:For visitors wanting to get skip-the-line Eiffel Tower tickets in advance, particularly for a visit within the coming month,
About-France.com

recommends
these options, with Isango
(a subsidiary of TUI Travel) .
Eiffel Tower packages sell out fast; but Isango may still have some tickets for the
top of the tower tour
, even at just a few days' notice.
Warning

: Buying tickets for the Eiffel Tower

Tickets on the

official Eiffel Tower website

(in English or other languages) are frequently sold out

within minutes

of coming on sale. The official site may well have no tickets available for the next three months, specially in busy tourist periods.

If, however, they do still have some available, they can be bought on line

in English

, and

printed out in your own home

. It couldn't be easier.

Note that The Eiffel Tower is not included in any of the Paris visitor passes.

Do not

buy tickets online

from other sources unless you want Eiffel tower access that is included as part of a bigger package - see "

Practical

" below. Resellers cannot offer faster "skip the line" tickets than the official site, whatever they say ; and

all

resellers,

including

the Paris tourist office, charge more for Eiffel tower tickets than the official site - in some cases

a lot more

. Be warned ! Even if you are unlikely to be able to get skip-the-line tickets from the official site, given how fast they sell out, check

official ticket prices

below as a matter of interest !

No more tickets available for your date?

Try

Eiffel Tower combined tours

, which may sell out more slowly.

Alternatively, buy tickets at the entrance ..... but be prepared for a long queue ... or to find that everything is already sold out !
For 41 years, from its inauguration in 1889 until 1930, the Eiffel Tower was the world's tallest man-made structure.
That was just one of the many records it has held, or still holds. Others include the most visited paid-entrance tourist attraction in the world; and also one of the most recognised - if not the most recognised - structure in the world. As a symbol of Paris, it is known the world over.
The Eiffel tower was designed by one of France's greatest 19th century engineers, Gustave Eiffel, as a gateway to the Paris Universal Exhibition, marking the centenary of the French Revolution (1789).
It was originally put up on a 20-year lease, and should have been dismantled in 1909; but by then it had become such a landmark, and so popular, that the Paris city hall decided to keep it open – a decision that it has surely never regretted.
The tower is built of 7300 tons of pig iron - remarkably little considering the height of the structure. When designing it, Eiffel - who was creating a structure like none other before - was particularly attentive to wind forces; sceptics thought that the tower was too high, and would be blown over in the first gale. Eiffel proved them wrong, and his design was so successful that even in the strongest wind, the top of the tower only moves by about 7 centimetres. This is less than it moves under the effect of strong summer sunshine which causes the metal on the south side to expand more than on the north.
The Tower has three levels, and there are restaurants on the first and the second. Most visitors use the elevators (lifts) to the first and second levels, though there are stairs for the very energetic. Access to the top is by elevator only. Though elevators were part of the original structure, those in use today are modern replacements, and fully compliant with twenty-first century safety standards.
The Eiffel Tower stands on the left bank of the Seine (the south bank) in a garden known as the Champ de Mars - or field of Mars, between the Seine and the Ecole Militaire. Obviously, on account of its height, the Eiffel Tower can be seen from places all over Paris, and notably from the heights of Montmartre or from the top of Notre Dame or from the Arc de Triomphe; but one of the best places to view it from a distance is just across the Seine, from the Esplanade of the Trocadero, right opposite.
Eiffel tower tickets & practical information
►

NB: Access to the Eiffel Tower is

not

included in any of the Paris visitor passes
, not even the
Paris City Pass
(best value among the various city passes) or the Museum Pass. Tickets are sold for a given date
and time
only. See below.
Tours including the Eiffel Tower
Check out the
Paris City Vision
website for Eiffel Tower tours, with or without a meal in the restaurant. The Eiffel Tower has three restaurants. Obviously, even when discounted, the price of tours, whether or not they include a meal in the Eiffel Tower are considerably more than the cost of normal acces tickets. But like other advance purchase tickets, they do provide fast-track skip-the-line access to the tower.
For
last minute tickets
when other ordinary tickets have all sold out, the standard
second floor
tour may still have places available. Guided tour tickets are more than the standard ticket prices, but you get your ticket in advance, you don't have to stand in a line, you get a guided tour; and it's a lot cheaper than paying for a hurried meal in one of the restaurants.
At the end of your second floor tour, you can then, and subject to availability, buy a ticket on the second floor, to take you to the top. There are often no queues at the ticket booth on the second floor, and since you buy the ticket at the Tower, you get it at the official price.
Official Eiffel Tower ticket prices - 2019
Buy online from the
official Eiffel Tower website

► 1st and 2nd floor only:
Adult: € 16.30 Youth age 12-24 : € 8.10, Child aged 4 to 11: € 4.10
Babies (under 4): free
► Right to the top:
Adult: € 25.50 Youth age 12-24 : € 12.70, Child aged 4 to 11: € 6.40
Babies (under 4): free
Disabled and their helpers: same as child rate.
There are public toilets on the first and second levels, but not at the top level.
Access:
Metro: Bir Hakeim (Line 6) or Ecole Militaire (Line 8)
Bus for Eiffel tower: lines 42 69 72 80 82 87
To save time and avoid queues for
other Paris monuments
, check out the
Paris City Pass
, the best value among the different Paris passes, providing access to most museums plus a Seine cruise and other attractions.
Copyright © About-France.com 2007 - 2019 except where otherwise stated.
Cheap Eiffel Tower tickets? Ha Ha ! Don't be fooled ! They don't exist.
There are a number of websites claiming to offer " cheap Eiffel Tower tickets." Don't be fooled.
No one
can sell cheap Eiffel Tower tickets, as all tickets come in the first place from the official Eiffel Tower operator, the city of Paris, who don't do discounts. They don't need to ! They get more than enough visitors without discounting !
One website advertises heavily to sell tickets with a "best price guarantee" even though they resell them at more than three times the official price! And others are doubtless selling them for even more.
So any one or any website claiming to offer cheap Eiffel Tower tickets or discounted Eiffel Tower tickets is either being deliberately dishonest or else offering a discount on some
package
which
includes
a visit to the Tower.
These tours exist, but the tour – whatever the discount – will by definition cost more than the normal price of entry to the Eiffel Tower.
Still, this may be what you want: here are a couple of examples.
Click
See
Buying tickets
for further information
Paris guide and visitor information
Monet in Paris
Where to see great works by Monet and the Impressionists
Paris on a budget
Paris on the cheap
: tips on getting best value, and things to see for free
The Eiffel tower in Paris, built in 1889, is probably the most recognisable landmark in the world.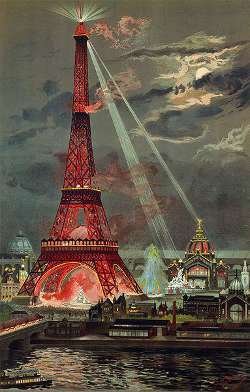 ►► Site guide
About-France.com home
Full site index
About-France.com site search
►► Principal chapters on About-France.com
The regions of France

Beyond Paris, a guide to the French regions and their tourist attractions.
Accommodation in France

Guide to Paris
Tourism in France
The main tourist attractions and places to visit in France - historic monuments, art galleries, and more
Planning a trip to France
Information on things to do before starting your trip to France.
Driving in France
Tips and useful information on driving in and through France - motorways, tolls, where to stay....
Maps of France
Cities, towns, departments, regions, climate, wine areas and other themes.
The French way of life
A mine of information about life and living in France,
A-Z dictionary of France
Encyclopedic dictionary of modern France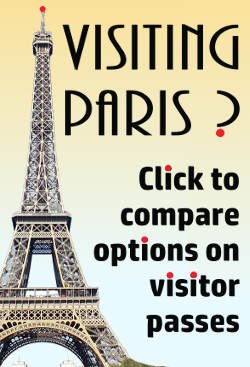 Text and All photos except historic view of Eiffel Tower copyright About-France.com