About-France.com
- the reliable guide to France
The main Paris Tourist attractions
IMPORTANT

- COVID-19 information for Paris
. Bars and restaurants will remain closed in France until at least March 2021. After that, the speed of the hoped-for progressive return to normal will depend on whether the spread of the virus remains under control, and on the rate at which the population can be vaccinated. At a convervative guess, Paris should be largely open again for tourism by June 2021, though some restrictions and social distancing rules may stay in place for a good while after that.
Museums and art galleries reopen as from 15th December 2020, but social distancing rules apply. Whether they remain open in the early months of 2021 depends on whether the covid-19 virus is kept under control.
Paris's river boats - for a cruise on the Seine
Paris
offers the largest concentration of tourist attractions in France, and possibly in Europe. Besides some of the world's most famous musuems, its has a vibrant historic city centre, a beautiful riverscape, an extensive range of historic monuments, including cathedrals, chapels and palaces, plus one of the most famous nightlife scenes in the world.
Paris is also famous for its cafés and restaurants, its theatres and cinemas, and its general ambiance. While there are a thousand other things to do in Paris apart from those mentioned on this page, for the traveller spending just a few days in Paris , this list offers more than enough choice to fill the time.
Note
that national museums (i.e. the main museums) are generally
closed on Tuesdays -
though a few, including the Musée d'Orsay, are closed on
Mondays.
Do you need a visitor Pass?
Answer "yes" if you want to see and do lots of things in Paris, but don't want to waste hours queueing for tickets at the popular sites.
These days, there are two queues to get in to the main attractions, firstly the security check, then the ticket booth. You can't avoid the security checks, but with a "skip the line" pass you'll avoid the much slower queues to get tickets to get in. Just bypas the slow-moving ticket-booth queue, and go straight on in, or use the fast-track provided for pass-holders.. About-France.com recommends the
Paris City Pass
as offering best value for money.
Paris Museums:

The Louvre


closed Tuesdays
- one of the world's great art galleries, with masterpieces such as the Mona Lisa (which is known in French as

La Joconde

), and works by almost all the greatest painters. The Louvre is also a major museum, with an exceptionally rich collection of antiquities and artefacts, including Egyptian mummies, Classical bronzes, and artefacts from round the world. Expect long queues at busy moments, unless you have a pass. Choice of tickets available online

►

here
The Musée d'Orsay


Closed

Mondays
(Paris 7- Metro Solférino) , the museum of the nineteenth century, containg the works of the Impressionists - Monet, Manet, Sisley, Van Gogh, Renoir and others. Choice of tickets available online

►

here
The Musée de l'Orangerie


Closed

Tuesdays
Located on Place de la Concorde. fine collection of Impressionist art, notably the most famous of Monet's Water lilies series. Choice of tickets available online

►

here

The Musée d'Art Moderne

,


Closed

Mondays
Located at the Trocadero. The City of Paris's collection of modern art. And it's free.

The Musée Monet - Marmottan

,
in the 16th Arondissement, with a fine collection of Monets and other French art. Choice of tickets available online

►

here
The Vuitton museum Musée Louis Vuitton
The Louis Vuitton Foundation contemporary arts gallery in the Bois de Boulogne - opened 2014. Choice of tickets available online

►

here

Centre Georges Pompidou

,


Closed

Tuesdays
(Beaubourg, 4° arrondissement), Large collection of avant garde art, housed in a very avant garde building. Open 11 a.m. to 9 p.m. Choice of tickets available online

►

here
Musée Rodin


Closed

Mondays
7° arrondissement - museum devoted to the works of the great sculptor Auguste Rodin.

Musée National Picasso

,
3° arrond. Metro St.Paul -

Now reopened

after major renovation.
Other main sites and sights:
The Eiffel tower - take the lift to the top, for a spectacular panorama of Paris. The tower is 317 metres high, over 1,000 ft.

Notre Dame cathedral

- Paris's iconic cathedral will remain shut for some years while the building is renovated following the devastating fire of April 2019. .

La Sainte Chapelle,

not far from Notre Dame. thirteenth century royal chapel, with remarkable stained glass windows. (included in passes)

The Arc de Triomphe

- the largest triumphal arch in the world, commissioned by Napoleon. Another place with spectacular views over Paris. (included in passes)
Montmartre, and the Sacré Coeur. Narrow streets, filled with artists, round the 19th century basilica on top of a hill on the north edge of Paris.
Les Champs Elysées

; one of the most famous streets in the world, a broad tree-lined boulevard. Enjoy a drink on a pavement café, but watch the prices !

Seine river boats

(les bateaux mouche). Take a trip on one of the famous Seine river boats, and see Paris from the river. Departures from the Pont Neuf. Or use the Batobus.. daily and weekly passes from 12 to 17 Euros.

Les Invalides

A fine military museum, containing the tomb of Napoleon, and a remarkable collection of historic models of French cities (included in Paris Museum pass).

The Latin quarter;

narrow streets, with lots of cafés and restaurants, antique shops and boutiques, near the Sorbonne university. Free! (See more things to do for free in Paris)
La Cité des Sciences Paris 19 . Metro line 7 - Porte de la Villette. The Paris science museum, well worth a visit.
Musée des Arts Décoratifs, Paris 1°. Metro Louvre. Museum of decorative arts, close to the Louvre.

The Château de Versailles

- The fabulous castle of King Louis XIV, 20 km from the centre of Paris. Take RER C train from central Paris to Versailles. Château entrance tickets online

►

here
Other tourist attractions in Paris.....
Paris panorama


See Paris from the top of the Tour Montparnasse, the tallest office block in the city. Panoramic viewing area, and it's the only place from which the skyline isn't spoiled by the tour Montparnasse...

The Gardens of the Luxembourg;


The classic Paris city park. Off Boulevard St. Michel.

Paris by night:


Many tour-bus operators run Paris by night tours; but there's no need to take a tour. The lights and sights can be seen in may ways. The most carefree option is to just stroll down the Champs Elysées and along the banks of the Seine, looking at the lights and the illuminated monuments that can often be seen from afar. Then there plenty of restaurants with chairs and tables outside, where you can have dinner and watch the world go by. Then of course there is Pigalle, Paris's raunchy nightlife district, with its arrray of bars, cabarets, clubs and shows.

The Moulin Rouge:


The most famous cabaret in Paris, situated in Pigalle at the foot of Montmartre. Running since 1889.
Taking a trip outside of Paris:
The most visited locations on the outskirts of Paris are:
1. the château de
Versailles
(train from Gare Montparnasse, or RER C line from St Michel Notre Dame, Musée d'Orsay, Invalides, Pont de l'Alma, or Champ de Mars/Tour Eiffel. Château entrance tickets online
►
here
.
2: Château de
Fontainebleau
- train from Gare de Lyon. Château entrance tickets online
►
here
.
Use the
trains
or hire a car at a location on the
outskirts of Paris
, to avoid having to drive in the streets of Paris. See tips on
car hire on the outskirts of Paris
.
Paris underground.....

Two offbeat visits to see the Paris other people haven't seen.....
The Paris sewer museum.
(Musée des égouts) Quai d'Orsay - (Metro Alma-Marceau) There is a whole underground city beneath the Paris streets, and the Metro is just one part of it. The ancient sewerage system is a historic monument, and it has its own museum and tour visit.
The Paris catacombs
1, avenue du Colonel Henri Rol-Tanguy 75014 Paris Tél. : 01 43 22 47 63
Metro
Denfert-Rochereau
Eery underground ossuary, filled with the bones and skeletons of some 6 million Parisians, removed from city graveyards between 1786 and the mid 19th century. 2 km walk underground. 130 steps down, 83 up.
Website
Reservation recommended


More information on things to do in Paris:
Visit
ParisAdvice.com
the insider's guide
Eating out in Paris
There are thousands of restaurants to choose from in Paris; as well as plenty of French restaurants, there are hundreds of Italian restaurants, pizzerias, Vietnamese restaurants, and restuarants serving food from just about every country in the world. There are also interesting French regional restaurants, serving traditional regional dishes.
There are restaurants
all over Paris
, because Paris is very much a lived-in city. The best concentrations of top-class restaurants in Paris are near the Champs Elysees, in the 8th, 16th and 17th arrondissements, where there are a good number of Michelin starred restaurants. For more affordable eating, and plenty of choice and atmosphere, try the small streets in the Latin quarter (5th and 6th districts), or on the Ile St. Louis.
For the best oriental cuisine, go to the Paris Chinatown, south from the Place d'Italie in the 13th.
Links to main Paris tourist attractions:
The Eiffel Tower
,
Notre Dame Cathedral
,
Sainte Chapelle
,
The Champs Elysées
,
Arc de Triomphe
,
The Louvre
,
the Orsay museum
,
Seine river boats
,
the Latin Quarter
,
Montmartre
,
Moulin Rouge
,
Pompidou Centre
,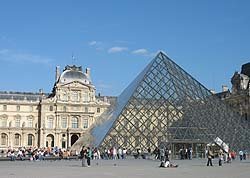 Paris City Vision offers a range of all inclusive guided tours in and round Paris
Day trips from Paris
Day trip excursions from Paris, by coach or minibus, including
Private minibus tours from your hotel
Hotels near the Eiffel Tower.
Click here
for a choice of
over 50
hotels close to the Eiffel tower
►► Site guide
About-France.com home
Full site index
About-France.com site search
►► Principal chapters on About-France.com
The regions of France

Beyond Paris, a guide to the French regions and their tourist attractions.
Accommodation in France

Guide to Paris
Tourism in France
The main tourist attractions and places to visit in France - historic monuments, art galleries, and more
Planning a trip to France
Information on things to do before starting your trip to France.
Driving in France
Tips and useful information on driving in and through France - motorways, tolls, where to stay....
Maps of France
Cities, towns, departments, regions, climate, wine areas and other themes.
The French way of life
A mine of information about life and living in France,

Text and photos © copyright About-France.com 2004 - 2021


About-France.com is an affiliate partner of leading booking and ticketing portals, and may earn a small commission from bookings made through these third-party websites.