French national railway museum: Mulhouse, Alsace
The best transport and industrial museums in France
While France was, until the twentieth century, essentially an agricultural country, it is also a country with a significant industrial history.
For various reasons, the Industrial Revolution got off to a slow start in France. By the year 1800, France was still a rural society, and the great phase of indusrialisation that had begun in England a hundred years before was hardly visible in France.
One of the reasons why the French had their "French Revolution" in 1789 was that French society had not evolved. Like other continental countries, France remained attached in the eighteenth century to a traditional mercantile model of society, and did not seek to adopt the new industrial model that was emerging in Britain.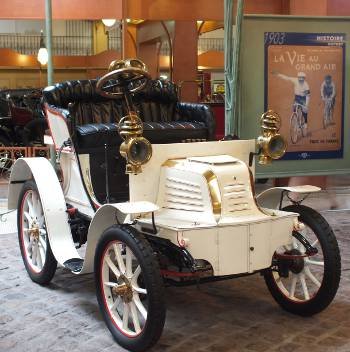 Peugeot motor museum, Sochaux, Franche Comté
After the French Revolution, France moved into a period of change; and with that change came industry, more mines, large-scale production, and from the 1830s onwards railways, the great transport revolution of the nineteenth century.
The pace of railway building in France was not as frenetic as it was in Britain, where unfettered "railway mania" led to massive overbuild and duplication of routes. In France the building of new railways was done in accordance with a strategic plan, was therefore more coherent and slower. By the late 1880s however, France was effectively criss-crossed by a network of railways, a large part of which are still in service today. The railways transported coal from the mines to the cities, and goods and travellers all over France.
At the end of the 19th century however, France was among the pioneering nations with regard to automobiles or cars, well ahead of Britain. By 1900, France was the biggest producer of cars in Europe, and remains a major car-manufacturing country to this day. And also in the early twentieth century, France was a pioneering country in the field of aviation, thanks to men like Alberto Dumont and Louis Blériot. After the second world war, France and Britain worked together to produce concorde, the world's first and so far only supersonic jet transport plane; and today France is a world leader in aircraft design and manufacturing, with the headquarters and main assembly plant for Airbus, and the Dassault company still producing state-of-the-art military aircraft.
Naturally this industrial heritage is remembered in a number of museums across France - car museums, train museums, aircraft museums, space museums, historic mines, and other industrial museums and sites. The best of these are listed below.
Check out locations
of many of these museums on
Tourist map of France
, looking for this marker:
Region / Department
City
Brief description
Paris area
Paris
Paris
Porte de la Villette
*

Science and Industry museum

- La Villette. Access by Metro line 7. The Cité des Sciences et de l'Industrie includes a whole range of exhibits and collections. It is a modern science museum, not a transport museum; among other things it contains a submarine and a planetarium.
Northern suburbs of Paris
Le Bourget
***

Air and space Museum

- Free entry. The largest aerospace museum in France, located at Le Bourget, the original historic Paris airport. The collection includes some of the oldest planes in existence, through to Concorde and recent military aircraft.
Paris
Palais de Chaillot, Trocadero
*

Musée de la Marine

. Founded in the 18th century, this is essentially a collection of model boats and ships, but it does include a few real exhibits, such as Napoleon's Imperial barge and the prow of a 17th century warship.
Northern and eastern France
Hauts de France
Nord
Lewarde
**

Mining museum :

In the heart of what was the largest mining area in France, the Lewarde mining history centre is the largest mining museum in France. The museum supposedly includes a mine visit, but don't expect a trip down the mine. The "mine" is actually a reconstruction on the surface, but the experience is very authentic.
Hauts de France
Picardy
Aisne
Guise
*

Ideal city:

Le Familistère. Jean-Baptiste Godin was a visionary industrialist. Like Titus Salt's Saltaire or Robert Owen's New Lanark in the UK, Godin's Familistere was a 19th century adventure in social housing, a comprehensive environment to provide housing, services and facilities for the workers of his ironworks.
Grand Est
Lorraine
Moselle
Petite Rosselle near Forbach
***

La Mine Wendel.

Carreau Wendel - Visit what was one of France's last working coal mines (closed in 2001). The site, on the French-German border, offers both a mining museum and a guided trip down to the bottom of the mine, complete with its machinery. Closed on mondays. Download pdf brochure in French and English
Grand-Est / Alsace
Haut Rhin
Mulhouse
***

Cité du Train

: French National Railway Museum - the largest railway museum in continental Europe. A large collection from the earliest of French steam locomotives, through to the TGV : locomotives, carriages, and all sorts of railway memorabilia.
Grand-Est / Alsace
Haut Rhin
Mulhouse
***

Cité de l'Automobile

French National Motor Museum - the largest motor museum in the world. Over 400 historic cars, including 123 Bugattis, including two of only six "Bugatti Royale" models ever built and 14 historic Rolls Royces
Grand-Est / Alsace
Haut Rhin
Ste. Marie aux Mines
**

Val d'argent

Visit a historic silver mine that worked for five hundred years. Exceptional mine visits, lasting up to three hours, with experienced guides. Daily visits in summer - but booking essential.See website and booking info
Franche-Comté
Doubs
Sochaux
** The

Peugeot Motor Museum

, located in one of the historic Peugeot production sites. From the earliest of Peugeot cars and other machinery, through the history of the company's models, and up to concept cars that have not yet been built. Access A36 motorway.
Franche-Comté
Doubs
Arc et Senans, near Besançon
*

Royal saltworks

- ideal city. One of the first sites in France to be classed as a UNESCO world heritage site, Ledoux's saltworks are the heart of what was planned as an 18th century ideal city. The area houses an exhibition of futuristic projects.
Western France
Pays de la Loire
Maine et Loire
Saumur
** Saumur

tank museum

. An impressive museum of military hardware, with over 400 tanks from the first world war onwards. Virtually all models of French tank are on display, along with tanks from other countries
Pays de la Loire
Maine et Loire
Noyant la Gravoyere, near Segré
** La Mine Bleue. Take a trip 126 metres underground into an old slate mine that closed in the 1990s. Enter the mine on a train, then follow a guided visit on foot. A unique attraction. Open weekends in Spring, daily in summer. Note: mine temperature: 13°.
Poitou-Charentes
Charente Maritime

La Rochelle
** La Rochelle

Maritime museum

. Housed in the France I, a former Atlantic weather ship, berthed in part of the old docks of La Rochelle alongside historic yachts.
Southern France
Midi Pyrenees
Toulouse
**

Aerospace museum

- Cité de l'Espace -

A substantial aerospace museum, with life-size reeplicas of an Ariane 5 space rocket and a Soyuz capsule. Interactive exhibits, IMAX cinema