About-France.com
- the connoisseur's guide to France
An introduction to the Auvergne
The summit of the Puy de Dome (1465m) with rack railway and city of Clermont Ferrand in middle distance
Auvergne's capital city,
Clermont Ferrand,
lying at the foot of an ancient volcano, is a city of a quarter of a million inhabitants, best known in France as the home of the Michelin tyre company. It is a busy regional capital, a university city, and is very much the region's economic hub; indeed it is the only major urban centre in this largely rural region.
Golf and sailing are among the leisure activites that can be enjoyed at Vichy, one of France's most famous spa towns
Auvergne is made up of four departments, the Allier
(03)
in the north, the Puy de dôme
(63)
in the middle, and the Cantal
(15)
and
Haute Loire
(43)
in the south.
The
Allier
department , chief city Moulins, is a prosperous agricultural department, an area of wide valleys and gently rolling hills. Vichy, in the south of the department, is an elegant spa town famous for its mineral water.
The
Puy de Dome
department, centred round the regional capital Clermont Ferrand, is also famed for its mineral water, and several well-known types of mineral water, notably
Volvic
, come up from the mineral-rich volcanic rock that characterises this area. At the centre of the Puy de Dome is a very fertile alluvial plain, known as la Limagne; either side, the land is much higher, with the northern end of the main
Massif Central
in the west, and the mountains of the Livradois and Forez in the east. The Auvergne Volcanoes area, notably the Massif du Sancy, culminating at over 1800 metres, are popular holiday areas, and offer skiing in winter. Generally speaking, Auvergne is a region very popular with hikers and ramblers.
The massif du Cantal is for serious hikers
The two departments of the south of Auvergne, essentially upland areas, are also popular for rural tourism. Much of the
Cantal
department lies at an altitude of over 800 metres; large areas of these uplands are barren and treeless, such as the wide rolling grasslands of the Cézallier. Cattle graze the uplands in summer, and the Cantal is famous for its cheeses, notably the eponymous Cantal, but also other cheeses such as Salers. At the centre of the Cantal department lie the Monts du Cantal, a great volcanic bulge in the crust of southern central France. In the far southwest corner of Cantal, the land drops off into a much gentler area bordering on the Lot department.
12th century frescoes in St. Julian's basilica,
Brioude
The
Haute Loire
department is another largely an upland area, but it also has relatively lower lying areas consisting of the upper valleys of the Allier and Loire rivers. In all but the high plateaux of Haute Loire, the houses traditionally have roofs of "roman tiles", a Mediterranean influence from bygone times which has contributed to the nicknaming of this department as "le Midi de l'Auvergne". The Haute Loire is particularly rich in historic sites, with three of Auvergne's four Michelin 3-star ranked sites (see detail below), as well as medieval castles, lots of old churches with historic frescoes, kayaking on the Allier and the Loire, and lots of hiking and mountain-bike trails. The small city of
Le Puy-en-Velay
, with its remarkable cathedral, one of the historic starting points on the medieval pilgrimage route to Santiago de Compostella.
A very rural region, Auvergne has not traditionally been a major tourist destination. Apart from the spa resorts of Vichy, Le Mont Dore and Chatel Guyon, Auvergne traditionally had little tourist infrastructure. Even the ski resorts of Besse (63) and Super Lioran (15) are small scale affairs. It is perhaps in part on account of the lack of tourist facilities that in 2009, when tourism in general fell by 6% in France, that tourism in Auvergne bucked the national trend. While other regions saw a drop in tourist activity, tourism in Auvergne increased in 2009 by 6% on the crest of the surge in popularity of camping, hiking and outdoor pursuits, for which this region offers some of the best opportunities in France.
The Auvergne is increasingly popular with
cyclists
, particularly or its huge opportunities and many marked circuits for mountain biking and cycle tourism. It is crossed by three waymarked long-distance cycle routes, the
V70 Via Allier
, the V73 Via Fluvia and the V74 Volcanoes cycleways. There are also large numbers of local cycle circuits for different types of cyclists - from hard-core mountain bikers to leisurely e-bikers - particularly in the Haute Loire department around
Brioude
and
Le Puy
.
Staying in the Auvergne
While there are hotels in the few cities and in many of Auvergne's small towns, a popular option for holidaymakers wanting to enjoy Auvergne's great outdoors is to stay in a gîte, i.e. a furnished self-catering holiday cottage. there are plenty of these in Auvergne, and generally they offer excellent value for money.
Main tourist attractions in the Auvergne
Historic and natural heritage sites, towns, castles, villages and even a Gallo-Roman mine to visit.
Four sites in Auvergne get the top Michelin Green Guide 3-star ranking... The cathedral and the St. Michel de l'Aiguilhe chapel in
Le Puy en Velay
(43), St. Julian's basilica in
Brioude
(43), and Notre-Dame du Port in Clermont-Ferrand (63).
Allier - 03
Moulins

(03), historic Loire valley city, old town, cathedral.


Vichy

(03) - Listed as a UNESCO World Heritage site in 2021. Elegant former spa town. Opera house, the spa buildings, exuberant Belle Epoque and art deco architecture, the plan d'eau (artificial lake on the river Allier), riverside gardens, racecourse.

Lapalisse (03) - Fine private Renaissance castle, overlooking the small town. Guided visits, grounds.
Noyant d'Allier (03) Mining museum. Trip in an old mine train, and through a reconstructed section of mine.
Charroux (03): historic village overlooking the Allier valley; fortified gateways. Classed as a "plus beau village de France"
Cantal - 15
Monts du Cantal cluster of former volcanoes; ridge walking, hiking, skiing and cablecar at super Lioran (cablecar open in summer), to the top of the Plomb du Cantal. Pas de Peyrol. high mountain pass accessible by car.
Cézallier and Planèze:high prairies. hiking, mountain-biking.
Murat: attractive small town at the foot of the Monts du Cantal.
Salers: very touristy but authentic old small town. Narrow streets, boutiques,

St. Flour. Capital of "High Auvergne"; an austere small city perched on the edge of an ancient lava flow.
Pont de Garabit . Famous historic railway viaduct over the river Truyère. Designed by Gustave Eiffel. Viewing centre on the A75 motorway.

Gorges de la Truyère.

flooded valley, beneath the Pont de Garabit. Boat trips and hire. Chateau d'Alleuze, dramatic medieval fortress.
Haute Loire - 43
Le Puy en Velay Old city with fine romanesque cathedral and cloisters: chapelle St. Michel de l'Aiguilhe, 10th century chapel perched on top of a rocky pinnacle (access on foot up 268 steps). UNESCO world heritage site. Crozatier museum and art gallery.

Brioude & Haut Allier: very attractive valley, with pretty villages and a cluster of remarkable romanesque churches and chapels, many with medieval frescoes. St. Julian's basilica and Doyenné Arts centre in Brioude, - Gallo-roman mine at Ally - underground visits. Kayaking.
Lavaudieu : the finest Romanesque cloisters in Auvergne, plus medieval abbey with remarkable murals.
Lavoûte Chilhac : Former Cistercian abbey, ancient hump-backed bridge over the Allier

La Chaise Dieu :

austere Benedictine abbey famous for its Dance of Death murals, and its classical music festival.

Chaviniac Lafayette .

Chateau of the counts of Lafayette, birthplace of the Marquis de Lafayette, much honoured by Americans. Visits.

Dunières: Velay railway

- scenic tourist train running 37 km from Dunières to St. Agrève in the Ardèche. Steam services on some trains.
Le Monastier. Twelfth century abbey, small town, from where RL Stevenson set off on is famous "Travels with a Donkey".

Polignac:

impressive medieval fortress, on a volcanic platform of rock
Puy de Dome - 63
Clermont Ferrand ,Old town, gothic cathedral, romanesque Notre Dame du Port

Puy de Dome

- the dormant volcano rises up behind Clermont Ferrand. Rack and pinion railway to the top, where there are the remains of a Roman temple, as well as fabulous views over 360°.

Issoire, St Nectaire

Very famous Auvergnat Romanesque 12th century churches.


Vulcania

, Volcano-oriented theme park, with rides, interpretive centres, 3-D cinemas, IMAX and other attractions.

Le Sancy

Puy de Sancy, 1886m, is the highest point in central France. Cablecar, hiking, rock climbing, hang-gliding and other outdoor pursuits. Skiing in winter


Thiers

- Old small industrial city, perched on a hillside, and once famous for its cutlery. Cutlery museum, historic factory visit.

Ambert

Moulin Richard de Bas; historic paper mill, making hand-crafted paper to this day.

Montpeyroux

village perched on the edge of the Allier gorge. Climb the tower for magnificent views.
See also official Puy de Dome site in English
Detail of 12th century church, Issoire (Puy de Dome), showing moorish / byzantine influence on Auvergne romanesque architecture.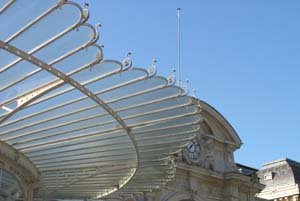 Art-nouveau elegance in the spa town of Vichy
Old rural traditions still survive here and there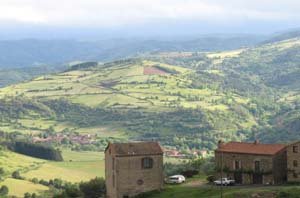 Gentle hill country of the
Haut Allier
- Haute Loire
Steep climb up the pilgrims' way to the romanesque cathedral in Le Puy en Velay
Chapel of St. Michel de l'Aiguilhe, le Puy
Xth to XIIth centuries... and 268 steps up on its rocky pinnacle.
Kayaking for all on the River Allier, in the Haute Loire
Eiffel's Viaduc de Garabit, in the Cantal, seen from the A75 motorway rest area.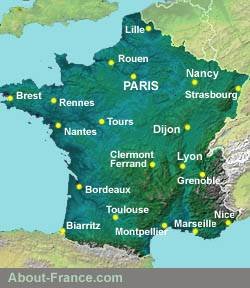 ►► Site guide
About-France.com home
Full site index
About-France.com site search
►► Principal chapters on About-France.com :
Guide to the regions of France

Beyond Paris, a guide to the French regions and their tourist attractions.
Guide to Paris
Make the most of your trip to Paris; Information on attractions,
Paris hotels
, transport, and lots more.
Accommodation in France
The different options, including
hotels
, holiday gites, b&b, hostels and more
Tourism in France
The main tourist attractions and places to visit in France - historic monuments, art galleries, seasides, and more
Planning a trip to France
Information on things to do before starting your trip to France.
Driving in France
Tips and useful information on driving in and through France - motorways, tolls, where to stay....
The French way of life
A mine of information about life and living in France, including working in France, living in France, food and eating, education, shopping.