Explore France ►
Essential pages
Travel in France
Where to go
What to see and do
About-France.com
- the connoisseur's guide to France
The best scenic railways in France, including both standard routes on the national network, and preserved narrow gauge railways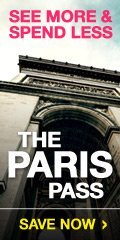 Click here for
best deals on Paris Passes
France's scenic railways
Unlike the United Kingdom or the USA, France did not close down half or more of her railway or railroad network in the nineteen-sixties and seventies, at the start of the motorway age. As a result, modern France still boasts a dense rail network, including a lot of rural branch lines, some of them quite long, that would have been savagely axed many years ago if France had had a "Docteur Beeching".
Yet things may change.... A new report published in February 2018 calls for the closure of many unprofitable lines.
Thanks to a network of minor and sometimes very scenic railway lines, amateurs of rail tourism, or those equipped with a
Eurail or Interrail pass
, or indeed any visitor, can visit some of the parts of France that other means of transport do not reach.
Evidently, the most scenic rail routes are to be found in the mountainous regions of France, which means the southern half. Below is a list of some of the more interesting of these routes, including some long-distance lines.
a) Long distance rail-tourism routes
The most interesting long-distance scenic tourist rail routes in France are those crossing the
Massif Central mountains
, in central southern France. And they are genuinely long-distance, and very scenic.
1. (Clermont-Ferrand) - Arvant - St.Flour - Millau - Beziers
: the longest (Arvant-Béziers is over 300 km) and perhaps most unlikely of France's long-distance single-track lines, often threatened with closure, is still open. There is one through train a day in each direction. This line is known as "la ligne des Causses" or "
la ligne de l'Aubrac"
, and it takes a day to travel the full length. The line is remarkable insofar as it runs across the top of the plateaux of the Massif Central, up to an altitude of 1100 metres, and is also electrified. Highlights include the Viaduc de Garabit (photo right), one of the masterpieces of Gustave Eiffel, spanning the gorge of the river Truyère, and the descent into the deep valley of the Tarn. The line actually runs underneath the modern
Millau viaduct
, on the A75 motorway; it also goes through Roquefort, home of the famous cheese.
2. (Clermont-Ferrand) - Arvant - Brioude - Langogne, Alès, Nimes : "La Ligne des Cévennes" :
the second long distance route across the Massif Central, busier than the Ligne des Causses, (up to four trains per day each way). This line is also more spectacular, as it runs through the upper end of the Allier gorge (photo left), in a section where no roads go, and drops down towards Nimes through the spectacular Cevennes mountains, on a twisting line with dozens of tunnels and impressive viaducts. In summer, special tourist trains operate between Langeac and Langogne. Regularly threatened with closure, this line has just been reprieved, and major renovation has taken place since 2009. In summer, there is an Inter-cités train from Clermont Ferrand to Marseille.... but for how long?
Tip:
Those who enjoy rail-tourism may like to do the
round trip
from Clermont Ferrand or Arvant to Béziers (stay overnight - or stay overnight at Sète, on the coast), then TGV from Beziers to
Nimes
, and return to point of departure by the Cevennes route.
3.
(Clermont-Ferrand) - Arvant - Aurillac - Figeac - Toulouse :
the route is the same as route 1 above, as far as Neussargues, a once-important railway junction in the middle of nowhere. From there, it rises to almost 1100 m at the Lioran pass (col du Lioran), with its station at the foot of the ski slopes, and in walking distance of the cablecar. The line then follows the Cère valley to Aurillac, before dropping down through chestnut forests to the town of Figeac, in the Lot. After that, it twists along the steep sided Aveyron valley, through a series of tunnels, past picturesque villages, before the final stretch to Toulouse.
Viaduct enthusiasts may want to then take the single track line from Toulouse via
Albi
to
Rodez
, crossing Eiffel's other great viaduct, the Viaduc du Viaur. From Rodez, there are connections back to Figeac and Aurillac, or a bus or train connection to Séverac le Chateau on route 1 above.
It is also possible to connect from Aurillac via another picturesque branch line to Brive-la-Gaillarde, on the Paris-Toulouse main line.
4. (shorter) Clermont-Ferrand - Arvant - St Georges d'Aurac - Le Puy - St Etienne - Thiers - Clermont Ferrand
. A branch line circuit taking in two 1000 metre summits, the remarkable city of
Le Puy en Velay
, and about 40 kilometres of the gorges of the river Loire.
Heritage railways in France
Tourist trains, heritage lines, steam lines and other scenic routes:
Heritage railways in Northern France:
Brittany

: The Trieux estuary

steam

railway,

between Paimpol and Pontrieux in the Côtes d'Armor. Website
Picardy:

Le Crotoy. Baie de Somme

steam

railway

. Scenic heirtage line round the estuary of the river Somme from Le Crotoy to Cayeux sur Mer. Website
Heritage railways in Western France:
Charentes: Train des Mouettes - the Seagull line21 Km from Saujon (between Royan and Saintes) to la Tremblade, along the valley of the Seudre.

steam

on summer weekdays.
Heritage and scenic railways in Eastern France : Jura and Vosges mountains.
1. Franche-Comté: (SNCF) Besançon - Morteau - Le Locle (Switzerland) - a line across the high Doubs.
2. Franche-Comté: "Le Conifer" - short

steam

railway (8 km) from les Hôpitaux Neufs to Fontaine Ronde, close to the Swiss border near Pontarlier. Uses historic Swiss stock
3. Mouchard - Saint Claude - (SNCF) beautiful line across the Jura mountains, with a spectacular drop down into the deep valley of St. Claude.
4. Alsace: The Doller valley

steam

railway. 13.6 km from Cernay-Saint André to Sentheim, in the south eastern part of the Vosges mountains.
Heritage railways in the south of France :
Aquitaine region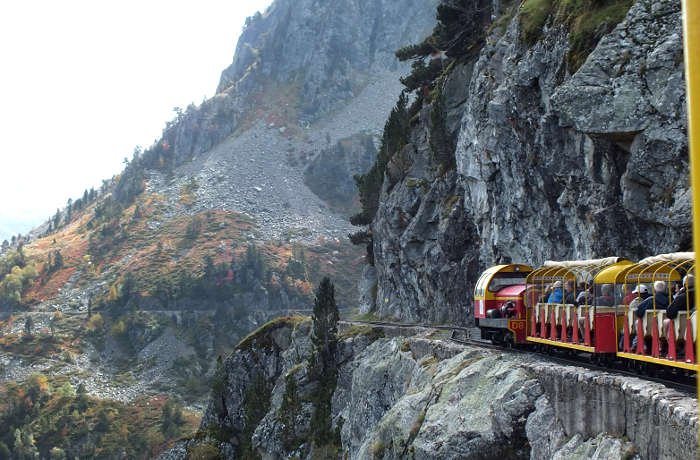 Auvergne region (Massif Central mountains)
Auvergne:

Velay Express

- Velay railway
A 25 km metre-gauge line between Raucoules (Haute Loire) and Saint Agrève (Ardèche), altitude 1025 m - once connected to the Vivarais railway. Much of the line is at an altitude of over 1000 metres, running through a very sparsely populated area of forests and meadows ;

steam

services Sundays May-October plus Wednesday and Thursday July and August. Website
Languedoc region
Languedoc: The Yellow Train of the Pyrenees -
famous mountain train running from Villefranche-Vernet les Bains, near Perpignan , to Latour de Carol, at 1200 metres altitude, on the Spanish border, a distance of 63 km. The line winds up through the French Pyrenees, amid spectacular scenery, to a summit at 1593m. The name derives from the colour of the coaches, which are bright yellow; particularly popular with tourists are the open coaches, offering spectacular viewing of the surrounding mountains. Operates all year round. See Yellow Train
Languedoc : Train du Pays Cathare et du Fenouillèdes
The Fenouilledès and Cathar Country railway opened as a tourist train in 2001; mostly diesel operated. The line runs from Rivesaltes, near Perpignan, to Axat in the Pyrenees, through vineyards and fields and forests, past towering Cathar country castles, over viaducts and through tunnels. Open waggons on many trains Length: 60 km Website

Languedoc

: Train à Vapeur des Cévennes
The Cévennes

steam

line, a heritage line running between Anduze and St. Jean du Gard, in the Cevennes hills of Languedoc. Steam trains daily between 1st April and 31st August, and then five or six days a week until November.
Midi Pyrenees region
Midi-Pyrénées : Chemin de fer du Haut Quercy
A 6.5 km line from Martel to St. Martin de Martel, in the Lot department. Open April to September.

Steam

trains on Sundays and on five days a week (not Friday or Saturday) from 15th July to end of August. Website
Provence -Côte d'Azur region
Nice - Digne-les-Bains

The only private public-service railway in France

This is the surviving part of the once extensive Chemins de Fer de Provence. It is a one-metre gauge private railway (owned by Veolia), linking the seaside city of Nice with Digne les Bains, a distance of 151 km. The route is operated by diesel railcar (not the most comfortable), and runs through the spectacular scenery of the mediterranean Alps. The single journey takes about 3 1/4 hours. In summer, there is a

steam

service at weekends over a short section of the line. Check the website.
Rhône-Alpes region
Alps

Montenvers railway -


Mer de Glace railway. Metre gauge rack-and-pinion railway running from the railway station at Chamonix, to an altitude of 1913 metres, on the slopes of Mont Blanc. Electric railway. Length; 5.1 kms.

Ardèche

(Rhone valley) The Chemin de Fer du Vivarais
This is a delightful 33 kilometre line winding up through the hills of the Ardèche from Tournon, on the Rhône, to Lamastre, high in the Cévennes. The line operates

steam

services in the summer season. 2013 saw the line reopened for service after five years of interruption. Website
Copyright notice: Website and text © About-France.com 2003 - 2021 except where otherwise indicated.