This page is a very general overview of the northeastern part of France. The area is made up of two large French administrative regions called
Hauts de France
and
Grand Est
. These large modern regions were created in 2016 by the amalgamation of five historic regions of France, which are each explored in greater detail on their area page.
Area guide:
The northeast
of France is not well known as a tourist region; but it is part of France that is certainly worth considering for short break holidays from south-east England or Belgium. Thanks to the Channel Tunnel, you can leave work in the London area, escape from the M25, and two to three hours later find yourself in the deep rolling countryside of the "
Pas de Calais"
department. From Brussels, it's even nearer.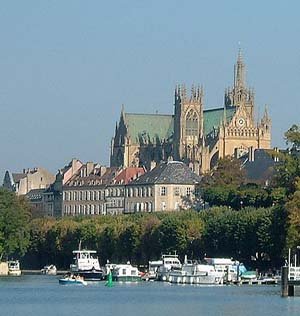 South and southwest of Calais, North East France is undulating country, with small towns like Montreuil sur Mer, lots of rivers, and plenty of attractive countryside. The central part of the region is flatter and, near the Belgian border, between Dunkerque (Dunkirk)
Lille
, Tourcoing and Valenciennes the area is partly industrial.
Yet this is a part of France that has plenty of history - some magnificent cathedrals and impressive monuments from the two world wars. It also includes the
Champagne-Ardenne
area, round the historic cities of
Rheims
, and Epernay, with its famous vineyards and wine cellars.
The real north east corner of France includes the historic regions of
Alsace
and
Lorraine.
This is an attractive part of France with historic cities including Verdun, Metz, Nancy and
Strasbourg
, plus plenty of large areas of coniferous forests on and near the Vosges mountains (which are quite similar to the Black Forest in Germany).
The southern part of Lorraine is extremely rural, with rolling hills and lots of old small towns that look as if time has passed them by. Property in this part of northeast France can be very cheap.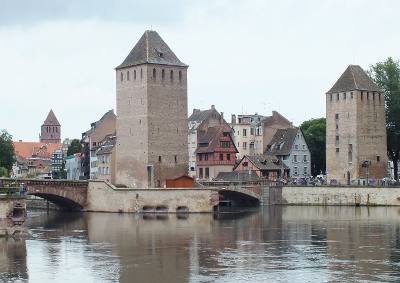 Old city fortifications and part of Petite France, Strasbourg
Alsace, lying between the Vosges mountains and the Rhine, is a very distinct region, with its hills, its vineyards and its steep-roofed half-timbered houses, painted in many colours. The Alsace capital
Strasbourg
is seat of the European Parliament. Historically Alsace was a German-speaking part of France, and the culture and traditional architecture of the region have more in common with the German tradition than with France. The centre of old Strasbourg, located on islands in the Ill river, is arguably the most attractive city centre in northeast France; with its great gothic cathedral, its waterways, its old half timbered houses, and museums and its world-famous Christmas market, old Strasbourg attracts visitors throughout the year.
Main cities in northeast France:
Amiens (in Picardy),
Lille
, Dunkerque, Calais, Arras, Valenciennes (in the Nord–Pas-de-Calais region), Charleville-Mézières, Reims (in Champagne-Ardennes), Nancy, Metz (in Lorraine) and
Strasbourg
and Mulhouse (in Alsace).
Going further: tourist sites in northeast France
Tourist attractions for Northeast France are listed in greated detail on the specific pages for each region. See links above. The single "tourist attraction" that spans the whole area, from the coasts of the English Channel and the North Sea, to the Rhine, are sites remembering and dedicated to the First World war. The northeast of France was in effect the principal theatre of war on the Western Front, from 1914 to 1918, and an area in which litterally millions of men and women died in that "war to end all wars". For more detail see
World War 1 sites in northeast France
The area also includes many of the greatest
mediaeval French cathedrals
, notably those at Rheims, Amiens, Beauvais, Laon, Metz and Strasbourg