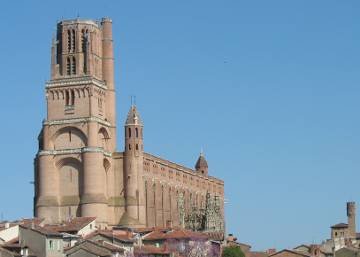 St. Cecilia's cathedral, Albi
The finest mediaeval cathedrals in France
In all there are over 100 cathedrals in France, plus a lot more large abbeys. The majority of them date from the Middle Ages, though many of them have been extensively modified in more recent centuries.
Christianity spread to France in the Gallo-Roman age, but almost all of the most ancient Christian places of worship in France were subsequently rebuilt to make them bigger, more impressive, and generally more substantial.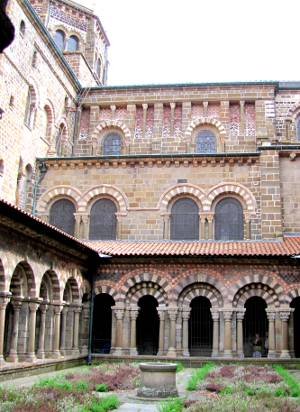 Polychrome romanesque cloister, Le Puy
The great age of cathedral building began in the eleventh century, and it was in this century that work began on the oldest surviving cathedrals in France, notably
Le Puy en Velay
and Le
Mans
.
The earliest cathedrals were built in the
romanesque
style, using rounded arches and massive walls to support the weight of their heavy roofs. Some such as Le Puy or the cathedral of Saint Front in Périgueux were influenced by the Byzantine architectural style of the eastern Mediterranean, and boast cupolas or domes.
Then, during the late eleventh century, a new style emerged in France, a style that, like romanesque architecture before it, to spread all over Europe. It is the style we refer to as
gothic,
though this term was not invented until much later.
Gothic architecture used new sophisticated techniques to reduce the weight of walls, to bring more light into churches, and to add more decorative features. The most significant features of mediaeval gothic architecture are the use of pointed arches (known in French as
ogives
) rather than rounded arches, and the use of flying buttresses on the outside of buildings, to support high walls without resorting to massive solid buttresses, as had been used by the architects working in the romanesque style.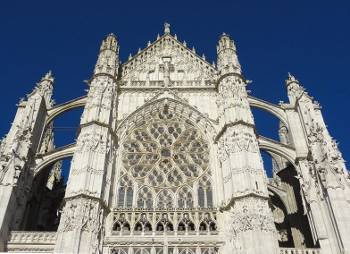 South transept of Beauvais cathedral, showing double flying buttresses
The birthplace of Gothic architecture was the north of France, particularly the northeast quarter of the country; and it is here that the finest of France's gothic cathedrals are to be found;
Chartres, Notre Dame de Paris, Amiens, Reims, Rouen
and
Beauvais
. French gothic cathedrals are noted for their fine "chevets", the semi-circlular ambulatory and radiating chapels located behind the choir. Chevets already existed in Romanesque cathedrals, but the architects of the great gothic cathedrals embellished them in new ways.
The evolution from romanesque to gothic architecture was slow, and it was not until the thirteenth century that the last buildings were erected in the romanesque style. This is reflected in many French cathedrals, on which work was begun in the romanesque style, but finished, often more than a century later, in gothic style.
The list below is a selection of the finest and most distinctive cathedrals in France..
Region / Department
City
Brief
Romanesque or essentially romanesque cathedrals
Aquitaine
Dordogne
Perigueux
Cathédrale Saint Front. The romanesque tower of this cathedral is the oldest cathedral tower in France. the cathedral itself is roofed with five domes, in the Byzantine style, probably inspired by Saint Mark's in Venice
Auvergne
Haute Loire
Le Puy en Velay
Notre Came Cathedral. Remarkable romanesque cathedral incorporating may Byzantine features, including the use of coloured stonework. Le Puy has long been the starting point of the Via Podonensis, the main French pilgrimage route to Santiago de Compostella.

A UNESCO world heritage site

Burgundy
Saône et Loire
Autun
Saint Lazare cathedral. Essentially built in the early twenth century, this has the finest romanesque tympanum of any French cathedral
Early gothic
Hauts de France / Picardy
Aisne
Laon
In spite of later rebuilding, an earthquake, and the First World War, Laon cathedral remains one of the best examples of an early gothic cathedral in France. Of particular note are its fine mediaeval stained glass windows. Well off the tourist trail.
Centre-Val de Loire
Eure
Chartres
Iconic mediaeval cathedral, insofar as it was started in the early gothic style, but completed in late gothic style, thus showing the evolution of gothic architecture over two centuries. Notably famous for its remarkable stained-glass windows.

A UNESCO world heritage site

Gothic
Paris
Ile de France
Paris
Notre Dame de Paris. The most visited of all France's great gothic cathedrals. It is sometimes necessary to queue to get in. Extensively restored in the nineteenth century.

A UNESCO world heritage site

Centre-Val de Loire
Cher
Bourges
The widest of the great French gothic cathedrals, with five aisles (most cathedrals just have three). Bourges cathedral is one of the purest of French gothic cathedrals, having been largely built in the space of just 35 years. The towers are later. Off the tourist trail.

A UNESCO world heritage site

. Fine stained glass windows.
Hauts de France / Picardy
Somme
Amiens
The largest of the great French gothic cathedrals, with an internal volume of over 200,000 m3, and a height under the valut of over 40 metres. The first stone was laid in 1220. Amiens cathedral has some of the finest 13th century gothic sculpture of any cathedral in France.

A UNESCO world heritage site

Late gothic
Hauts de France / Picardy
Somme
Beauvais
Beauvais Cathedral, the Cathedral of St. Peter, was never completed. However, the part that was built gives an awe-inspiring idea of what it might have been. It has the highest vault of any gothic cathedral in the world, an amazing 48.5 metres - making it higher than St. Peter's in the Vatican To support the height, the cathedral has a remarkable ensemble of flying buttresses..
Grand-Est / Champagne.
Marne
Reims
It was in the Notre Dame cathedral in Reims that the Kings of France used to be crowned. Reims cathedral remains one of the great examples of French high gothic: having suffered seriously in two world wars, it has been painstakingly restored to its original spelndour. It is one of the most visited of France's great gothic cathedrals.

A UNESCO world heritage site

Normandy
Seine Maritime
Rouen
Rouen cathedral suffered from major damage over the centuries, including lightning strikes, structural collapses, and bombing in the second world war. It remains nevertheless one of the great French mediaeval gothic cathedrals, and is the sublect of a world-famous series of paintings by Claude Monet.
Grand-Est / Alsace
Bas-Rhin
Strasbourg
French high gothic, with a Germanic touch. Strasbourg cathedral is the second most visited cathedral in France after Notre Dame de Paris. Externally, to the tip of its spire, it is the tallest mediaeval structure in the world, and the sixth highest church in Europe. Part of the old Strasbourg

UNESCO world heritage site

Pays de la Loire
Sarthe
Le Mans
St. Julian's cathedral, Le Mans, is the finest great gothic cathedral in the west of France. The original romanesque cathedral, which can still be seen in the nave, was rebuilt in the 12th century in the style of the great cathedrals of the northeast, with remarkable tracery of flying buttresses around the outside of the choir. Rebuilding work was largely paid for by King Henry II of England.
Midi-Pyrenees
Aveyron
Rodez
Among the few great pure gothic cathedrals in the southern half of France, Rodez cathedral has a particularly fine flamboyant gothic bell-tower. Situated almost at the highest point of this hill-city, the cathedral tower can be seen for many miles around, as was the case with all cathedrals in mediaeval times.
Midi-Pyrenees
Tarn
Albi
The most distinctive and unmistakable mediaeval cathedral in Europe, it is one of the few great churches built of brick rather than stone. Built at a time of religious strife, St. Cecilia's cathedral is a fortified cathedral, designed as an impregnable fortress and symbol of Catholic power against heretics and infidels. Though sobre and without decoration on the outside, the cathedral has all the intricate stonework one would expect to find in a gothic cathedral, on the inside.

A UNESCO world heritage site