The conoisseur's guide to France




►► Site guide
About-France.com - home
Full site index
Search About-France.com


Find information by keyword
France in Brief


►► Principal chapters on About-France.com :

The regions of France


Beyond Paris, a guide to the French regions and their tourist attractions.

Guide to Paris

Tourism in France

The main tourist attractions and places to visit in France - historic monuments, art galleries, seasides, and more

Planning a trip

Information on things to do before starting your trip to France.

.

Driving in France

Tips and useful information on driving in and through France - motorways, tolls, where to stay....

Accommodation in France
Maps of France

Cities, towns, departments, regions, climate, wine areas and other themes.

The French way of life

A mine of information about life and living in France, including working in France, living in France, food and eating, education, shopping

.

A-Z dictionary of France


Encyclopedic dictionary of modern France - key figures, institutions, acronyms, culture, icons, etc.

►► Other key pages :

Climate and weather

What weather to expect in different regions of France

Regional map of France
Essential facts and figures
Doctors and emergencies

Skiing & ski areas in France
School holiday calendars

Essential

French for

visitors

Holiday planner

►► Other main travel pages
Routes south from Calais

Routes and maps for driving south avoiding the heavy traffic round Paris.

French rail travel
Keeping safe in France
Ferries & Channel tunnel to France
Flights to France





Archive (2007) :
FORWARD TO THE FUTURE ?
The French presidential election 2007
Sego or Sarko? Whoever is in charge of France by the middle of the year, one thing is more or less sure – France will be moving into a period of change. It is something that both front runners for the coming Presidential Election agree on, in their own ways.
France – for all its joie de vivre - is a country in crisis. Even if the great curse of unemployment is slowly beginning to subside, the country remains plagued with a raft of other ills; social crises, a staggering national debt, a vast and inefficient civil service, the highest tax burden of any major country, and a general feeling of disillusion with the political elites who have run the country for the last half century.
Just before Christmas, one of the nations iconic figure's – ageing rocker Johnny Halliday, the French equivalent of Elvis – announced that he was leaving the country to live as a tax exile in the millionaire's resort of Gstaad, in Switzerland. Almost all French politicians – classically out of sync with the mood of the people – condemned Johnny for his lack of patriotism – as if it were somehow patriotic of Johnny to give 60% of his earnings to the state in taxes; but among Johnny's millions of fans, there was a clear feeling of sympathy for their idol.
But Halliday's move, coming as it did five months before the forthcoming Presidential and general elections, clearly put the spotlight on a problem; and there was one leading politician who – while carefully avoiding any public approval of Johnny's self-imposed exile – had the honesty to admit that Johnny's action illustrated "a real problem" for France. That politician was Nicolas Sarkozy. He dared to admit what the media have been noting for years, namely that the country's punitive tax system is damaging France, by sending into voluntary exile a long line of the nation's most successful sons and daughters – be they musicians, sportsmen and women, academics or successful businessmen.

Sarkozy, currently France's interior minister, is the front runner among the candidates vying to succeed Jacques Chirac as the nation's next president. After months of wrangling in the ruling conservative party, the UMP, Sarkozy seems to have now seen off the last feeble challenge from the defence minister Michèle Alliot Marie, and gathered behind him virtually the whole of the Gaullist party and their partners; and as such, he now has a clear road in front of him, which should take him to the second round of the presidential elections and then, as he hopes, to victory.
Campaigning under the slogan "la rupture tranquille" – meaning a tranquil force for change – Sarkozy, if he is elected, will certainly be different from any other French president. Unlike the classically "gallic" men who have led the country up to now, Sarko – as he is popularly known – is the son of a Hungarian immigrant; and as such he has not just the rounder vision of someone brought up in the cross-cultural environment of a first-generation French family, but also a determination to succeed that is stronger than most of his compatriots.
As interior minister, "France's chief cop", he has been tough, supportive of the police and unambiguous in his condemnation of the culture of lawlessness in some of France's suburban ghettoes. Sometimes choosing vocabulary well outside the classical platitudes of apologetic politicians, he has offended political correctness and even some of his own party, by referring to crack-taking and lawless teens as "riff-rClick here for French Presidential Election 2017

aff" (racaille), and calling for strong measures to clean up the suburban ghettoes. But his words have gone down well among the France's ordinary law-abiding suburban middle classes, exasperated by what they see as a surge in delinquency and the breakdown of the traditional way of life.
As for France's huge economic problems, Sarkozy is one of the first to admit that there are real big problems, and that tackling them will mean a dose of hardship and rigour. He is determined to slim down the civil service, to continue the fiscal reforms that the present government has already begun in a timid fashion, and to make France once again a country in which success and innovation are rewarded instead of being discouraged by the arcane and punitive tax system that has sent Johnny Halliday and thousands more into tax exile in Switzerland, the USA, the UK and other countries. He has pledged to change income tax, inheritance tax, business taxes and wealth tax, and make France attractive once again; it is something that France desperately needs if it is to avoid even worse economic problems in the decades to come.
But is it something that Sarkozy can achieve? His supporters certainly think he can, but then there are a lot of people in France who do not share the Sarkozy vision of a new "liberal" France; it is therefore certain that even if this tough-talker does make it to the Elysée Palace, there are going to be a lot of obstacles in his path. General de Gaulle one said that France was ungovernable; Sarko may find out, to his cost, that this is another of the General's quips that has more than a grain of truth to it.
Of course, Sarkozy may not win. If it had just been a matter of running off against a lacklustre "elephant" of the old socialist party, the result of the upcoming election would seem to be a foregone conclusion. But that is not the case; instead of adopting one of their old-style heavyweights from the past, France's socialists, led by a swell of grass-roots opinion, have broken with tradition and selected a woman, Segolène Royal, to carry their colours in the impending election. And in many respects, they have actually chosen their own centre-left version of Sarko.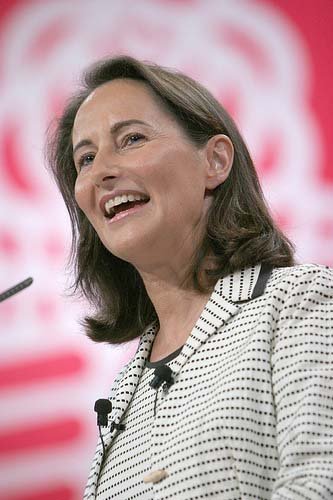 Like Sarko, "Sego" is one who has not been afraid to call a spade a spade, and is also campaigning on a platform of "strong change." She has been endorsed by all the tenors of the Socialist Party and their main allies, and has even won the support of Jean-Pierre Chevènement, leader of the very old-Labour style faction that broke away from the Socialist party a decade ago. Defying traditional opinion in the Socialist party, Segolène Royal even went on record as expressing her admiration for Tony Blair and the way he had reformed Labour and helped Britain get back on the rails again. For most on the French left, Blair is seen as a dangerous "liberal" whose main achievements have been to destroy traditional socialism in Britain, and serve as George Bush's poodle.
Segolene Royal is currently riding high in the polls; elegant, refined and smiling, she, like Sarkozy, has captivated a large proportion of French voters, who see her as a visible image of change, a far cry from the demagogic "politicians" of the classic French left. In the primary elections organised for the first time by the Socialist party to choose their flag-bearer for the presidential elections, she roundly saw off all competition, achieving a clear absolute majority of votes from the party members.
Just as Sarkozy has pledged to change the way France is run, Segolène Royal freely admits that there are a lot of things in France, including its bureaucracy and its tax system, that need to change; yet she has refrained from advocating the type of radical reforms that Sarkozy envisages. On the key issue of the 35-hour working week, imposed by the Socialists when they were last in power, but now seen by many as the main reason for France's economic plight, Segolène has hedged - admitting that all is not well, but failing to take a clear stance. To do so would inevitably alienate her from a certain part of socialist opinion, as the party is very divided on the issue. Likewise, any clear commitments to specific social or economic reforms might alienate some of the traditional French socialist voters, who benefit strongly from France's generous social services. Furthermore, if she is elected, she will logically have to rely on a parliament in which the traditional socialists from the past will still carry a lot of weight. Even if, in the past, France's socialists have been just as successful at enacting reforms as the conservatives have been, it can not be taken for granted that President Royal, if she is elected, will be able to enact as much change in France as she would hope to. That remains to be seen; it will perhaps depend, if she becomes France's first woman President, on the balance of forces in the Socialist party between the traditionalists, well represented among parliamentarians, and the grass-roots that chose her as their candidate.
In the meantime, the presidential battle will gather pace, and "change" will be the main argument. From May onwards, it will be up to Sarko or Sego, assuming that it is one of them who succeeds Jacques Chirac, to begin tackling France's huge problems, and enacting the changes that the country cannot afford to delay much longer. Time will tell how great those changes will be; but one way or another, 2007 will be a year of change. That much is certain.
First published in 2006 - © About-France.com - Alexia Granville



Photos: Photo of N.. Sarkozy by Edublogger - E McIntosh . Photo of Segolene Royal by Parti Socialiste.- Photos licenced under the Creative Commons licence - some rights reserved.