Train travel in France - Tips and tickets
Almost
500 km
of new High Speed Rail lines
will open in France in mid-2017. 182 kilometres of new dedicated line from Le Mans to Rennes are due to open in May 2017; and almost 300 km of new HST track will follow in June or July, from Tours to Bordeaux. High-speed lines will then stretch all the way from Paris to Bordeaux and Paris to Rennes, with trains running at 320 km/hr.
France's high-speed rail network - 2017
French railways : the easiest, often the fastest and usually the most convenient way to get round France
Taking the train - rather than flying - is the best option for anyone planning to visit France without a car. With 1700 km of dedicated high-speed lines, plus thousands more kilometres of main line and branch line, the French rail network links all main towns, and also extends deep into rural France. French trains are on the whole comfortable, punctual and relatively cheap.
For more information
►
Travelling by train in France
1. High speed through France: Eurostar and the TGV network
By
Eurostar
from St Pancras, the fastest journey time from London to Paris is now just 2 hours and 15 minutes, city centre to city centre. And for anyone boarding the Eurostar at Ebbsfleet, the new station in south east London, the trip is even faster, from just 2 hours and 5 minutes.
In terms of speed and convenience,
Eurostar
has shown that on journeys of 200 miles or so, the train is far more convenient than the plane.
The opening of a new high-speed rail line into London was a novelty for Londoners in 2007; but Parisians were not particularly impressed; after all, France has been steadily expanding its high-speed rail network for over a quarter of a century! The first French TGV lines were on the drawing board in the early 1970s, and the first long-distance route, from Paris to Lyons, opened way back in
1981
!
But if a lot of people already know that the best way to go from London to Paris for a day's shopping or a weekend break, is to take Eurostar, far less people realise that the extent of the Eurostar connections at Lille to other cities in France French high-speed rail network means that taking the train is rapid option for reaching a large number of destinations in provincial France.
Connecting to provincial cities. It's easier to change at Lille than Paris.
The map above shows the extent of France's high-speed rail network in 2015. At present, the network consists of some 1700 km (over 1000 miles) of dedicated high-speed track, comprising four routes radiating out from Paris, and half of the "Rhine-Rhone route". However, an "interconnection" route round the south and west of Paris allows high-speed connections between the routes, notably allowing north-south TGVs to avoid the centre of Paris.
Note that TGV services operate to
all
the cities indicated on the map, and to many others too, since these high speed trains can also run - at reduced speed - on the traditional rail network.
This makes the
TGV station at

Lille Europe
a very handy hub for passengers coming from the UK or Belgium and Holland.
The alternative to changing at Lille is to take Eurostar to Paris, and then travel beyond Paris from the appropriate mainline terminus.; but this will normally involve
changing terminus
at Paris: see below.
The latest new TGV lines
December 2010
saw the opening of 44 km of new high-speed line across the French-Spanish border, between Perpignan and Figueres.
December 2011
saw the opening of the first 140 kilometres of France's latest major TGV line, the "LGV Rhin-Rhône", or Rhine-Rhone High Speed Line, linking Mulhouse and Dijon. This has greatly sped up rail links between Paris and Basel and Zurich, and between Germany, Strasbourg and the south of France.
Autumn 2013 :
Direct TGV services now operating netween Paris and Barcelona
Airport connections:
Thanks to intelligent forward thinking, planners of the French TGV network had the sense to connect it directly, when possible, to major airports. Thus, there is a major TGV station right underneath Terminal 2 at Paris's
Charles de Gaulle airport
; and there is a TGV station in the middle of the
Lyon Saint Exupery airport
.
Click here
to
check train timetables and book tickets.
2. Paris rail termini:
Like many capital cities, Paris suffers from having no central railway hub, but a number of mainline termini. Here are the main destinations served from each of the principal termini: TGV services depart from the Gare du Nord, Gare de l'Est, gare de Lyon and Gare Montparnasse.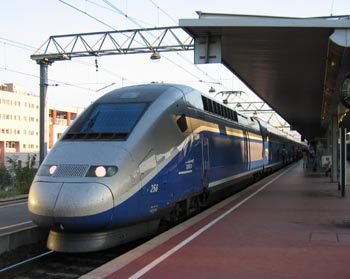 3. France's impressive railways
On main routes not served by TGVs, such as Paris-Clermont-Ferrand or Paris - Limoges - Brive, very comfortable express trains run at speeds that can reach 200 km/hr on some stretches. These long-distance express trains, previously known as "corails" are now known as "Intercités".
French railways have a reputation for punctuality, though delays seem slightly more common these days than in the past. Most trains however run on time, and delays of over ten minutes are unusual. This is doubtless one of the reasons why the French are regular rail travellers. If a mainline train (TGV or Intercités) is over 30 minutes late at arrival, on a journey of over 200 km., demand a late-arrival form when you reach your destination ; in some stations, staff will hand them out automatically. Fill this in and send it off with your ticket in the business-reply envelope provided, and you should receive a voucher worth 30% of the cost of your ticket.
It's not just on main lines, however, that rail travel in France can be a great way to travel. More and more branch lines and feeder services are now operated with state-of-the art and very comfortable new railcars that resemble miniature TGV's. With massive picture windows along the sides, the experience of travelling along some rural rail routes is rather like that of riding a scenic railway; and regional councils, that are now in charge of running local rail services, seem to be competing with each other, particularly in tourist areas, to boost their image by investing in these very impressive new railcars. Even better, many French regions have invested quite heavily in recent years in upgrading regional branch lines with new track as well as new rolling stock.
France also offers plenty of scope for rail tourism on its various
scenic railways
.
There are or course other less comfortable rides to be had on French railways. Some suburban routes and local services on main lines are still operated using old and sometimes noisy and uncomfortable stock - but even on such routes, this is by no means always the case.
The cost of rail travel in France:
Finally, there's the question of tickets. As a nationalised system, the French railways used to run a clear and coherent ticketing system, and generally speaking rail travel remains relatively cheap - about 10p a kilometer (1.2 Euro per 10 km) for a standard second class fare. This is more than the cost of rail travel in Spain or Italy, but far cheaper than standard tickets in the UK. Lots of discounts can be obtained, generally varying between 25% and 50%.
In recent years, particularly on busy routes and TGVs, the cost of tickets has begun to vary wildly in function of the date and time of the journey; on many intercity routes, special low-cost tickets , known as "Prems", are available to the early birds who book well in advance. These are even available on overnight sleepers - but not at busy times, of course.
ID-TGV
- the low-cost TGV service.
To compete with
low-cost
airlines, some TGVs offer major reductions if tickets are purchased online. ID-TGV services (sometimes complete trains, at other times a quota of seats in a standard service) now operate from Paris to about 20 destinations; for example, you can buy a first class ticket from Paris to Lyon for 29 Euros on certain off-peak trains, compared to 56 to 66 €uros, or 114 €uros for a normal first class ticket on certain trains . However, don't pay much attention to the sites that say "Paris-Marseille" or "Paris-Montpellier" for just 19 €: these very low prices are indeed available, but only on about one train a month, if that!
The best place to check
ID-TGV
prices and book and buy tickets on line is on one of the Rail Europe / SNCF sites (see below)
Other new ideas include an overnight TGV from Paris to Biarritz, which comes complete with a clubbing car, for those who can't sleep on a moving train; other destinations are being added .....
Buying French train tickets online
All French train tickets can also be ordered online - and even printed out on your own computer as an e-ticket, like a plane ticket. But French Railways run three different online ticketing services, depending on where the tickets are being purchased ! (After all, why make things simple when you can make them complicated !) So to buy French rail tickets online, click the link corresponding to the country in which you want to
receive or print
the tickets:
Pictures: above left, a TGV at Lyons.
To contact About-France.com, use the
form
provided.