About-France.com
- the connoisseur's guide to France
Explore France ►
Visiting Paris
Stay and get round in Paris
France beyond Paris
More useful pages
Key facts & figures about France
Key facts and statistical data for France, with selected international comparisons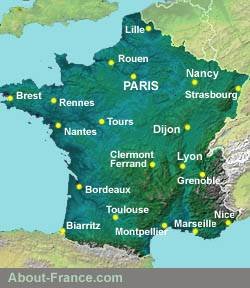 A definition of France:
Technically speaking, "France" includes a number of overseas departments and territories (known in French as the DOM-TOMs), including Tahiti in the Pacific and French Guyana in South America. This guide however is concerned with
Metropolitan France
, which means continental France, together with the offshore islands, including Corsica.
The Government of France:
France is a
republic
; the head of the executive is the
President
, elected by universal suffrage, currently Emmanuel Macron. The President determines policy with the aid of his Council of Ministers (
Conseil des ministres
). Ministers cannot sit in parliament, and if an elected member of parliament (
député
) is appointed minister, he or she has to hand over parliamentary duties to his / her deputy (
adjoint
). Since each elected member has a deputy, by-elections are unusual in France.
Parliament:
The lower and principal house of
parliament
is the
Assemblée nationale
, or national assembly; the second chamber is the
Sénat
or Senate. Députés (members of parliament) are elected to the National Assembly by universal suffrage, in general elections
(élections législatives)
that take place every five years. Senators are chosen by an electoral college of "grand electors", who are mostly other local representatives.
The
electoral system
for presidential and parliamentary elections involves two rounds; a candidate can be elected on the first round by obtaining an absolute majority of votes cast. The second round is a runoff between the leading two candidates from round one (presidential election), or two or more candidates (parliamentary elections).
Click here for further facts and information about the
French Constitution and political system
Structure of local government:
Metropolitan France is administered as 13 regions (reduced from 22 as from 2016) , 96 "départements" or departments, and some 36,000 "communes". See
maps of regions and departments.
(There are also 4 overseas regions - French Guyana, Guadeloupe, Martinique, and Ile de la Réunion - and other
overseas territories
known as "TOM" )
Each
region
is administered by a Regional council (
Conseil régional
), and each
department
is administered by a county council (
Conseil départemental - formerly Conseil Général
). The central government is represented in each department and region by a
Prefect
(
préfet
), with powers over the police and public security. The Prefect's other main role is to make sure that local authorities administer their area in compliance with national law.
Prefects are appointed by the President, regional councils are elected by universal suffrage every six years, involving a complex two-round semi-proportional voting system.
Departmental councils,
conseils départementaux
, are elected by universal suffrage every six years, in elections known as canton elections (
élections cantonales)
.
Communes
are run by municipal councils (
conseils municipaux
) elected every six years by universal suffrage. Increasingly, the important business of small communes, and issues that involve communes and their neighbours are dealt with by groupings of communes, known as "Communauté de communes"
The Geography of metropolitan France (France in Europe): key data.
Surface area:
547,030 sq km, of which 545,630 sq km of land and 1,400 sq km of rivers and lakes.
France compared to the UK
: France's surface area is about double the surface area of the United Kingdom, and just over four times the surface area of England.
For more geographic details see the About-France.com
Maps of France
page and links
Basic geographic facts
:
Length of land border; 2889 km. Neighbouring countries: Belgium, Luxembourg, Germany, Switzerland, Italy, Monaco, Spain, Andorra.
Length of coastline: 4,668 km
Highest elevation: the peak of Mont Blanc, 4,807 metres or 15,782 ft.

Arable farmland:

33.5% of the total surface area.
Demographics / Population information and statistics
Click here for
population of the main French towns and cities
Economic facts and key statistical data
(See
The French economy
for an overview)
Per capita GDP
:
2018 : France : 32,900 €
(Source: European commission)
Compare with :

UK 32,400 €, Ireland 59,400 €, Belgium 35,300 €, Germany 35,900 €, Spain 25,000 €, Portugal 17,900 €.
Source:
Eurostat
.
GDP by sector
: agriculture: 2.2% industry:21% services: 76.7% (2007)
Economic growth

2018 : France: 1.5%
Compare with :
UK 1.4%, Ireland 6.7% , Belgium 1.4%, Germany 1.4% , Spain 2.6%, Portugal 2.1 % .
Source:
Eurostat
2019.
Inflation 2012 : France 2.2
%
Compare with :
Ireland +1.9% , Belgium +2.6%, UK +2.8%, Germany +2.1 % , Spain + 2.4 %, Portugal +2.8 %. European union average: +2.6%
Source: Eurostat

Unemployment:
Jan 2019 :
France: 8.8%
Compare with :
Ireland 5.3% , Belgium 5.6%, UK 4.0%, Germany 3.2 % , Spain 14.1 %, Portugal 6.7 % . European union average: 7.8 %
Source: Eurostat.

Employment by sector: 2011
France:
Agriculture: 2.9%, industry: 22.1%, services: 75%
Compare with :
U.K.: Agriculture: 1.2%, industry: 19.1%, services: 79.7% .
Germany: Agriculture: 1.6%, industry: 28.3%, services: 70.1% .
Spain: Agriculture: 4.2%, industry: 21.8%, services: 74% .
Czech republic: Agriculture: 32%, industry: 38.4%, services: 58.6% .
Source: Eurostat.
►

More facts, figures, information and statistical data about France
Visit the website of the French national statistical office
INSEE
or
Eurostat
To contact About-France.com, use the
form
provided.
Sorry, we cannot respond to questions about individual travel plans.
Copyright notice: Website and text é About-France.com except where otherwise indicated.