About-
France.com - the connoisseur's guide to France
1886-1910 - The way towards Cubism: Pointillism, les Nabis, les Fauves and others
Moving on from Impressionism
The last Impressionist Exhibition was held in Paris in 1886; by then, even newer paths to artistic innovation were already opening up.
It was but a short step from the Impressionist experimentation with light and perception, to experimenting with the concept of colour itself. By the late 19th century, advances is printing had shown how it was possible to print any colour using a combination of three primary colours, and painters were keen to experiment further. Impressionist art had already understood that colours could come to life and seem brighter if painted not as flat surfaces, but as contrasting brushstrokes and dabs of paint; but in this they had just opened the door. There was much more exploring still to be done.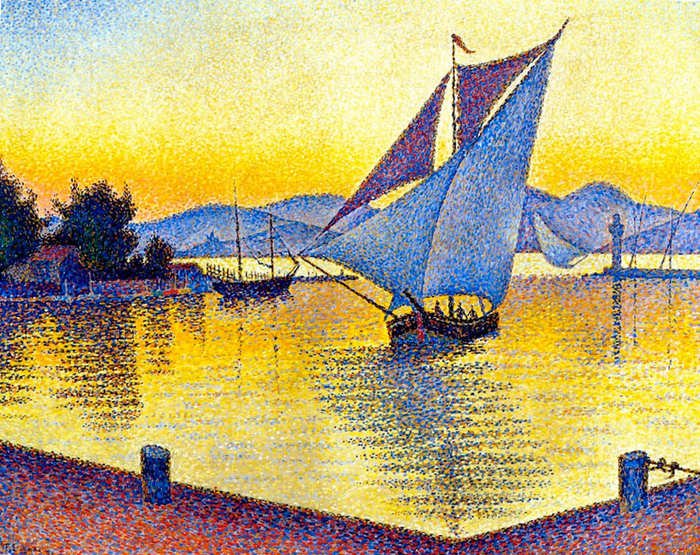 Paul Signac - The port of St. Tropez at Dusk - Tokyo, Museum of western art.
Pointillism and Post-Impressionism
Between 1890 and the First World War, artistic life in France was moving forward as never before. By 1890, moving on from Impressionism,
Pissarro
had begun to experiment with the way he rendered light and colour, by breaking them up into their constituent parts, or constituent colours, in the way that colour-dot printing has since generalised. He was not the only one.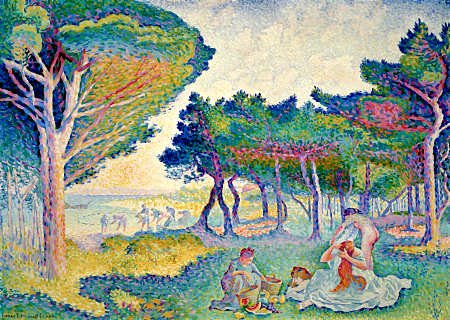 Henri Cross - Bathers
Two other artists,
Georges Seurat
and
Paul Signac
had already taken the technique of Impressionism one step further, and begun painting with dots of contrasting colour, developing a technique that came to be known as
Pointillism
or Divisionism. Only a handful of other prominent artists, notably
Henri Cross
, took up the technique, which was painstaking and time-consuming; but Pointillism caught the public's imagination, and more importantly that of many other up and coming artists, ready to experiment with the concepts of light and colour.
One of these was
Vincent van Gogh
, a Dutch artist born in 1853, who moved to France at the age of 33 to be with his younger brother Theo, an art dealer in Paris. Thanks to Theo, Vincent van Gogh met Pissarro, Gauguin, Seurat and others, and was instantly inspired by the new art, taking it up and adapting it in his own
Vincent Van Gogh - night sky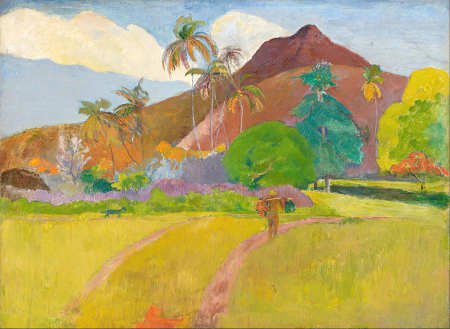 Gauguin - Tahiti landscape - Minneapolis Art gallery
way. Most of Van Gogh's most memorable and influential work was painted in the last four years of his life, after he moved to France.
At first he experimented with a kind of pointillism, as can be seen in some of the earlier paintings from his French period including his reinterpretation of Millet's
Sower
and some of his self portraits. But soon after he developed an unmistakably personal style imparting a sense of movement and vibration into a picture by the use of bold brushstrokes, with dabs and swirls of bright colour, in a way that is most commonly referred to as "
Post-Impressionist
".
Two other artists who further innovated in the use of bold colour were
Gauguin
and
Matisse
. For a short period in 1888 van Gogh and Gauguin lived together in the Provencal town of Arles, where they had gone to seek out the intense light and shade of Mediterranean France. Their joint venture in Arles ended in a fiery argument during which van Gogh, who drank too much and had long been suffering from instability, cut off his own ear with a razor. In 1890, van Gogh took his own life.
Gauguin
painted in a very different manner from van Gogh. In 1877 he had met Pissaro and been influenced by the Impressionists, actually exhibiting with them in the Impressionist exhibitions in Paris in 1881 and 1882. Later he moved on to a more personal style, producing pictures inspired by the imagination, and using large expanses of colour. Eventually, his search for inspiration in light and colour took him beyond the Mediterranean, and he travelled to Tahiti in search of a pure and colourful environment.
Henri Matisse - rooftops at Collioure - St. Petersburg, the Hermitage
One among many later artists who took inspiration from Gauguin, and from the Impressionists in general was
Henri Matisse
, born 1869. Like Gauguin, Matisse, who was brought up in the northeast of France, developed a passion for colour, and later with shape. While his early work was largely in the Impressionist vein, it was his later experimentation with colour and shape, from 1900 onwards, which ensured his place for posterity.
Les Nabis
At the same time as Matisse, other French artists were moving forward along other roads to innovation opened up by the Impressionists. Strongly inspired by the light and colour of Impressionism, but also by Japanese art which had been "discovered" in France in the late 19th century, a group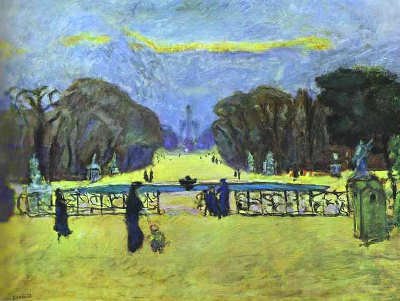 Pierre Bonnard - Jardin des Tuileries
known as
les Nabis
(the prophets) saw themselves as the new Impressionists, and indeed have been described by some art historians as "neo-impressionists". The two most prominent Nabis were
Pierre Bonnard
and
Edouard Vuillard,
who developed the
Intimiste
style, derived from Impressionism, but concerned less with landscape and more with indoor or urban scenes in which people are prominent. In their intimiste work, Bonnard and Vuillard went beyond Impressionism, bringing in more bright colour, more mood.
With the Nabis, pictorial representative art, with its roots in Impressionism, continued well into the 1920's, becoming almost conservative when compared with other far bolder innovations that took French art forward in the first quarter of the 20th century.
Fauvism
Albert Marquet - The Bay of Naples 1909
In 1900, two enterprising young artists Maurice
Vlaminck
and André
Derain
began working together; both were radical, painting in the new manner, with bold brush-strokes, intense dark or colour, and an immediacy that went beyond the innovations of Post-Impressionism. In 1905, Vlaminck and Derain, along with
Matisse
,
Marquet, Friesz
and others, exhibited at the Salon d'Automne in Paris, and as with the first Impressionist exhibition thirty-one years previously, the 1905 Salon d'Automne went down as a key moment in the history of French Art. It marked the emergence of a style of painting that became known as
Fauvism
, which translates into English as
wild-animalism
, the term invented by art-critic Louis Vauxelles to categorise this new type of art, of which he highly disapproved.
Like Impressionism, Fauvism was not a school, but a coming-together of like-minded innovating painters showing a way forward away from photographic or representative depiction, faithful or distorted, towards new forms of art; bold colours, intense blacks, dark lines and often distorted forms. While Fauvist art may seem rather tame compared to other exuberantly wild and unconventional styles of painting that followed in the course of the 20th century, at the time it was very avant-garde.
Since the start of the Romantic movement in art, in the 1820s, moral and academic restraints on innovation and imagination had been progressively whittled down and eventually banished. Now, in the years that preceeded the First World War, innovation was rife and encouraged, nothing seemed impossible, and in the world of art,
originality
became a quality in a way it had rarely been before.
And on towards Cubism
From 1907 onwards,
Braque
and
Picasso
were opening the gates to
Cubism
; while not yet abstract art, their work from before the First World War was moving swiftly towards that goal. However much af a departure it was from even the most progressive figurative art of the period, Picasso's ground-breaking
Demoiselles d'Avignon
, painted in Barcelona in 1907, but first shown in Paris in 1916, was still figurative art, Paris, by 1910, was undisputably the world capital of innovation in art, but not quite ready for the seismic changes that would redefine the nature, the role and the paradigm of art after the trauma of the First World War.
Footnote
The Impressionists and their followers paved the way for the radical changes in "art" that took place in the course of the 20th Century, and the multitude of abstract and semi-figurative art styles that developed, from Cubism and beyond. It is important however to put things in perspective. The large majority of artists in France at the time were not Impressionists, nor innovators. While the Impressionists and Post-Impressionists pioneered new ways in art, and over time mainstream art followed them, most of their contemporaries continued to produce traditional representative figurative art, social art and portraits. Many of them were, in technical terms, superb artists, painters like Firmin-Girard or Lucien Doucet – well known at the time, but more or less unknown today. The history of art is the story of the innovators, the pioneers: those who do not innovate tend to be forgotten, often unjustly, however good they may have been.
Where to see turn-of-the-century art in France
Art production in France at the turn of the century was prolific, and many French museums and art galleries have good collections of works from this period. Among those particularly worth visiting are.
Paris: Musée d'Art Moderne de la Ville de Paris (at the Trocadero) and Musée d'Orsay
Le Cateau near Cambrai - Musée Matisse -
Roubaix - Musée de la Piscine -
Le Havre - Musée Malraux
Besançon - Musée des Beaux Arts
Bagnols-sur-Cèze - Musée Albert André
Grenoble - Musée des Beaux Arts
Albi - Musée Toulouse Lautrec
Céret - Musée d'Art Moderne
Le Cannet (French Riviera) - Musée Bonnard
Nice : Musée Matisse

The About-France.com guide to art in France :

The
Impressionists in Paris
: where to see their works
Website copyright © About-France.com 2003 - 2019

Photos: all photos on this page are in the public domain.