Discover Albi - things to see and do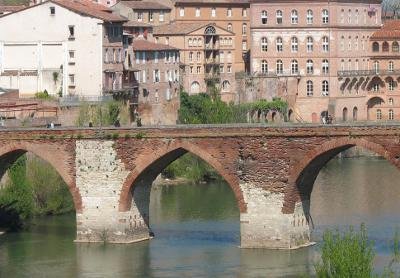 Mediaeval bridge over the Tarn at Albi

While it is not exactly undiscovered, Albi is one of those French provincial cities that has only recently come into its own as a tourist destination. The change in the city's fate came in 2009, when its episcopal area - comprising the cathedral and the Palais de la Berbie, the bishop's palace - was classed as a UNESCO world heritage site. But Albi has much more to offer.....


Rodez to the A75 is being upgraded to motorway standard. For now however, over half the section between the A75 and Albi is still single carriageway.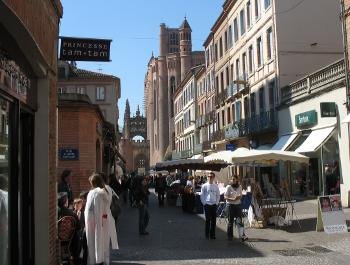 In the streets of old Albi

Albi, capital of the Tarn, is arguably the most interesting small city in the Midi-Pyrenees region. Its imposing mediaeval St. Cecilia's cathedral has always been a remarkable and unique monument, being both fortified and built of brick. On the outside, it looks like some gargantuan array of medieval grain silos; inside, it is all delicate gothic tracery in stone and wood, one of the finest late gothic buildings in France. Of particular interest are the massive murals of the Last judgement, that decorate the whole of the cathedral's western wall.
Built between 1282 and 1480, the current cathedral was built as a defiant assertion of papal power in a region which had only recently been brought back under the power of Rome following the period of the Cathar heresy. The Albigensian crusade was the only crusade directed not against infidels, but against dissenting Christians.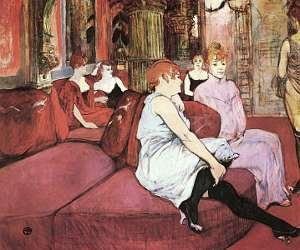 Henri de Toulouse-Lautrec - Salon rue des Moulins

Next to the cathedral stands the similarly massive and fortified Bishop's palace, part of which now houses the magnificent Toulouse Lautrec museum. Henri de Toulouse-Lautrec, 1864-1901, was the great post-impressionist iconographer of Parisian life in the late nineteenth century; he was a native of Albi, and the museum hosts the largest collection of his work.
Beside the west end of the cathedral, a pedestrian piazza takes you to a vantage point overlooking the river Tarn below, and the old bishop's gardens. Upstream from the cathedral can be seen the Old Bridge, a thousand years old, and still in service today. The bridge can be reached on foot by taking a short walk down the street in front of the entrance to the Toulouse Lautrec museum.
The old city of Albi, with its narrow streets and historic buildings, is clustered round the cathedral. Of particular interest is the XIIth - XIIIth collegial church of Saint Salvi, with its cloisters.

Just west of Albi,

Gaillac

is the centre of a well known vineyard area - AOC Gaillac. As well as vineyards that can be visited, and wine tasting (check local tourist offices for details), the area aslo has some interesting fortified villages, notably Puycelsi and Castelnau de Montmiral.
Northwest of Albi lies

Cordes sur Ciel,

an incredible small town, perched on a hill above two valleys: Cordes was built up in the XIVth and XVth centuries, and to this day has conserved a remarkable collection of mediaeval town houses and streets - one of the best in France. Saturday is market day. Click here for a free audio guide to Cordes.
Finally, on a completely different note,

Carmaux

, just north of Albi, has an interesting mining museum. Carmaux was once a coal-mining town; the last pits closed in the 1980s. In the mining museum, visitors take a 350 metre underground tour in a reconstructed coal mine. For those interested in industrial archaeology or engineering, fifteen miles to the north of Carmaux, on the road to Rodez, another very attractive small city, is one of Gustave Eiffel's finest bridges, the

Viaduc du Viaur

. It carries the railway line from Albi to Rodez.



Contact: info "at" about-france.com



Advertisements
**
*
Bookmark this page