France's greatest sporting event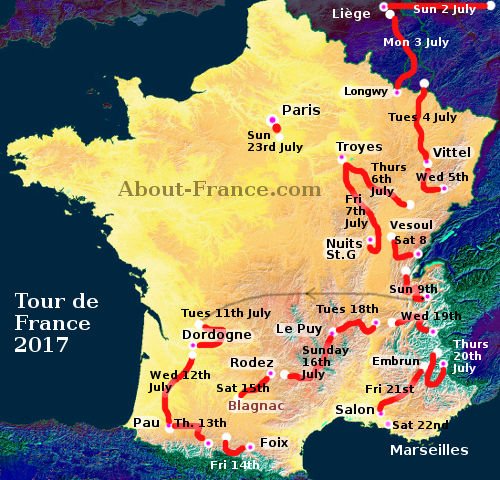 Tour de France route map by About-France.com
.
Click stage anywhere along the route

in France for regional tourism information
Copyright : If you copy this map on your blog or non-commercial website, you must attribute it to About-France.com
A GUIDE TO THE ROUTE


Starting on July 1st in Düsseldorf, Germany, the 2017 Tour de France will be essentially a discovery of the hilly and mountainous parts of France, i.e. concentrated in eastern France and the south of France.
During the early stages, riders will visit Germany, Belgium and Luxembourg. After that, the 2017 route of the Tour de France will take them through the wooded hills of the Vosges, then into the Jura mountains of
Franche Comté
., and the steep pre-alpine hills of the Bugey.
the Tour then moves to the
Dordogne
, for a first rest-day at Périgueux, before crossing the plains of Aquitaine, to reach the Pyrenees. There will be just two days in the Pyrenees this time, including the shortest day's leg of the tour for many years, on Friday 14th, after which riders head north again from Blagnac (on the outskirts of Toulouse), through the Tarn and the Aveyron to
Rodez
, last visited in 2015.
After a trip over the high plateaux of the Lozère, one of the most sparsely populated areas in France, riders will take a second rest day at the delightful small cathedral city of
Le Puy en Velay
. Next day will take them across the Monts du Forez , the eastern range of the
Massif Central
, and on to the
Rhone-Alpes
region, for a day in the northern Alps. After that, it's a day in the Provence Alps and another in High Provence, before a day in and around
Marseille
, before the traditional final day with a finish along the Champs Elysées in
Paris
.
Accommodation

for the Tour de France
All hotel rooms in and around the start and finish points get booked up very fast by the teams and the media.
To avoid disappointment, check out available hotel rooms as soon as possible, using the major online portals
booking.com
or
Hotels.com
,
Tour de France
2017
The
2017
Tour de France will start on Saturday July 1st July in Düsseldorf, Germany.
| | | | |
| --- | --- | --- | --- |
| Stage | Date | Day's route (towns, regions) and terrain | Length in Km. |
| Start + prologue | Sat 1st July | Dusseldorf (Germany) | 13 |
| 2nd Stage | Sun 2 July | Dusseldorf (Germany) to Liège (Belgium) | 202 |
| 3rd Stage | Mon 3 July | Verviers (Belgium) to Longwy (Lorraine) | 202 |
| 4th stage | Tues.4th July | Mondorf les Bains (Luxembourg) to Vittel (Lorraine) | 203 |
| 5th stage | Wed 5th July | Vittel (Lorraine) to La Planche des Belles filles - ( Franche-Comté) | 160 |
| 6th stage | Thurs 6th July | Vesoul ( Franche-Comté) to Troyes - (Champagne) | 216 |
| 7th stage | Fri 7th July | Troyes - (Champagne) to Nuits St. Georges ( Burgundy) | 214 |
| 8th stage | Sat 8th July | Dole to Les Rousses (Franche-Comté) | 187 |
| 9th stage | Sun 9th July | Nantua to Chambéry (Rhône Alpes) | 181 |
| Rest day | Mon 10th July | Dordogne | |
| 10th stage | Tues 11th July | Périgueux to Bergerac (Dordogne) | 178 |
| 11th stage | Wed 12th July | Eymet to Pau (Aquitaine ) | 202 |
| 12th stage | Thur 13th July | Pau (Aquitaine ) to Peyragudes (Midi Pyrénées) | 214 |
| 13th stage | Friday 14th July | Saint Girons to Foix (Midi Pyrénées) | 100 |
| 14th stage | Sat. 15th July | Blagnac to Rodez (Midi Pyrénées) | 181 |
| 15th stage | Sun 16th July | Laissac to Le Puy en Velay (Auvergne) | 189 |
| Rest day | Mon 17th July | Rest day - Le Puy en Velay | |
| 16th stage | Tue July 18th | Le Puy en Velay (Auvergne) Romans sur Isère (Rhône Alpes) | 165 |
| 17th stage | Wed 19th July | La Mûre to Serre Chevalier (Rhône Alpes) | 183 |
| 18th stage | Thur 20th July | Briançon to Col d'Izoard (Haute Provence) | 178 |
| 19th stage | Fri 21st July | Embrun to Salon de Provence (Provence) | 220 |
| 20th stage | Sat 22nd July | La Ciotat (Provence) to Marseille | 23 |
| 21st Stage | Sun 23rd July | Montgeron to Paris - Champs Elysées | 105 |
Total length: to be announced
Visit the
Official site
of the tour de France
A brief introduction to the
regions of France
Website and all pages © Copyright About-France.com 2003 - 2017
►► Site guide
About-France.com home
Full site index
About-France.com site search
►► Principal chapters on About-France.com :
Guide to the regions of France

Beyond Paris, a guide to the French regions and their tourist attractions.
Guide to Paris
Make the most of your trip to Paris; Information on attractions,
Paris hotels
, transport, and lots more.
Accommodation in France
The different options, including
hotels
, holiday gites, b&b, hostels and more
Tourism in France
The main tourist attractions and places to visit in France - historic monuments, art galleries, seasides, and more
Planning a trip to France
Information on things to do before starting your trip to France.
Driving in France
Tips and useful information on driving in and through France - motorways, tolls, where to stay....
Maps of France
Cities, towns, departments, regions, climate, wine areas and other themes.
The French way of life
A mine of information about life and living in France, including working in France, living in France, food and eating, education, shopping.