Upland France in brief:
Uplands and mountain areas

in central southern and southeastern France

This page is divided into two sections:
a) western areas and b) eastern areas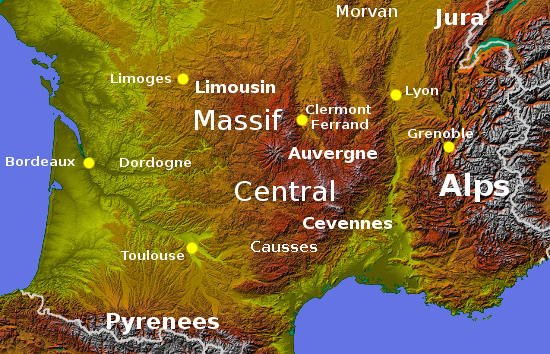 Part a
Central western area: the Massif Central and central uplands
Mountain France divides into four distinct zones, some of which are far better known, and far more touristic, than others. The Western Massif Central (including the Dordogne), the Eastern Massif Central, the Prealps and Alps, and the Jura.


The western Massif Central includes essentially includes the inland part of the Dordogne, the north of Quercy, and Limousin the area round the city of

Limoges

. In many respects, this is like southern England on a larger scale - which is probably why like neighbouring Dordogne it is so popular with British second-home owners. The climate is warmer and sunnier than further north, the hills are higher, and the rivers bigger than in southern England; but the western side of the Massif Central catches the rain blowing in from the Atlantic, and remains relatively green for most of the summer. This region is famous for its gastronomy, its historic castles and "bourgs" (fortified rural towns), and its very attractive countryside.
The central and eastern Massif Central includes the mountains of the Auvergne , the large upland plateau of the Larzac, (photo left), and the other mountain areas between Auvergne and the Rhone valley, notably the Cévennes. This is part of wild France, and its tourist potential remains surprisingly undeveloped. And even if the region is becoming appreciated for its true value (The Sunday Times once called Auvergne "France's best kept secret" ) this remains a region where you can really get away from the crowds. The small city of

Le Puy en Velay

is remarkable for its medieval churches perched on outcrops of volcanic rock. The upper Allier valley offers great opportunities for relaxing holidays in an area rich in heritage, wildlife and culture.


Monts du Cantal, Auvergne

With peaks at over 6000 ft, the Monts d'Auvergne are the highest points in central France. In this region, the largest volcanic area in Europe, there is plenty of good hill walking, as well as other activities on the area's fast flowing rivers. This region is also drier and sunnier in summer than the western Massif Central, and less touristic too, largely because it has not yet been "discovered;" it is a region rich in history and culture, with fortified castles, old churches and historic towns, as well as being very beautiful, with many hiking trails and its deep river valleys ideal for river sports. In the south-east of the Massif Central, the Ardèche area, with its arid hills and sunny valleys, and the Cévennes, offer a foretaste of Provence.

Access from the UK: motorway via Paris or Rouen. Flights to St. Etienne, Clermont Ferrand, Limoges or Rodez.

Main cities:
Clermont Ferrand, Limoges.



Going further:

(more detailed information, including major tourist attractions)


Accommodation

:


---
Part b:
Eastern area: the Alps and the Jura
The hills lying between the Auvergne mountains and the Rhone valley include a lot of high land at over 1000 metres (over 3000 ft) altitude, but they are generally less mountainous than the Auvergne mountains. They are covered in large areas of coniferous forest. This is also good hiking country.
The Alps... well they are the Alps... though it should not be forgotten that the foothills of the Alps, such as the Vercors, are in many ways just as attractive as the high Alps themselves - and less crowded and more accessible! Most winter sports resorts now cater well for summer visitors too. Away from the ski resorts, there are plenty of attractive old villages and towns, like

Annecy

, on the shores of one of France's most beautiful lakes.
Finally, the Jura and "Franche Comté". France's least-known mountain range, the Jura extends along the Swiss border from Geneva almost to the Rhine valley. Old limestone hills, the Jura peak at about 5000 ft, on the Swiss border; but most of the area consists of a series of high plateaux, getting higher towards the border. At the southern end, the Jura has a lot of spectacular deep river valleys, and a lot of lakes too. The hills are quite forested, and the villages on the French side of the border are very similar to those on the Swiss side. Franche Comté, which includes the Jura, has the greatest concentration of deciduous forests in Europe. Its capital, Besançon, has a remarkable historic city centre, surrounded by a loop in the river Doubs.

Main cities:
Lyons, Grenoble, Chambéry, Annecy, Besançon.



Going further:

(more detailed information, including major tourist attractions)


Accommodation

: