About-France.com
- the connoisseur's guide to France
Toulouse - the heart of southwest France
Toulouse - the Pont Neuf over the Garonne, built in the local "pink" brick'
The city of Toulouse,
located on the Garonne plain in the heart of southwest France, half way between the Atlantic and the Mediterranean, is more important now than it has been for many centuries.
Since 2016, the fourth-largest city in France has become the capital of the second largest region of France, the new region of "Occitanie", which stretches from the Rhone in the east to within 60 miles of the Atlantic coast in the west. Modern Occitania is similar in extent to the great County of Toulouse which, from the 9th century until the end of the 13th, was an independent territory of southwest France.
Governed first by the Counts of Toulouse, from the 12th century onwards the city later became run by a council of administrators, known as the "Capitulaires": the council or parliament building was the
Capitole
, a building that stood close by what is now recognised as the centre point of modern Toulouse, the great Place du Capitole, one of the finest urban piazzas anywhere in the world.
St Sernin basilica, 11th and 12th centuries. The largest romanesque church in Europe.
From the 14th to the 16th century, Toulouse became a very wealthy city, based on an industry that later on vanished entirely; the production of "pastel", or in English
woad
.. Known since prehistoric times, pastel was a highly prized and expensive pigment, capable of producing brilliant blues; and until it was replaced by imported indigo, which was cheaper and easier to produce, the cultivation and transformation of pastel was a boom industry of international importance in and around the city of Toulouse.
With the decline of the pastel industry, Toulouse's fortunes declined. It still remained however very much a regional capital, being the largest city for at least 200 miles in any direction, with the exception of its eternal rival in southwest France, Bordeaux.
Since the middle of the 20th century, Toulouse has once again established itself as a major industrial player, this time as capital of the French and European aerospace industry. The Toulouse-Blagnac airport complex was the birthplace of the Anglo-French supersonic jetliner Concorde, and today Blagnac is the headquarters and main manufacturing plant of the European consortium Airbus. It is here, for instance, that the giant Airbus A380 superjumbos are assembled, using parts produced in facilities in several different countries of Europe
The Pink City
It sounds better in French, as
La Ville Rose
, and the expression "
pink city
" doesn't really describe Toulouse: a more fitting epithet would be "the redbrick city".... since the word "rose" refers to the colour of the local bricks. But then again "redbrick" has the wrong connotations. Toulouse's red brick is not the red brick of 19th century industrial cities, it is red brick made, since Roman times, from the red alluvial mud dredged out of the river Garonne – the red of Mediterranean roof tiles, a pinky red with all the warmth of southern Europe.
In Toulouse and the surrounding area, red brick is the traditional building material, and it is this red brick that has given the city its nickname. It is the only large historic French city, apart from the industrial cities of the north of France, where brick has long competed with stone as a major building material.
What to see in Toulouse
A fairly compact city, the centre of Toulouse stands between the Canal du Midi (a world heritage site), and the river Garonne. The central area is a maze of narrow streets, crossed as in Paris by a few wide boluevards. With its multitude of cafés, restaurants bars and boutiques, old Toulouse is a historic area where visitors can easily spend two or three days and still not have time to do everything.
From the Tourist office located in the historic Dungeon of the Capitole, near the Place du Capitole, visitors can easily reach most of the important sites of the old city, its museums, historic churches, old streets, canal banks and riverbanks.
In addition to the main sites listed below, central Toulouse has several other specialist museums, historic churches, and of course plenty of opportunity for shopping.
A selection of the best tourist sites in Toulouse
Fondation Bemberg: Toulouse's finest art gallery, the collection of an Argentian art collector, on loan to the city of Toulouse since 1994. Contains a significant collection of great master paintings, including works by Cranach, Van der Weyden, Titian, Veronese, Van Dyck, Canaletto, Monet, Renoir, Cézanne, Vlaminck, Picasso and Bonnard.
Musee des Augustins - An art and sculpture museum housed in a historic former monastery. A fine collection of early medieval sculpture, and small collection of paintings, including works by Ingres, Delacroix, Corot and Toulouse Lautrec.
Museum d'histoire naturelle.
One of the leading natural history museums in France.
Les Abattoirs: Toulouse's modern and contemporary art centre. Art since the 1950s.
Place du Capitole - one of the finest urban piazzas in Europe. A large pedestrianized area, bordered by 18th and 19th century buildings, including the great palatial facade of the Capitole. Lots of cafés and restaurants.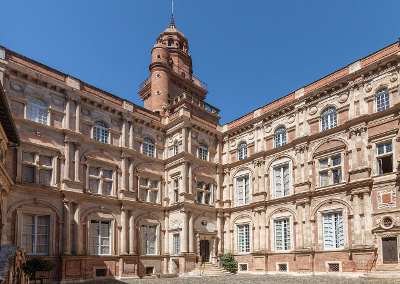 The Renaissance Athézat building houses the Fondation Bemberg museum.
Basilique Saint Sernin. The most significant historic monument in old Toulouse.. Built essentially between 1080 and 1120, Saint Sernin is the largest surviving Romanesque church in Europe. A UNESCO world heritage site (Pilgrimage route to Santiago de Compostella)
Couvent des Jacobins. Former church, now a museum, that also houses the relics of St. Thomas Aquinas. The building and cloisters are a significant examples of southern French gothic architecture. Dating from the 12th and 13th centuries, the church contains an unusal centrally-supported rib vaulted roof, known as the palm tree.
Cathédrale Saint Etienne. A very unusual small gothic cathedral, in two halves which are not on the same axis. Medieval builders rebuilt the choir with a high vaulted roof, but never got round to rebuilding the older nave which is not aligned with the choir.
Pont Neuf - Fine 16th - 17th century bridge over the Garonne. the holes above the piers, between the arches, are not just for decoration, but to let the water through in the event of serious flooding
Canal du Midi. The canal , bordered by quays in the shade of old plane trees, winds round the east of the old city. the Canal, linking the Mediterranean to the Garonne and the Atlantic, is a UNESCO world heritage site.
And on the outskirts of Toulouse
Space city - Cité de l'Espace
- Access by Metro A to Jolimont, then connect to bus 37. Aerospace museum, with life-size models of spacecraft other aerospace exhibits.Planetarium.
Musee Aeroscopia and Ailes Anciennes:
Access Tram T1 from Palais de Justice. Ttwo aircraft museums next door to each other, including two Concordes, an Airbus A400, a Caravelle, a Mig-15 and historic aircraft. Nearby: Airbus factory tours. Visit the A380 assembly line... but only from behind glass on a viewing area..
More information from the
Toulouse city tourist office
(though don't go looking for the "Roman basilica" that they announce on their home page. That's a translation error. Saint Sernin is Romanesque (i.e. medieval), not Roman).
By air

With one of the busiest provincial airports in France, Toulouse can be reached by air from many parts of Europe. For flights from the

UK

see Fly to France. Among the many other airports with direct flights to Toulouse are Berlin, Hamburg, Vienna, Geneva, Madrid, Rome and Montreal.

By train

Toulouse can be reached from Paris by TGV (high speed train), via Bordeaux, in between 4 and 5 hours. For timetables and online tickets - national or international - see Trainline.com

.

By car

Toulouse is accessible by motorway from Paris, via A10, A71 and A20, or from Bordeaux, or from Lyon and Marseille via Montpellier and Narbonne.
Albi - the other "pink" city
Check out the guide to the
Midi-Pyrenees
area.
Four places within easy reach of Toulouse by car or even by train are
Albi
, Carcassonne, Foix and Cahors. Albi is a delightful small city on the banks of the Tarn, with a Roman bridge and a UNESCO World Heritage site including the Cathedral and the former Bishop's palace, with its Toulouse Lautrec museum.
Carcassonne
, with its medieval walled city, is another World Heritage site, located between Toulouse and the Mediterranean. Foix, at the edge of the Pyrenees, is a small town with an impressive castle (lots of steps). Cahors is an old city on the river Lot, with a remarkable fortified medieval bridge and nearby prehistoric sites.
The nearest
wine-growing areas
to Toulouse are the vineyards of Gaillac, on the way to Albi. The Gaillac AOP area produces some fairly good red and white wine; and since Gaillac is not attached to any of the prestigious wine areas of France, Gaillac wine is reasonably priced and can be very good value for money.
Copyright © About-France.com 2007 - 2019 except where otherwise stated.
Photo top of page : Place du Capitole, late evening
Key tourist information for Toulouse:

Region
: the
Midi-Pyrenees
area of Occitanie.
Nearby cities
:
Bordeaux
,
Albi
, Montauban
Nearest airports

:
Toulouse
Toulouse

is on the routes between

:
Lyon and Biarritz, via St. Etienne, Le Puy and Rodez: Paris-Saragossa via Limoges
Population
: (urban area) 907,000
Main sites
: Place du Capitole, St Sernin basilica, Fondation Bemberg, aircraft museum and aerospace museum, .
Nearby attractions and sites
: Albi, Cordes sur Ciel, Carcassonne, the Pyrenees.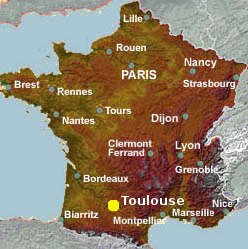 Toulouse hotels
The About-France.com selection
Hotels for all budgets and all needs
Historic centre
★★★★
Hotel le Grand Balcon
Luxury hotel with soundproofed rooms, just off the Place du Capitole. Parking close by. Facilities for the disabled.
★★★
Hotel des Arts
Recently refurbished three-star hotel. Very good reviews. 300 metres from Place du Capitole, just north of Augustins. Airport pickup by arrangement. Public parking nearby.
★★
Hotel Ours Blanc
Two-star hotel with soundproofed rooms, between Place du Capitole and Jeanne d'Arc (airport bus stop). Well reviewed. Public parking nearby.
★★
Arnaud Bernard Hotel
Well reviewed two-star hotel. Single double and family rooms. Between Saint Sernin and Compans Caffarelli (airport bus stop). good breakfasts. Public parking nearby.
La Petite Auberge
Backpacker style hostel accommodation at bargain rates. Four-bed dormitories. Terrace and garden. Self-service kitchen. No breakfast Between Saint Sernin and Compans Caffarelli (airport bus stop). .
Close to the historic centre
Hotels with private parking
★★★★
Hotel de Brienne
Modern four star hotel with free private parking. About 600 metres west of Saint Sernin, and 400m from Compans Caffarelli (metro and airport bus stop). Five minutes on foot from Congress centre.
★★
B&B HotelToulouse centre
Not really central - just off the map to the north. Large modern budget hotel beside the Canal du Midi. Metro station 650 metres. 800 metres from exit 30 on A620 motorway (Toulouse Rocade ouest - western orbital motorway). Inexpensive parking.
Lots more places to stay in Toulouse
Hotels and other accommodation at best rates from Booking.com
►► Site guide
About-France.com home
Full site index
About-France.com site search
►► Principal chapters on About-France.com
The regions of France

Beyond Paris, a guide to the French regions and their tourist attractions.
Accommodation in France

Guide to Paris
Tourism in France
The main tourist attractions and places to visit in France - historic monuments, art galleries, and more
Planning a trip to France
Information on things to do before starting your trip to France.
Driving in France
Tips and useful information on driving in and through France - motorways, tolls, where to stay....
Maps of France
Cities, towns, departments, regions, climate, wine areas and other themes.
The French way of life
A mine of information about life and living in France,
A-Z dictionary of France
Encyclopedic dictionary of modern France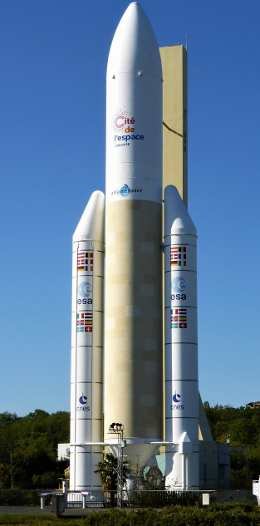 Full size replica of Ariane spacecraft at the Toulouse Cité de l'Espace


Copyright texts and photos © About-France.com 2003 - 2019
except: photo of Hotel Athézat by POierre Selim, creative commons licence.
Ariane rocket by Rauschenberger.
Map enhanced from an open-soyurce original by Openstreetmap. org