Explore France ►
Essential pages
Travel in France
Where to go
What to see and do
About-France.com
- the connoisseur's guide to France
Poitiers

- gateway to Southwest France
The 4th century baptistry - the oldest church building in France.
Historic Poitiers
Poitiers is a classic French provincial city. Capital of the Poitou area of western France, and county-town of the Vienne department, it is a historic city that has conserved much of its old world charm.
A traditional stopping spot on the route from Paris to Bordeaux, southwest France and Spain, it is a city that has catered for passing travellers since Roman times.
Defensively located on a hilltop beside a main route, Roman Poitiers, known as Limonum, was one of the major cities in western Gaul, and possibly the capital of the area; however little remains of classical Roman Poitiers. On the other hand, Poitiers is home to one of the oldest churches in Europe, the fourth century
Baptistry
, built during the Gallo-Roman period. Today a small archaeological museum, the Baptistry is decorated inside with some of the earliest mural paintings in France.
Remarkable polychrome Burial of Christ, from 1555, in the church of Notre Dame la Grande
It was in the Middle Ages that Poitiers really came into its own again; and there are several impressive buildings dating from this time. Most important is the church of
Notre Dame la Grande,
which was consecrated in the year 1086. With its ornately decorated facade, Notre Dame la Grande is one of the finest examples of western French Romanesque architecture.
Poitiers also has a fine early gothic
cathedral
, built in the 12th century on the instigation of King Henry II of England and his wife Eleanor of Aquitaine. The cathedral has some beautiful medieval stained glass windows.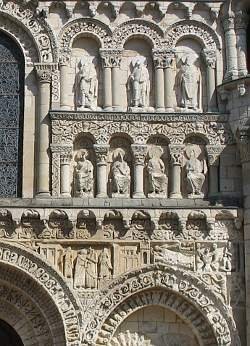 Intricate 11th century sculptures adorning the facade of Notre Dame la Grande
There are two other interesting medieval churches in Poitiers, the church of
Saint Hilaire,
a classic but unusual 11th century Romanesque church, and the church of
Sainte Radegonde, which has an interesting crypt..

In addition to its cluster of medieval churches, Poitiers has an old town centre with narrow streets, many half-timbered buildings, and other ancient town houses. The town centre also has plenty of cafés and restaurants, as well as shops and boutiques.

Poitiers' main museum is the Musée Sainte Croix, close to the town centre. Housed in a modern building from the 1970s, the museum has a collection of historic and archaeological artefacts, as well as an art gallery with a collection of mostly French paintings and sculpture from the 19th and 20th centuries, including works by Rodin, Bonnard and Sisley.


The Futuroscope - techological theme park
While the sights and monuments of old Poitiers illustrate the city's historic past, the same cannot be said for the most popular tourist attraction just ourside Poitiers. This is the
Futuroscope

,
a future-themed hi-tech theme park located at Jaunay Clan, one of the northern suburbs of Poitiers.
►
More details and online booking
Opened in 1984, the Futuroscope has grown from a few futuristic pavillions round an Imax cinema, to become the world's most sophisticated cinema theme park. It has giant screens, IMAX and 3-D and 4-D shows, some of them using technology that is unique in the world, all in all over twenty future-themed attractions. Among the latest attractions is a high-tech aquatic evening show by Cirque du Soleil.
Saint Savin sur Gartempe

11th century frescoes in Saint Savin.
For anyone interested in medieval architecture, the church of Saint Savin sur Gartempe, 45 km east of Poitiers. A UNESCO world heritage site, this large 11th century abbey has the largest and among the best preserved collection of medieval frescoes in France, and among the best anywhere. Unlike most large churches of its time, the abbey still has its original barrel vault, on which most of the fresoces are painted. Its interior is a unique example of how many large churches would have looked in the 11th and 12th centuries.
Chauvigny
Chauvigny, with its cluster of castles
Half way between Poitiers and Saint Savin, Chauvigny is a historic town perched on a rock beside the river Vienne. The centre of the small town is remarkable for having no less than five castles, two of which can be visited. Chauvigny also has two 11th century churches, notably the Collégiale Saint Pierre, in the historic city, which is best known for its unique collection of medieval capitals, coloured as they would have been in the Middle Ages.
Défi Planet'
Dienné - 26 km southeast of Poitiers. A wildlife and adventure park for kids and families; lots of animals, and games and activities to make kids and adults aware of the environmental challenges facing our planet in the 21st Century. The park also offers accommodation in
tree houses, gypsy caravans and other quirky structures
Vallée des Singes
Romagné, 31 km south of Poitiers. Vallée des Singes, or Monkey valley in English, is Europe's largest primates wildlife park, with over 400 gorillas, apes, lemurs and other monkeys in large open enclosures. the park is heavily involved in the protection of endangered species.
Key tourist information for Poitiers :
Region
: Nouvelle Aquitaine , area
Poitou-Charentes
Nearby cities
: Angoulême, Limoges, Tours
Urban area Population
128,000
Access - getting to Poitiers :
By plane - Nearest airports:
Poitiers, Limoges, Tours
By road :
Poitiers is 6 - 7 hours drive from Calais, 4 hours from Paris, and 2½ h from Bordeaux.
By train:
Train station Poitiers Centre.
Direct TGV services from Paris Gare Montparnasse (1h 40 to 2h), Lille (3h 20) Bordeaux (1h 50) For timetables and online tickets, see
Trainline.com
.
Accommodation:
See below.
About-France.com
is an independent user-supported website, and may receive commission from sales made on selected partner websites accessible through affiliate links.
Accommodation in Poitiers
A choice of hotels and apartments in Poitiers.
Traditional hotels in the middle of Poitiers

Recommended ...
Hotel de l'Europe
In a quiet location in the centre of Poitiers, a traditional three star hotel with 80 rooms. Good value. On site car parking (supplement)
Hotel Central
- Small two-star hotel with 21 rooms, in the heart of the old town. Free public parking nearby
Modern hotels close to the centre of Poitiers
Ibis Budget - gare
Beside the station, a no-frills budget hotel. Private parking nearby (charge).
Hotel Come-Inn
Just off D910 (old N10), easy access from A10 exit 29. Well reviewed two-star hotel. Free parking onsite.
Modern hotels on the outskirts of Poitiers.


Futuroscope
Novotel - Futuroscope
A short distance from A10 exit 28. A standard modern four-star hotel with swimming pool and sauna. Free parking onsite.
Campanile - Futuroscope
Between D910 (ex N10) and A10 exit 28. Reliable *** budget hotel with restaurant & garden. Free parking onsite.
Copyright © About-France.com 2007 - 2023 except where otherwise stated.