Explore France ►
Key pages
Where to go
How to get there
More about France
About-France.com
- the connoisseur's guide to France
COVID info:
tourism in France is functioning more or less normally. Masks remain recommended in many locations, though visitors are no longer required to show proof of vaccination or recent recovery. Nobody knows how the situation will evolve, so people undertaking any kind of international travel are still advised to make sure they are protected and carry proof of vaccination or recovery on their phone or on paper.
It should be no surprise that France is Europe's top tourist destination. It just has so much to see, and such variety .... France is
so
much more than just Paris. Its historic heritage is second to none in its extent and its variety – which can sometimes be a problem in itself. With so much to see, so much history, so many different rural and cultural environments, it can be a hard task for visitors to decide what to see and where to go. What is best ? And where ?
This page is a starter page, a very compact guide to the best that France has to offer in ten different categories. From each of the categories below, you can follow links to more detailed thematic listings, and dedicated pages full of useful information about the most interesting and often fascinating places to visit in France.
Best cities
Best small towns
France is not just its big cities and its beaches. Arguably, to discover the real France, you need to visit its small cities and its countryside, where life is slower and more traditional, and living is less costly than in the big cities. By "small towns", understand places with generally less than 15000 inhabitants. There are hundreds of these all over France, so finding the more interesting ones to visit can sometimes require inside knowledge. To make it easier, About-France.com has selected some of the best small towns in France, chosen by region or area. These are places that are not just attractive but also interesting, as well as being typical French small towns. Historic small towns like Amboise or Bayeux or Brioude are three examples.... Discover more on Best small towns
Best villages
It's impossible to say how many villages there are in France; it depends on how you count them... but it's safe to say that there are at least 30,000.... so finding the best ones to visit is well nigh impossible without help. You could check out the list of villages that have been labeled Plus beaux villages de France; but the trouble is that this list is referenced by every tourism site about France, meaning that many of these villages et crowded out with tourists and are overcluttered with souvenir shops and cafés. You may prefer to consult About-France.com's original list of beautiful villages, including many that have not paid to get listed as "plus beaux villages", but are often just as attractive and – having less tourists – have remained more authentic.
Best rural areas
Most of France is rural: but rural France can be very different from one region to another. The northeast and southwest of France are generally quite flat, the south is mostly mountainous or hilly, and the northwest is undulating – meaning that "rural France" is quite different from one part of the country to another. And some parts of it are quite touristy, while other parts are largely off the tourist trail. On our Best of rural France page, About-France.com lists a selection of eight attractive areas of rural France that are more than just woods and fields, but have plenty of interesting sites and attractions too, while offering plenty of opportunity to visitors who want to relax in peace and quiet, far from the madding crowds.


Best chateaux and castles
Over the past two millennia, France has been the theatre of countless wars and battles; and until the end of the Middle Ages, kings and feudal overlords built themselves many an impressive castle to stand as symbols of their power and safe havens in the event of attack. From the Renaissance on, most fortified castles lost their importance, and many were pulled down. New residential châteaux were built all over France, most notably in the valley of the Loire, some built on the spot of earlier fortresses, others on greenfield sites. Today, visitors to France have a choice of several hundred châteaux and fortresses to visit, some of which are particularly interesting. Check out our guides tio the best medieval fortresses and the best châteaux, as well as a guide to the Châteaux of the Loire.


Best medieval cathedrals
Notre Dame cathedral in Paris was one of the most visited tourist sites in Europe. But it is neither the biggest, nor the most impressive of France's great medieval cathedrals. It just happens to be in Paris. France has some twenty more major medieval cathedrals, notably those in Rheims, Amiens, Chartres, Bourges and Rouen. There are many smaller medieval cathedrals, some even older, almost all of them worth a visit. And the difference with Notre Dame de Paris is that generally speaking there are no queues to get in, and now crowds inside. Just some fabulous medieval architecture and sculpture, aned in many sites some beautiful stained-glass windows. More details on France's greatest medieval cathedrals


Best museums and art galleries
While Paris has the greatest and best museums in France, it by no means has a monopoly, and there are plenty more top quality museums and art galleries in other French cities, even in small towns. The Louvre is the richest and most complete gallery in France, but its sheer size makes it a museum where is not easy to grasp the development of art since the Middle Ages. This is much easier in the smaller but still top quality art galleries in places like Besançon or Toulouse. And then there are all those specialist galleries featuring the works of an art movement or a particular artist, and they are scattered all over France. Check out the guide to the best museums and art galleries in France.


Best ancient sites
France has some of the earliest vestiges of human life on our planet; and while human life did not begin in France, France has some of the earliest known human settlements and some of the most remarkable prehistoric art in the world. The grotto at Lascaux, with its cave paintings, is just one example. Much later, France – or Gaul as it was then known – was an important part of the Roman world, and a number of major Roman remains can be explored and visited, particularly in the South of France. Some, such as the arenas in Arles or Nimes, are still in use today. See best-of pages for Prehistoric France and Roman France for more detail.
Best beaches
With coasts on three sides, and bordering four different seas, the North Sea, the English Channel, the Atlantic and the Mediterranean, France has hundreds of miles of beaches, some of them very popular and crowded with holidaymakers during the summer months, others almost deserted even in high summer. There are sandy beaches and shingle beaches, long beaches and small coves, beaches for swimming, beaches for surfing or kite-surfing, and marinas for sailors. For a more detailed look at what's where, and where to find some of the best beaches, checkout the guide to the French coast.
Best free tourist attractions
Travelling on a budget, or with a large family ? Holiday costs can mount up when it comes to visiting a lot of paid attractions. Fortunately there are plenty of attractions in France for which there is no entrance fee. To start with, there are the beaches, for most of which parking is free; then there are the fabulous historic churches, and even some old castles. Hiking is free along thousands of kilometeres of waymarked hiking trails. And there are even some free museums and art galleries... and days when even many of the paid-entry museums and galleries are free. Find out more on France for free.
Best routes
Whether driving in France is a means to an end, or an end in itself, it is useful to have a good idea of where you are going, and how best to get there. One man's best will be another man's worst – some want to reach a destination as fast as possible, others as cheaply as possible, yet others want to drive through France at a leisurely pace, taking in lots of things to see on the way. About-France.com has a range of pages devoted to driving in France, including route guides, rules of the road, and even ideas for a slow leisurely route from the north of France to the south. The best place to start out is with the general Driving in France page, which links through to many of the more specific and detailed driving pages.
Best offbeat attractions
Discover some of the wacky, strange or just unusual sites and sights that France has to offer. From a natural cavern with a road running right through it and a prehistoric site in the middle, to a 21st century suspended walkway high over a rocky chasm, via some quirky museums, underground sites and strange and memorable landscapes, France has a wide range of unusual tourist sites to visit. Check out some of the best on Offbeat France
More best-of pages on About-Fance.com...
and more
Collioure, where the Pyrenees meet the Mediterranean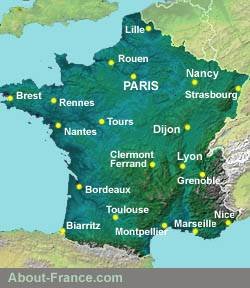 About-France.com is an independent user-supported website that does not track visitors and carries very little advertising, Links to carefully selected affiliate partner websites may generate commission on sales at no cost to the user.

Le Puy en Velay - 10th century Chapelle de Saint Michel


Atlantic coast


Website text and photos © copyright About-France.com renewed 2022
unless otherwise stated