About-France.com
- the connoisseur's guide to France
COVID info:
as of March 2021 France is still closed for tourism. It is expected that things will start opening up again as from May and that a new form of post-Covid "normal" may be reached by August or September. While accommodation providers are taking advance bookings, early booking for tourist attractions is reopening more slowly.
It should be no surprise that France is Europe's no. 1 tourist destination. It just has so much to see, and such variety .... and it is
so
much more than just Paris. Its historic heritage is second to none in its extent and its variety – which can sometimes be a problem in itself. With so much to see, so much history, so many different rural and cultural environments, it can be a hard task for visitors to decide what to see and where to go. What is best ? And where ?
This page is a starter page, a very compact guide to the best that France has to offer in ten different categories. From each of the categories below, you can follow links to more detailed thematic listings, and dedicated pages full of useful information about the most interesting and often fascinating places to visit in France.
Best cities
Best small towns
Best villages
Best rural areas


Best chateaux and castles


Best medieval cathedrals


Best museums and art galleries


Best ancient sites
Best beaches
Best free tourist attractions
Best routes
Best offbeat attractions
More best-of pages on About-Fance.com...
Copyright © About-France.com 2007 - 2021 except where otherwise stated.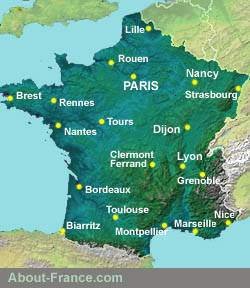 ►► Site guide
About-France.com home
Full site index
About-France.com site search
►► Principal chapters on About-France.com
The regions of France

Beyond Paris, a guide to the French regions and their tourist attractions.
Accommodation in France

Guide to Paris
Tourism in France
The main tourist attractions and places to visit in France - historic monuments, art galleries, and more
Planning a trip to France
Information on things to do before starting your trip to France.
Driving in France
Tips and useful information on driving in and through France - motorways, tolls, where to stay....
Maps of France
Cities, towns, departments, regions, climate, wine areas and other themes.
The French way of life
A mine of information about life and living in France,
A-Z dictionary of France
Encyclopedic dictionary of modern France
Copyright texts and photos © About-France.com 2003 - 2021 .