Can I afford a holiday in France ?
Eurozone crisis.
With the currently low value of the Euro, holidaying in France and other parts of Europe has become
cheaper
for visitors from other parts of the world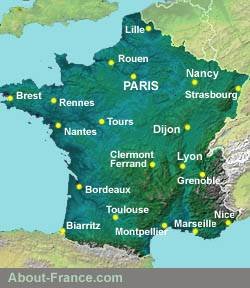 France has many reputations; and one of them is that France is an expensive country.
In matters of costliness, most things are relative. France - like any developed country - is expensive compared to Latin America, India, or other developing nations. It is cheap compared to Dubai or Sweden; but compared to most other European coutries, it is somewhere in the middle.
In reality, there are plenty of things in France that are cheaper than in the UK or the Netherlands or Germany or Switzerland, even cheaper than the USA; and others that are more expensive.
Fresh food tends to be cheaper in France than in more northern countries; but processed food, instant pre-packaged microwave meals, tinned food and other industrial products are more expensive. Bread and cakes tend to be more expensive, specially processed sliced white bread; but sometimes this is because French consumers demand higher quality.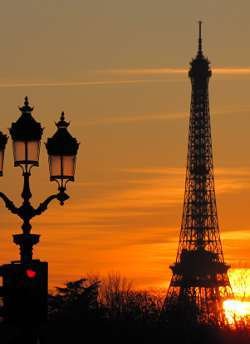 Admiring the sites needn't cost anything...
Relative costs
Hotels and restaurants tend to be cheaper in France than in the UK, notably on a quality-for-quality basis, though the margin of difference in hotel prices has narrowed in recent years. And the cost of emergency medical treatment (a visit to the doctor or the dentist, minor A&E treatment in a hospital) is far lower than the cost of private treatment in the UK or the USA - and largely reimbursed for travellers with a European health insurance card, or private insurance.
In the end, the cost of living and holidaying in France depends on your lifestyle. If you want to live "à l'anglaise" or "à l'américaine" in France, you will pay a premium; if you follow the old adage "When in France, do as the French", then your euros will go much further.



Can I afford a holiday in France?




Answer

; if you can afford a holiday anywhere in Europe, you can afford one in France, as long as you work within your budget. If in doubt, avoid expensive hotels and tourist traps, try alternative solutions. If visiting Paris, check out our budget Paris tips and Free Paris pages.
For the rest of France, check out our guide to Free tourist attractions, and to France's great cathedrals, which are free to visit.


Accommodation
What are the alternative solutions to expensive hotels?


Answer

: Well of course, there are cheap hotels (not always much fun for a stay of more than one or two nights); among the cheapest chains are Formule 1 and Mister Bed ; slightly more up-market are comes the Ibis budget chain, then there are the mid market economy chains such as Ibis and Campanile. But if you are planning a long stay (a week or two) how about trying a gite (a holiday cottage), or B&B or camping. Gites come in all shapes and sizes, but it is often possible to find a gite for a week at less than the cost of an economy hotel room for a week. Gites and B&Bs are plentiful in France.



Student and backpacker accommodation in France


For students and backpackers, there is also hostel accommodation in most French cities; there are a number of organisations running city hostels. The French youth hostel association FUAJ is just one of these.

What are the cheapest places in France?
Answer

: Generally speaking, anywhere but Paris and the Riviera. But even Paris need not be too expensive if you prepare your holiday carefully, book your hotel on the internet, and follow the advice on our budget Paris tips and Free Paris pages.
That being said, rural areas are cheaper than the seaside, and cheaper than big towns and cities. Among the cheaper regions of France are Auvergne, Limousin and Franche-Comté. These are very attractive regions with hills and mountains, and regions that are underrated in tourist terms. Auvergne was rated as one of the top six regions in the world to visit by Lonely Planet in 2015. For more details on all regions, see the About-France.com guide to the regions of France.
In north-eastern France, the regions of Lorraine and Champagne are reputed to be the cheapest of all for holidaymakers.



How do you make your euros go further ?




Answer

: plan in advance! In warm weather, picnic for your midday meal, but stock up from the local "boulangerie" or supermarket before you set out on a day's trip, so that you don't have to rely on roadside garage-shops or cafés. As well as saving money, you will get a lot more choice for your midday meal. In hot weather, instead of stopping for an ice-cream or a drink in a café, stop at a supermarket and buy a box of ice-creams or a big bottle of cold drink, then stop by the wayside. A box of four icecreams from the deep-freeze counter in a supermarket can cost less than just a single identical ice-creas in a café; and you can buy a litre and a half of coke in a supermarket for less than a 25 centiliter glass in a café.

As for eating out, look for unassuming places, and places away from the main tourist traps. You'll probably eat better and for less. If you eat a meal midday, Chinese restaurants often offer good value, and well-balanced meals too.


When is the best time to visit France?

Answer

: if you're not bound by children, May, June and September are best, as you can usually get better rates in hotels and holiday rentals, and the tourist attractions such as Mont Saint Michel (right) are less crowded. Avoid the French school holiday periods, and check out the least busy holiday weeks.. But take care: some attractions do not open, or open for shorter hours, outside the main tourist months.



Good value in France

Follow these links and make your holiday money go further in France


Copyright notice: Website and text © About-France.com 2003 - 2017 except where otherwise indicated.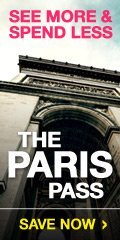 Extra special offer
with About-France.com
Click here to
SAVE 10% on Paris Passes
Use code
ABOUTFRA
NEW !
Intercity Coach services in France.
for visitors from the UK check out the
Ouibus
website