Explore France ►
Key pages
Where to go
How to get there
More about France
About-France.com
- the connoisseur's guide to France
France has many reputations; and one of them is that France is not a cheap country.
In matters of costliness, most things are relative. France - like any developed country - is expensive compared to Latin America, India, or other developing nations. It is cheap compared to Dubai or Sweden; but compared to most other European coutries, it is somewhere in the middle.
In reality, there are plenty of things in France that are cheaper than in the UK or the Netherlands or Germany or Switzerland, even cheaper than the USA; and others that are more expensive.
Fresh food tends to be cheaper in France than in more northern countries; but processed food, instant pre-packaged microwave meals, tinned food and other industrial products are more expensive. Bread and cakes tend to be more expensive, specially processed sliced white bread; but sometimes this is because French consumers demand higher quality.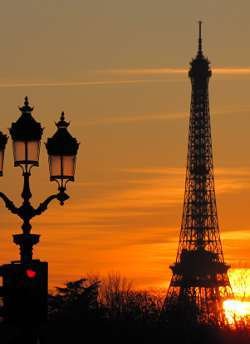 Admiring the sites needn't cost anything...
Relative costs
Hotels
and restaurants tend to be cheaper in France than in the UK, notably on a quality-for-quality basis, though the margin of difference in hotel prices has narrowed in recent years. And the cost of emergency medical treatment (a
visit to the doctor or the dentist
, minor A&E treatment in a hospital) is far lower than the cost of private treatment in the UK or the USA - and largely reimbursed for travellers with a European health insurance card, or private insurance.
In the end, the cost of living and holidaying in France depends on your lifestyle. If you want to live "à l'anglaise" or "à l'américaine" in France, you will pay a premium; if you follow the old adage "When in France, do as the French", and avoid expensive choices, then your euros will go much further.
Can I afford a holiday in France?
Answer
; if you can afford a holiday anywhere in Europe, you can afford one in France, as long as you work within your budget. If in doubt, avoid expensive hotels and tourist traps, try alternative solutions. If visiting Paris, check out our
budget Paris
tips and
Free Paris
pages.
For the rest of France, check out our guide to
Free tourist attractions
, and to
France's great cathedrals
, which are free to visit.
What is the cheapest way to travel round France?
Answer
: Cheap travel ? It depends a lot on the kind of travel you are interested in. Public transport or private transport.
Bus and coach
As regards public transport, the cheapest way to get round France is now by
intercity bus
. Long a creaky state monopoly, intercity bus services were opened up to competition by Emmanuel Macron back in 2015, and several companies now operate fast comfortable and cheap services all over France. These include
Flixbus and Ouibus
(
check out prices and routes on Trainline.com)
with services throughout France and to neighbouring countries. For more detail, see
Coach travel in France
Oui
is the low-cost subsidiary of SNCF and also runs some cut-price train services (including TGVs), though this network is not nearly as extensive as the bus network. You can book on Oui trains at the lowest price on the
Trainline
website (this site can be used for any train journey, not just Oui services).
Flying:
The cheapest domestic flights within France are operated by (you guessed!) Ryanair and Easyjet.
Easyjet
operate French domestic services out of Paris CDG or Orly, Biarritz , Bordeaux, Lille,
Lyon
,
Nantes
,
Nice
,
Toulouse
, and Basel-Mulhouse (though not all destinations from each) .,
Ryanair
operate just a few domestic services in France, for instance Paris-Beauvais to Béziers, and Brest, Lille, Nantes and Tours to Marseille. Ryanair also operate flights to several French airports from Charleroi, just over the border in southern Belgium. Some other supposedly "low cost" operators run a few cheap domestic routes in France, but their prices are generally way higher than those of the two market leaders.
By car
To avoid motorway tolls, check out the no-tolls routes links on
Driving in France
For car sharing (if you speak French) try blablacar.com
Hitch-hiking
remains an option, and as there are not too many hitch-hikers on the roads in France nowadays, the chances of getting a lift are better than they were at one time. But if hitch-hiking, avoid motorway slip-roads beyond the blue motorway sign, as pedestrians are not allowed on motorways. You can hitch-hike on motorway rest areas, as pedestrians are obviously authorised here. Carry a destination plaque (for instance Toulouse) to show where you're headed and maybe a small country flag on your backpack.
Cycling and hiking
Check out
Cycling in France
and
Long-distance footpaths
in France

Accommodation : alternative solutions to expensive hotels
Answer
: Well of course, there are cheap
hotels
(not always much fun for a stay of more than one or two nights); among the cheapest chains are Formule 1 and
Première Classe
; slightly more up-market are comes the
Ibis budget
chain, then there are the mid market economy chains such as
B&B hotels
Ibis
,
Campanile
and
Kyriad
. . But if you are planning a long stay (a week or two) how about trying a
gite (a holiday cottage)
, or
B&B
or
camping
. Gites come in all shapes and sizes, but it is often possible to find a gite for a week at less than the cost of an economy hotel room for a week. Gites and B&Bs are plentiful in France.
Student and backpacker accommodation in France
For students and backpackers, there is also
hostel accommodation
in most French cities; there are a number of organisations running city hostels. The French youth hostel association FUAJ is just one of these.
What are the cheapest places in France?
Answer
: Generally speaking, anywhere but Paris and the Riviera. But even Paris need not be too expensive if you prepare your holiday carefully, book your hotel on the
internet
, and follow the advice on our
budget Paris
tips and
Free Paris
pages.
That being said, rural areas are cheaper than the seaside, and cheaper than big towns and cities. Among the cheaper regions of France are
Auvergne
,
Limousin
and
Franche-Comté
. These are very attractive regions with hills and mountains, and regions that are underrated in tourist terms. Auvergne has been ranked as one of the top six regions in the world to visit by Lonely Planet. For more details on all regions, see the About-France.com
guide to the regions of France
.
In north-eastern France, the regions of
Lorraine
and
Champagne
are reputed to be the cheapest of all for holidaymakers.
How do you make your euros go further ?
Answer
: plan in advance! In warm weather, picnic for your midday meal, but stock up from the local "boulangerie" or supermarket before you set out on a day's trip, so that you don't have to rely on roadside garage-shops or cafés. As well as saving money, you will get a lot more choice for your midday meal. In hot weather, instead of stopping for an ice-cream or a drink in a café, stop at a supermarket and buy a box of ice-creams or a big bottle of cold drink, then stop by the wayside. A box of four icecreams from the deep-freeze counter in a supermarket can cost less than just a single identical ice-creas in a café; and you can buy a litre and a half of coke in a supermarket for less than a 25 centiliter glass in a café.
As for eating out, look for unassuming places, and places away from the main tourist traps. You'll probably eat better and for less. If you eat a meal midday, Chinese restaurants often offer good value, and well-balanced meals too.
When is the best time to visit France?
Answer
: if you're not bound by children, May, June and September are best, as you can usually get better rates in hotels and
holiday rentals
, and the tourist attractions such as Mont Saint Michel (right) are less crowded. Avoid the
French school holiday
periods, and check out the
least busy holiday weeks
.. But take care: some attractions do not open, or open for shorter hours, outside the main tourist months.
Good value in France
Follow these links and make your holiday money go further in France