About-France.com

- the reliable guide - France without the hype

This page provides an initial checklist: for a lot more tips and useful information, visit the main

Driving in France

page on About-France.com

Driving in France is perfectly easy, and does not need any specific preparation. Nevertheless, there are a number of things that need to be seen to before starting your journey - particularly if you are coming from the United Kingdom or the Irish Republic, or another country where cars drive on the left.
Checklist :
Choose where to stay in

rural France


French gite and B&B locator maps
Book directly in English with the owners
Gitelink.com
Here is a quick checklist of the points to see to before you leave. For details see below.
---
► Driving licence. When driving in France, you will need a recognised full

driving licence.

An international licence is not required for short term visitors (up to 90 days) from countries of the EU, EEA, USA, Canada; however it is either recommended or else required for visitors from other countries. For specific details, check with the local French embassy in your country of origin.


NB:

The minimum age for driving in France is 18, so drivers under the age of 18 cannot drive in France, even if they have a full driving licence issued in their own country.

Find hotels in France

Click for best online rates for hotels near the following towns on

main motorway routes

.

Calais Reims Dijon Beaune Lyon Rouen Orleans Tours Limoges Poitiers Bordeaux Clermont-Fd.

About-France.com

is partnered with Europe's leading hotel booking portal,

Booking.com

, to bring you the best online prices

Personal ID

. Anyone visiting France must have a valid personal ID card. For visitors from countries like the UK which do not issue ID cards, a valid passport is required. Travellers not holding a European Union or North American passport may need to obrain a tourist visa. For further details consult this official French foreign ministry website in English.

For longer stays,

standard EU driving licences remain valid, but holders of driver's licenses from non-EU countries will probably need to obtain a French licence. Again, check with the French embassy in your country before starting off on your trip.
► Proof of ownership, This is the car's

registration certificate

(for cars registered in the UK, the V5C certificate). If stopped by the police, you may well be asked for the "Carte grise" (grey card) : it is the vehicle's registration certificate that you are being asked to show.
► Proof of insurance. The standard international and European insurance document is the "green card", though a standard insurance document from any EU country provides basic insurance for your vehicle (third party cover) throughout the Union, whether or not a green card is provided. As regards the extent of you vehicle insurance cover, you should check with your insurance company before setting off for France or beyond. Many insurance policies that are comprehensive policies in the UK only provide third party cover when the vehicle is taken abroad.
Many UK motorists like to take out extra holiday insurance, such as that available from the AA, to cover the costs of emergency repairs and/or repatriation of the vehicle and passengers in the event of a major mishap. Click to visit the AA website.
► Headlamp beam deflector. Depending on your car, you will either need deflector patches or have to adjust the beam manually. In the UK, headlamps dip to the left, which is a big problem when driving at night on the continent, as that means they dip into the path of oncoming traffic. Beam deflectors (often just a bit of opaque tape to stick on a part of the headlamp) correct this.

►

Spare set of bulbs. Though it is highly unlikely that you will be stopped and asked to show your spare set of bulbs, and though it is not practical to carry spare sealed-beam units that require a garage visit for fitting, French rules of the road require cars to carry a spare set of bulbs. Many French drivers do not carry them.....
► Breathalyzer kit. or alcohol level test. In theory, it has been obligatory to carry one of these since 2013 - but there is no penalty for not having one.
► Hazard warning triangle. A red reflective triangle that can be placed at a suitable distance behind a car if it is immobilised on the highway or hard shoulder
► Spare set of car keys. Not obligatory, but highly recommended. After all, it would be unimaginable hassle to lose your keys, then have no way of getting into your car... or once in it, of starting it.
► High viz waistcoats. All cars are required by law to carry a high-visibility waistcoat (fluorescent yellow or orange). This must be carried IN the car, not in the boot (not in the trunk), so that it can be slipped on immediately by any driver who needs to get out of an immobilised vehicle, notably on a motorway or main road.
► Vehicle condition . Don't set out on a long journey to France or beyond, to Italy or Spain or wherever, without having first had your car serviced or checked. In particular, check tyre pressure and condition.
► Maps or Satnav . One or the other of these is always advisable, even if you are planning a simple journey on motorways or main roads. Detailed local maps can help you in the event of the unforeseen. They can also help drivers of larger vehicles - coaches, HGVs, caravans or motorhomes - avoid unsuitable roads before they actually reach them. Satnavs are quite good at forgetting to mention bits of vital information, such as low bridges or narrow bridges on minor roads.
►

Much more key information on driving in France
Visit the main About-France.com
Driving in France
page, for much more useful information on taking a car to France, including information on:
plus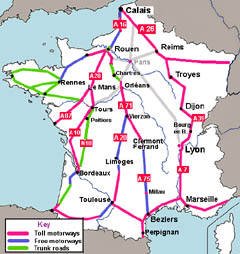 Driving from Calais:

►

click map for enlargement

and details.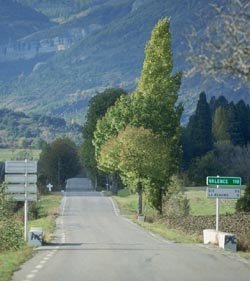 Quiet country roads....

Motorway driving in France is normally quite relaxed... but not always...

Winters can be hard, particularly in central and eastern France
►►Discover About-France.com
About-France.com home
Full site index
About-France.com site search
►► Principal chapters on About-France.com :
Guide to the regions of France

Beyond Paris, a guide to the French regions and their tourist attractions.
Guide to Paris
Make the most of your trip to Paris; Information on attractions,
Paris hotels
, transport, and lots more.
Accommodation in France
The different options, including
hotels
, holiday gites, b&b, hostels and more
Tourism in France
The main tourist attractions and places to visit in France - historic monuments, art galleries, seasides, and more
Planning a trip to France
Information on things to do before starting your trip to France.
Driving in France
Tips and useful information on driving in and through France - motorways, tolls, where to stay....
Maps of France
Cities, towns, departments, regions, climate, wine areas and other themes.
The French way of life
A mine of information about life and living in France, including working in France, living in France, food and eating, education, shopping.
A-Z dictionary of France
Encyclopedic dictionary of modern France - key figures, institutions, acronyms, culture, icons, etc.
Related pages:
Other "driving in" pages....
You may also like....

Website text and photos © copyright About-France.com 2004 - 2019
unless otherwise stated