Intercity coach services in France
TER bus operated by the SNCF in the framework of regional public transport service.

Long-distance bus or coach services are new in France. Until 2015 there were virtually none, other than interregional services or international services passing through France.
That is all in the process of changing, and long-distance coach services are now expanding quite fast.
For visitors based in the UK, low-cost domestic French coach services and services to France can now be found on the Ouibus section of French railways' UK website.

Within France, coach services also exist at a

regional level;

most French cities have an "autogare" or a "gare routière" - a coach station - with regular services within the region, and sometimes further afield. Bus services most frequently cover routes for which there is no train service, and are sometimes run by or for the SNCF, the French railway operator. These services appear in the

railway

timetable, and cost the same as trains, but may be subsidesed.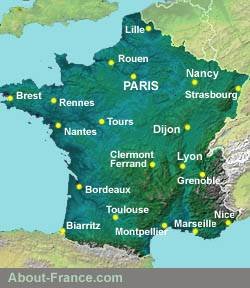 One region with good and extensive intercity coach services is the

Provence-Alpes-Côte-d'Azu

r (PACA) region, with routes linking Marseilles, Avignon, Grenoble, Nice, Briancon and other cities. Further information on services in this region is available on Info-LER website.


Urban bus services in French cities
In most, if not all, French cities, urban bus services are provided at a flat-rate charge for individual journeys. Just buy a ticket from the driver when you get in. It will not normally cost more than a Euro - maybe as little as 20 cents, it depends on the town - and will be valid for one journey or one hour's travel. Many cities have bus services that operate well out into the suburbs or even the country. For instance, in Nice, a city bus ticket will get you out to Villefranche sur Mer.
Many towns offer season tickets or passes on their bus services, though these are generally designed for residents, including students, are nominal, and require a photo.


Copyright notice: Website and text © About-France.com 2003 - 2017 except where otherwise indicated.

NEW !
Intercity Coach services in France.
for visitors from the UK check out the
Ouibus
website
Bookmark this page