About-France.com - the thematic guide to France
About-France.com is partnered with
Gitelink France
, a selective directory specialising in affordable gites, most of them directly bookable with English-speaking owners.
According to "Gites de France", formerly the biggest gite rental agency, in 2011 there were over 45,000 gites or holiday rental properties in France; but that was back in 2011. Today the number is over ten times that figure, meaning that finding the perfect holiday rental property in France has become that much easier or that much harder – depending on how you look at it.
It's easier for those whose main criterion is just
where
, specially if that means a specific village or small town; but it's much harder than it used to be for anyone looking for a rental property by general area and by quality. There are now so many properties available on the market that finding the right one can be an arduous task, especially for anyone going about it in the wrong way.
Essentially there are four different ways of finding a gite or rental property in France – or five if you include booking through a travel agency. The four main ways of finding a holiday cottage all involve the same starting point, namely an Internet search; but once the initial search has been launched, the results will fall into four different categories.
The

big online rental sites,

such as AirBnB, with hundreds of thousands of properties to choose from, varying from the luxurious to the abysmal. With so many properties, many unverified, there is a risk of ending up with something rather less attractive than expected, not to mention absentee owners and nobody around in the event of a problem.
The

Gites de France

website, with tens of thousands of properties. Gites de France check and rate all their properties, but rating remains largely amenity-based, and most owners, even if fhey live locally, do not speak English.
The

selective directories

such as Gitelink, with hundreds of selected properties. Gitelink lists mainly gites that have their own websites with lots of information about each property, and most property owners are either English speakers or else speak good English. For most of the properties listed on Gitelink, visitors deal directly with owners, avoiding hidden costs and fees.
Finding an owner's

personal website

directly. With search engine results pages now increasingly occupied by ads and results from the big booking sites, finding any individual owner's website directly through an Internet search is very hard, unless searching on the name of an already-known gite, or the name of a small village. It's easier to find owners' own websites directly by visiting Gitelink
Gite rental guide prices :
The price of gite accommodation varies enormously. There are a number of specialist gites and cottage websites, notably British and American sites, that specialise in luxury gites priced at well over the going market rate, sometimes over 2000 € a week.
Outside of these websites, generally speaking, in 2019, good quality gîte accommodation can be found for around or under 100 € a day (for a 2 to 3 bedroom gite) and the cheapest gites in less interesting locations for under 70 € a day for a two-bedroom property. Expect to pay a bit more if there is a heated swimming pool, or in highly demanded areas such as the French Riviera.
Most of the properties listed on our partner Gitelink France offer accommodation within these ranges, and for considerably less out of season.
In most cases gîtes tend to be rented out on a weekly basis, generally Saturday to Saturday. However this is changing, and more and more gites offer flexible booking periods (often with a two or three night minimum), especially out of season.
Gitelink France
, is an online directory of good quality but affordable gites, that includes many gites with English-speaking owners, both French and foreign, as well as websites in English. Links below will take you directly to the Gitelink directory pages for the different regions and areas of France. The directory can be searched by area (see area links below) or using
interactive gites maps of France
Normal procedures for hiring a gite in France
There are a number of accepted principles, when it comes to hiring a gite in France.
Deposit: Almost all gite owners require a deposit, normally a quarter to a third of the rental cost. This must be paid to secure any booking. This deposit is generally returnable, perhaps minus a service charge, in the event of cancellation, except for last-minute cancellations.

Full payment:

gite owners normally require payment in full either a month or so before the rental date, or on arrival.
Breakage and damage deposit ("la caution") . This is standard practice. Owners generally return this deposit or destroy the cheque after the visitor has left, and the property has been checked for damage or breakage that has not been reported. In most gites, "normal wear and tear" and the odd small breakage will not lead to a deduction from the deposit.

Bed linen:

the situation is very variable. Many gites include bed linen in the rental cost; but this is often not the case, notably with cheaper properties. In the past, most gites required visitors to bring their own sheets and pillowcases, and this is still the case, or an option, in a good many gites. Information on this is always provided by gite owners.
Cleaning: gites are private homes, not hotels, and in most cases visitors are expected to clean up before leaving. Some owners provide a cleaning option as an extra, for those who prefer to leave this to someone else. Most guests clean up properly - but those who leave a gite in a mess, and requiring extra cleaning over and above what is normally done before the next guests arrive, may find that a cleaning fee is deducted from their breakage deposit.
Text and photos Copyright © About-France.com 2010 - 2019
Book now: prices may go up later
Gites
- the French term for
holiday cottages to rent
- are an important part of the rural economy in France. Originally developed as cheap no-frills accommodation, the gite concept has since gone up market, to the point where gites come in all shapes and sizes, and in levels of quality from the cheap and cheerful to the luxurious. Generally offering good to excellent value for money compared to hotels, gites are today among the most popular types of accommodation for those wanting a break in the French countryside.
Places to stay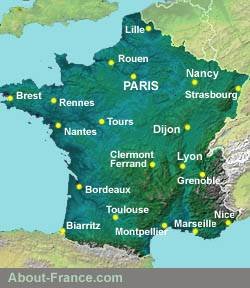 ►► Site guide
About-France.com home
Full site index
About-France.com site search
►► Principal chapters on About-France.com :
Guide to the regions of France

Beyond Paris, a guide to the French regions and their tourist attractions.
Guide to Paris
Make the most of your trip to Paris; Information on attractions,
Paris hotels
, transport, and lots more.
Accommodation in France
The different options, including
hotels
, holiday gites, b&b, hostels and more
Tourism in France
The main tourist attractions and places to visit in France - historic monuments, art galleries, seasides, and more
Planning a trip to France
Information on things to do before starting your trip to France.
Driving in France
Tips and useful information on driving in and through France - motorways, tolls, where to stay....
Maps of France
Cities, towns, departments, regions, climate, wine areas and other themes.
The French way of life
A mine of information about life and living in France, including working in France, living in France, food and eating, education, shopping.
A-Z dictionary of France
Encyclopedic dictionary of modern France - key figures, institutions, acronyms, culture, icons, etc.