PARIS ON A LIMITED BUDGET

- How to do more for less




►

See also: Paris for Free

PARIS, like any big city, can be an expensive place for visitors. The cost of living is higher in Paris than in other parts of France, and generally speaking the same is true of hotels and places to stay – though not necessarily for restuarants. Here are some tips and useful information to help you stretch your pounds, dollars or euros as far as they will go.....



Before booking your trip

to Paris, before booking a hotel, the first thing to do is to decide if you want to stay

in the city

(and as Paris is a living European city, there are plenty of residential quarters and plenty of hotels throughout Paris "intra-muros"), or in the suburbs. You may even decide that it is in your interest to stay well outside Paris, and come in on a fast train for the day.


Where to stay in Paris

Staying

in

central Paris:

Advantages

: access, time. If you are young and energetic, or even not-so-young and energetic, you can walk to and between a lot of the Paris tourist attractions. You'll save the cost of public transport, and the time and cost of commuting into the city. You'll also see a lot more of the city, as long as your eyes aren't glued to the sidewalk or pavement.




Disadvantages

: hotels near the tourist areas are generally quite expensive; cheaper hotels are often in less attractive areas of the city, far from the tourist sights and attractions, or else on the edge. And if you come to Paris by car, parking will be a major extra cost.
For some reasonably priced hotels (for their category), see the About-France.com selection of good value Paris hotels. You can also find some cheap independent central Paris hotels on the Small Paris hotels page of the iHi hotel guide.



Staying in the suburbs of Paris

:

Advantages

: hotels and hostels will on the whole be cheaper, and hotel rooms may be bigger. If you choose a hotel or hostel that is near a train station, access to central Paris can be relatively easy and quick. Check out hotels in the south east and south west suburbs. There are many suburban hotels belonging to the cheap budget chains such as Formule 1, or others, and these generally have parking space. Check out Paris hostels too.
Or check out this interactive outer Paris hotel map that only lists independent hotels with parking, often free, and within easy walk of a train or RER rapid transit station for central Paris.


Disadvantages

: check that the cheaper room cost is not offset by the extra travelling costs - though remember that it is advisable not to take your car into Paris. Also, if you stay outside Paris, you'll have less time to enjoy Paris by night.


How to travel round Paris -

2017

:
►

Don't

buy the

Paris Visite

bus and metro pass

online

in advance,

buy it when you arrive. Apart from the

official site

, other sites selling this pass charge inflated prices

and

high delivery costs.... up to 29.90 € for delivery to North America, and even more for "rest of the world". You can buy the pass at airports, main train stations, and all Paris urban transport stations.




What to see and do in Paris:


If your budget is limited, visit the Paris for Free page. Even the Louvre is free, if you know when to go or - in many cases - if you are under 26 !


General Budget Paris tips:
The dos and don'ts to make your dollars or euros or pounds go a bit further......
Do.....
Book your hotel in advance so you have time to get a good rate. It is possible to find a two-star hotel or a one-star hotel double room for under 80 €uros a night, and hostel accommodation even cheaper... though difficult at peak periods
Use ordinary public transport - and buy yourself or yourselves a "carnet" of T- tickets usable in Zone 1 (Paris city) wioth no time limit. You can share a carnet of ten T-tickets between up to ten people, as they are not nominal. A carnet of 10 tickets costs 14.50 € in Jan 2017. Single T tickets cost 1.90 €
Visit the great free attractions of Paris - Notre Dame cathedral, Montmartre, the banks of the Seine, wander along the Champs Elysées and more. There are also

free museums

, including the Petit Palais just off the Champs elysées, with its Monets and impressionists and more. Many major museums are free on the first Sunday of each month. See the Paris tourist attractions page..
Eat your main meal at midday - when many restaurants offer a full meal for less than 15 €uros; Chinese and Vietnamese restaurants are particularly good value. Take something simpler in the evening.
Pay by credit card or in cash that you get from an ATM (check your own bank's charges for foreign transactions)
Check out the list of free concerts in parks and churches, specially in summer.

View Paris from on high

by touring round the "metro aérien", the elevated metro (particularly lines 2 and 6) which circles round inner Paris, above the boulevards, at second story level. A normal ticket is all that is needed.

Drink at the bar

. Many Parisian cafés charge less for customers who stand at the bar than for those who get served at a table.
Use the Velib bike hire system - but take care. Use it correctly, and it will just cost 1 € a day.
Don't....
Don't take a coffee

or a beer at a pavement café on the Champs Elysées, or any other tourist trap.

Don't take breakfast

in your hotel, unless they are charging less than 8 €uros. go to the nearest café; most cafés offer a light breakfast.
Don't eat in glitzy boulevard restaurants in the evening;
Don't use taxis for short trips
Don't try to exchange

foreign cash or travellers cheques

- not even in banks. But if you have to, avoid changing small sums, as the commission is often a flat rate.
Don't go to the top of the Eiffel tower: the views are already pretty spectacular from the second level (see Eiffel tower ticket prices)

Don't try to find a hotel

when you arrive. Book one in advance.
Don't use the Velib bike hire system unless you realise how it works.

Click here for Paris tourist attractions guide

: Eiffel tower, Notre Dame, the Louvre, Montmartre, Moulin Rouge, and much more

Copyright © About-France.com 2003 - 2017
Advertisements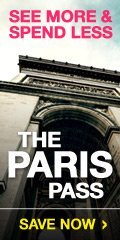 PRICES DOWN !



Plus get extra discount just for
About-France.com readers.
SAVE on Paris Passes
Click from this box and use code
ABOUTFRA at checkout