Explore France ►
Essential pages
Travel in France
Where to go
What to see and do
About-France.com
- the connoisseur's guide to France
Long-range weather outlook for Spring 2023 in France:
Easter
in 2023 is on 9th April. Long-range weather forecasts available in January suggest that temperatures in France will be slightly above average throughout March, just below average at the start of April, and then two or three degrees above average in the middle of April, with plenty of spring sunshine..
Just a short spring trip?
If you want to see the main sights in just a few days, a visitor pass is
vital
unless you want to waste hours standing in queues to get into the main sights.
BEST BUY -

and

get 5% OFF with About-France.com.

Use the code "

aboutfrance

" to get an exclusive 5% discount on t
he skip-the-line
Paris City pass
, which is already the best value of the full Paris visitor passes. The pass includes about 60 museums and monuments, free public transport (metro, buses), a Seine cruise, discounts in shops and on other attractions, and more. Buy online for delivery anywhere in the world.
Check it out now
► Staying in Paris
Check out the
Paris Hotel Guide
page.
► Planning your trip to Paris
Check out the About-France.com "
Week in Paris
" page: a sample six-day programme that will help you get the most of your week in the French capital.
PARIS
in the
SPRING
The great thing about Paris in the Spring is that Spring comes early to Paris! Around Easter time, while the buds are still struggling to open in much of rural France, even in areas far to the south of Paris, the green is bursting open all over Paris, in the parks, on the tree-lined boulevards, on balconies and terraces. So it's hardly surprising that "Paris in the spring" is something of a cliché. After the cold months of winter, the Easter holiday period is a great time to visit the French capital.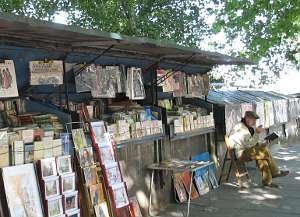 Traditional book and print seller beside the Seine
Good Friday - the Friday before Easter - is not a public holiday in France, so it's a day for business as usual in shops, museums and restaurants – though perhaps a bit less busy than on a normal Friday, since many Parisians take a long weekend and head off to the country for this first holiday weekend of the year. The official holiday is on Easter Monday which, in France as throughout Europe, is a public holiday.
Easter week is not necessarily a school holiday week; French
spring school holidays
do not necessarily include the Easter week or Easter weekend, it depends on the region and on when Easter falls. Easter Monday being a public holiday, many shops and public monuments such as Museums will be closed; but the Louvre is open on Easter Monday, as on Easter Sunday - though beware of the crowds on these days. Check here for other
Paris tourist attractions
.
EASTER TRADITIONS IN FRANCE
As throughout Europe, Easter in France rhymes with Easter Eggs. But Easter Eggs in France are just one among many other options as far as Easter gifts are concerned. The essential common ingredient, however, is chocolate. While supermarkets of course sell industrially produced Easter eggs and other tokens, many French people will prefer to get their Easter Eggs, chocolate Easter Bunnies, Easter Hens, Easter Bells or "friture" from a local bakery, patisserie, or - for the top quality - a local "chocolatier". And generally speaking it's worth the little (or sometimes considerable) extra cost.
Local bakers, patissiers and chocolatiers pride themselves on making good-quality Easter chocolates, often individually decorated and presented with loving care. Eggs, bunnies and other chocolate animals come either "garnis" or "non-garnis" , meaning filled or unfilled. Filled versions usually contain small chocolates, or small sugary eggs - and often a mixture of the two.
"Friture", that other Easter tradition, are little chocolate fish - which historically have more to do with April Fool's Day than Easter (An April Fool joke in France is called "un poisson d'avril", an April fish); but the two events being almost simultaneous, the distinction has been forgotten.
Easter is traditionally a family celebration in France, and an excuse for a good family Sunday lunch, for which the traditional meat is roast lamb. For children, a traditional Easter pastime is hunting in the garden (or even in the apartment) for hidden chocolate eggs that according to tradition have been brought back overnight from Rome by the "Easter bells"; church bells in France traditionally remain silent from Maundy Thursday until Easter Sunday.
►

More useful pages
Arriving at a Paris airport
How to get into central Paris by train or bus
Paris travel tips
Travelling round Paris? Here are a few tips about getting the best deals with public transport.
Selected hotels in Paris
From budget hotels to luxury hotels, a selection handpicked by About-France.com. Discover our choice of small of hotels, well reviewed by guests, and conveniently located close to main Paris tourist areas.
Central Paris metro map
Christmas and Christmas markets in Paris