About-France.com
- the connoisseur's guide to France
There's a massive amount of advertising on the Internet to encourage anyone interested in visiting Paris to buy a tourist pass. For some visitors, a pass will definitely be worth having; but for others a pass is quite unnecessary. Check out the pros and the cons with this clear guide.
Visitor passes are not essential, but they
are

very valuable
You will want a pass if....
You value your limited time in Paris, and don't want to waste too much time standing in queues. With a Paris tourist pass in your pocket, you can "skip the lines", i.e. avoid most of the queues that form outside the entrance to all the main monuments and museums... and that can mean litterally saving several hours of queueing if you visit Paris during a popular period. If you value your time, you'll value a pass.
There are several different Paris visitor passes available.
To find the one that's best for your needs
►
: Jump straight to the
Pass Comparer
Visitors who take a full pass including travel can also just walk on to buses and metros, saving even more time.
You will not need a pass if...
You have all the time in the world while visiting Paris. If you're not pressed for time while in Paris, or don't want to visit a lot of monuments, attractions and museums in a short space of time, there's no point in buying a pass unless you still want to avoid queuing for tickets at the main museums or monuments.
If you plan to visit just a couple of attractions or museums in a day, or want to spend a whole day in the Louvre or taking a trip out to Versailles, for example, it will be a lot cheaper to buy tickets individually. You can buy print@home e-tickets on the official sites for the
Louvre
or the
Musée d'Orsay
: to visit Versailles, you can buy a
half-day coach tour
from Paris City Vision, or make your own way to Versailles by RER train.
Ticket queues and security queues
Even if you have a pass, you may need to queue to get past security... or just to show the pass. But you won't need to waste time standing in a line to buy a ticket for each visit you make . If you have a combined transport and attractions pass, you won't have the hassle of needing to buy a ticket each time you take public transport.
Compare the main different Paris Passes: 2019
Compare Paris passes for content and sample prices
What is included..
Paris Pass
Biggest choice
Paris City Pass
Best value
Paris Pass'lib
Paris Visite
Transport only
Zones 1 - 3
Paris Museum Pass
Website
The Paris Pass
Paris City Pass
Paris Pass'Lib
Paris transport
Museum Pass
Metro, buses
Yes
Yes
Yes*
Yes
No
Main museums and attractions
Yes
Yes
Yes
No
Yes
Eiffel Tower
No
No
No
No
No
Seine river cruise
Yes
Yes
Yes
No
No
Hop-on hop-off tour bus
Yes
No
Yes
No
No
Monet museum
No
No
No
No
No
Prices - 2 Days
Adult : 139 €
Youth : 84 €
Child : 46 €
Adult : 99.90 €
Youth : 39.90 €
Child : 19.90 €
Adult : 109 €
Youth : 65 €
Child : 35 €
Adult : 21,50 €
Child : 10,80 €
Adult : 48 €
Under-18 : Free
Prices - 3 Days
Adult : 174 €
Youth : 104 €
Child : 53 €
Adult : 119.90 €
Youth : 49.90 €
Child : 29.90 €
Adult : 129 €
Youth : 65 €
Child : 39 €
3 days:
Adult 26.65 €
Child 13.30 €
(4 days)
Adult : 62 €
Under-18 : Free
Also available
4 days
6 days
4 days
5 days
6 days
5 days
5 days
4 days
6 days
Info and buy
The Paris Pass

Buy online in advance

Paris City Pass



5% s

pecial discount when you book from About-France.com. Code

Aboutfrance



Paris Pass'Lib
Paris transport
Buy in advance or at any metro station
(included in Paris Pass and City Pass)
Museum Pass
Buy in advance or at the first museum you visit, or at Paris visitor centres
Note
: Most passes are offered for periods of 2 days, 3 days, 4 days, sometimes 5 days, and 6 days. The Paris Pass'lib is also available for just one day, this "mini" version just includes the hop-on tour bus and a Seine river cruise; but at 40 € for one adult, it is 20% more expensive than the Combo
bus tour + Seine cruise
offered by Paris City Vision
IMPORTANT: Eiffel Tower :
None
of the Paris passes include the
Eiffel Tower.
(One pass offers a second floor Eiffel Tower ticket for 20 € extra... But a second floor ticket is only 11 € on the official Eiffel Tower site !) Tower access must always be purchased separately, or as part of certain specific tours . Buy your
Paris City Pass
or your
The Paris Pass
online, then buy Eiffel tower ticket online from the official site. See
Eiffel Tower
information.
The passes in more detail....
The Paris Pass and the Paris City Pass


These both include Skip the line at Museums and other attractions, Seine cruise, and public transport



The main

difference

between these two passes - apart from the price - is that the Paris Pass includes a hop-on hop-off bus tour bus, the Paris City Pass does not. Both passes include normal Paris public transport.
Buy your pass in advance, and avoid the queues to get in.
It is pretty well impossible to visit everything covered by these two inclusive passes, even with a five or six day pass, as the list of attractions covered includes several that are well outside Paris. And the passes do not include cafés and restuarants where you will want to stop off and relax

Paris Pass'Lib .

This is a composite product sold by the Paris Tourist office. It includes the Paris Visite pass and a Paris Museum Pass, and a hop-on hop-off bus tour and a Seine River cruise too. For information, the adult two days Paris Passlib pas cost 109 € in 2019.... so quite a bit more than the Paris City Pass.

Paris visite:

[Public transport only ]

Visitors who plan to use lots of public transport in Paris but don't want to visit lots of museums and sites may find that the best or cheapest solution is to take a visitor's pass, "Paris Visite", though this is

not necessarily the case

(see below). The Paris Visite passes are available on a 1, 2, 3 or 5 day basis, and cover all types of official public transport in the central area or central area and suburbs, depending on the option chosen.


DO NOT

BUY A PARIS VISITE PUBLIC TRANSPORT PASS if you have bought, or plan to buy, a Paris Pass for visiting attractions and museums. Public transport is already included in the Paris Passes. See above
Paris Visite - gives unlimited use of the metro / RER / bus network for a given numer of days.

Prices

start at €13.20 for a one day adult pass covering zones 1 to 3 or 21.50 €uros for 2 days (As of

Jan 2019)

. Full details in English, plus downloadable Paris Metro and public transport maps from the official Paris visitor website. However, it's worth noting that a two-day Paris visite pass is only worth it if you plan to do a lot of trips on the metro or buses in a day. Buying a pack of ten individual journey tickets (valid until they are used) from the machine at any metro station will cost you € 14.90, whereas buying a two-day Paris visite card will cost you €21.50 (see below)



Take care...

Where to buy Paris visite pass ?
The simplest is to buy it

when you reach France

, from any Paris area train / metro station, airport, information point or tourist office. Buy it at the ticket office, not from a ticket machine (unless renewing). If you want to buy it on line in advance, only do so here (official site): you'll get the tickets at the official price, but you will pay extra (at least 9 Euros) to have them mailed to you.

DO NOT

purchase in advance from other online websites that sell these tickets well above the real cost, and charge excessively for delivery too. You could end up paying double the cost......

Paris Museum pass

[Museums only ]


- giving unlimited admission to some 60 monuments / museums in and around Paris, excluding the Eiffel Tower.

Prices

start at 48 €uros for two days or 62€ for four days. This pass - best purchased

on the day at the first museum

you visit - does not include any transport, so things like Seine river cruises, metro tickets and sightseeing tours must be purchased separately. See below. The Paris Museum Pass is included in the Paris Pass (see above).

Choose tickets à la carte :


Just buy tickets for what you have time to see. Check out sightseeing bus tickets and river-bus tickets below; check out prices for individual monuments on their websites, which are listed at the foot of our Paris tourist attractions page.
Other passes:
The Paris Explorer Pass This a different sort of pass. Users choose 3, 5 or 7 of the 19 attractions on offer, to be visited within a period of 30 days. However unlike other passes, this pass does not include main museums, and several of the 19 attractions are not among the most visited in Paris. Prices start at 79 € for three attractions, which certainly provides a discount on the combined prices of three main attractions, but is not particularly interesting if you include one or more of the cheaper attractions on the list of 19.
One advantage of the Paris Explorer pass is that it

can

include the second floor (not the top) of the Eiffel Tower. However, be warned; the date and time of the Eiffel tower visit has to be booked in advance, and the claimed 45€ value of the tour to the second flooor of the Eiffel Tower can be misleading. The actual cost of access to the second floor of the Eiffel tower is not 45€ but just 16.30 € if you take the elevator (lift), and just 10.20 € if you walk up (see Eiffel Tower )
The Paris Explorer pass will be of most interest to visitors spending a longer time in Paris, who do not want to have to visit all the monuments in the space of less than a week; but attractions to be visited should be chosen carefully, otherwise the pass could cost more than the sum of individual entrance tickets.
Hop-on hop-off sightseeing bus pass The Open-Tour /Cityrama service, has a choice of hop-on hop-off passes from 33 € for a one-day pass, and covers four different routes (plus optional Batobus service on the Seine). Alternatively Big Bus Tours (formerly les Cars Rouges) run open-top guided tour buses linking nine major sites; a two-day pass costs 39€ if paid on the bus. B

The "Batobus" and travel on the Seine.

The Batobus are river buses that go up and down the Seine from the Eiffel tower to the quai de Montebello (near Notre Dame). There are 8 stops in all. An adult day pass in 2019 costs 17 €, and a 2-day pass (consecutive days) costs 19 € per adult.
PASSES are often the easiest
solution, but not necessarily the cheapest way to visit Paris ...
►
Choosing which pass is best for you, or whether you actually need a pass at all, will depend untimately on what sights you want to see, what you want to do in Paris, and how long you are staying. Paris has litterally hundreds of different tourist sights (see
Paris tourist attractions
), including museums, monuments, views, places to walk, tours, concert halls, cabarets, restaurants and cafés. No-one has time to see everything. In fact, most tourists, in the space of a short trip to Paris, can do no more than scratch the surface.
So before choosing a pass, or no pass, ask yourself the following questions.
2019
The
About-France.com
guide
Your guide to France - its life, its attractions, and how best to enjoy them
About-France.com helps you make the most out of your trip to Paris and France in general.
With over 300 pages packed with information, practical tips, and insider knowledge, About-France.com helps you discover where to go in France, when to go, and how to get there. Discover our
Paris
pages, our
regional
guides,
city
guides and
themed tourism
guides, covering such topics as coasts and castles, villages and wildlife, scenic railways and prehistoric sites, and much more too.
The best value Paris pass
is now

even better value

with the About-France.com special discount ...
Even before the About-France.com discount, The
Paris City pass
is the cheapest of the full Paris visitor passes - up to 24% cheaper than other passes for adults, and up to 50% cheaper for children. Prices start at just 19,90 Euros for a two day pass for children and 99.90 Euros for a two day adult pass
Exceptional....
Get 5% off all passes by booking direct from About-France.com (click here) and use the discount code "
aboutfrance
"
In an emergency in Paris:
---
24 hr chemist / pharmacies

:

a) 84, av des Champs-Elysées 75008, tel

0145 62 02 41

b) 6, place Clichy 75009, tel

0148 74 65 18

.

English-speaking pharmacies:

British Pharmacy

62, Avenue des Champs-Elysées

75008 Paris

0143 59 22 52

British-American pharmacy,

1 rue Auber, 75009

0142 65 88 29

English-language crisis line;

SOS-Help

Daily 3 pm - 11pm

01 46 21 46 46



Ambulance:


Call/phone: 15



Hospitals:




Hertford British Hospital: 3, rue Barbès, 92300 Levallois-Perret

Tel

0146 39 22 22

American Hospital of Paris

63, Bd Victor Hugo

92200 Neuilly-sur-Seine

0146 41 25 25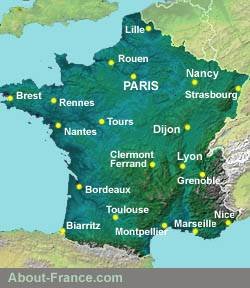 Going to London as well ?
Compare London tourist passes
too !

Text and photos © copyright About-France.com 2004 - 2019