Explore France ►
Essential pages
Travel in France
Where to go
What to see and do
About-France.com
- a connoisseur's guide to France
Perfumes of France.....
A short introduction to French perfumes and the history of the French perfume industry - from its roots in the Provencal city of Grasse, to today's great internationally famous perfume houses in Paris
When it comes to the art of perfumes, no country ranks more highly than France. Many of the greatest names in the perfume industry, Chanel, Christian Dior or Estée Lauder are French, and in terms of international perfume sales, France is leader, with 30% of the world market. LVMH, one of France's flagship companies, is the greatest luxury-goods company in the world, and French perfumes and cosmetics are among its most important brands.
It was not always so.
The history of perfume
It was at the time of the Renaissance that perfumes became particularly popular in Europe, and it is Catherine de Medicis, wife of King Henri II, who is credited with having introduced a fashion for perfumes into France. Originally, before the age of running water, perfume and the sweet scent of flowers were principally used to hide the odours of unwashed bodies.
Today, while the big names of the perfume industry are based in Paris, and "perfumes from Paris" are particularly appreciated, the real heart of the French perfume industry is actually the small town of Grasse, in the Alpes Maritimes department, northwest of Nice (Photo) . Some 20 km from the coast and at an altitude of 350 metres, Grasse enjoys a mild Mediterranean climate that is particularly suited to horticulture, notably the production of jasmine, one of the most important natural aromas used by the perfume industry. But Grasse is also famous for its production of many other natural fragrances, including lavender, myrtle, roses and mimosa.
Visitors to Grasse have plenty of opportunity to discover the history and scope of the French perfume industry , as the town is home to the International Perfume Museum, and to the Fragonard perfume museum. Several perfume houses offer free guided tours.
The perfume industry in Grasse involves some sixty different companies, and employs almost 3,500 people; and even though Grasse has had to move with the times and now produces synthetic as well as natural fragrances, it is the natural fragrances for which it remains justly famous. The great art of perfumery is extracting the fragrances of flowers and concentrating them in forms from which they can be transformed into the perfumes that are eventually sold in little bottles at very high prices. The historic methods of extracting fragrances from flowers are either by maceration (soaking the flowers in a liquid that will absorb their fragrances) or by distillation. The resulting concentrates are known as "essential oils", and it is from these that perfumes are blended and made.
A lavender field in Provence.
In recent years, particularly at the cheaper end of the scale, the natural fragrances extracted from flowers and other plants have been largely replaced by chemically produced scents, which can be mass-produced anywhere in the world. But in the production of top-of-the-range high quality perfumes, made from natural extracts of plants, nothing can replace the acquired skills of France's master perfume producers. There is something in the secrets and techniques that are passed down from generation to generation under the Mediterranean sun in the area of Grasse, that just cannot be replicated of copied. In spite of the lucrative nature of the French perfume industry, other countries have so far found it impossible to challenge France's reputation as purveyor of fine perfumes to the world.
Going further: Websites for some of the major names in French perfumery.
The top French perfume houses

and their main brands: many of the main multinational brands are now linked to fashion houses
Caron 100-year-old high quality Paris perfume house
Chanel Makers of fine French perfume, most famously

Chanel N°5

Coty

Originally French, now American company; brands include Beyoncé Parfums, Pierre Cardin

Annick Goutal

Paris perfume house founded in 1981, now owned by Taittinger champagnes

Loreal

Includes the brands Cacharel, Lancôme Ralph Lauren, Yves Saint Laurent
Check out the Lancôme UK or Lancôme USA online stores

LVMH

includes Dior Perfumes Givenchy, Kenzo, (France's oldest perfume manufacturer)
Orlane Independent fragrance and beauty-products company, based in Paris.
Fragrance producers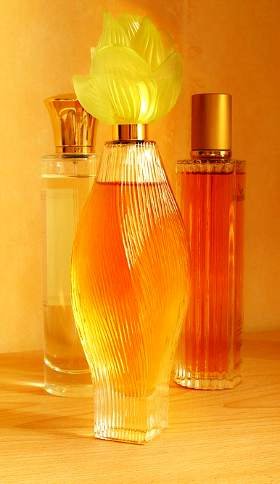 Advertisement
L'Occitane en Provence
-
Skincare - cosmetics - home products
Available worldwide - Select your website:
L'Occitane UK - prices in pounds

L'Occitane USA - Prices in dollars
L'Occitane Canada - Prices in CAD
L'Occitane en Provence, based in Manosque near Grasse, is France's leading retailer of plant-based body care and home products. Using essential oils distilled in the age-old tradition, l'Occitane produces a wide range of products not tested on animals.
Perfume museum in Grasse
All photos copyright About-France.com unless otherwise stated
Photo of perfume bottles by Passagere and
Grasse perfume museum from CMS Archiv