Explore France ►
Essential pages
Travel in France
Where to go
What to see and do
About-France.com
- the connoisseur's guide to France
Costs and procedures
Buying property in France - and selling it - can be a fairly simple process, but it can also be a nightmare for anyone who tries to do so without first having studied the procedures and the costs involved. Essentially there are two ways to buy property – one involves using the service of an estate agent, the other involves doing without.

Working with estate agencies / agences immobilières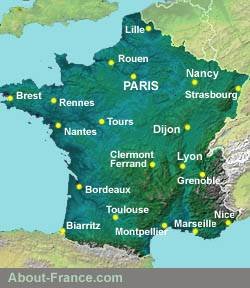 The most common way to buy or sell property in France is by using the services of an Estate Agency, or, as they are known in France, an
Agence Immobilière
. Estate agencies can be found in all French towns and cities, and - in particularly popular tourist regions - even in villages.
There are
three types of agency
, and it is best to know which type of agency you are dealing with, before starting to look for a house to buy, or sell your existing property.
Agencies targeting an international market:
these will frequently advertise properties in French and in English; they tend to be concentrated in big cities like Paris or Bordeaux, and very popular tourist areas, and to specialise in properties at the top end of the market. For this reason, they are useful for people looking for luxury accommodation, large houses in the country, or old buildings that have plenty of scope for development. However, the commissions they charge tend to be high, and they may also try to keep prices high - which may be good for the seller, but not so good for the buyer.
National chains:
these are agencies such as Century 21 which are present all over France; their advantage is that they have a national network, do plenty of advertising, and for this reason may get results where other agencies do not. They tend to charge commissions at the higher end of the scale.
Local independent agencies:
they will probably have good knowledge of their region, know how to advertise locally, and often charge lower agency fees.
Internet:
there are a number of sites to help people find a buyer or seller for a gite or operational b&b in France: most of them are agencies, in one of the three categories above. Some, such as the Gitelink
Gites for sale in France
page are just bulletin boards where sellers can advertise directly.
Estate agency fees (frais d'agence).
The level of fees or commission charged by estate agencies in France is not fixed; it can vary between 4% of the value of the sale, and 11% - which is a pretty large variation.
Note that the
agency fees are paid by the seller,
and must be included - by law - in the sale price that is proposed or agreed. In actual fact, the buyer often has to pay the agency, but when this happens, the value of the agency fees
must
be subtracted from the agreed sale price. This is a subtle way of reducing the sale price, and consequently reducing the fees and taxes that are a percentage of the sale price.
Other costs & lawyer's fees (frais de notaire) :
All real estate or property transactions in France must be drawn up by a "
notaire
" (a solicitor); whether an estate agent is involved or not, the contract of sale has to be overseen by a notaire, and generally the actual signing of the sale takes place in the notaire's office (
Etude notarial)
. Notaire's fees amount to about 6.5% (if buyer and seller have different notaires, this sum is split between them), and include all taxes and fees for registering the change of ownership. These fees are paid by the
buyer
, and are
in addition to
the actual purchase price that has been agreed.
Capital gains tax (impôt sur les plus-values) must be paid by the seller if a property is sold at a profit in less than 15 years. But if a property is registered as a principal residence (i.e. the seller's domicile, and place where he/she is fiscally resident), then capital gains tax does not apply.
The agreed price.
Buyer and seller must agree to a price for the intended transaction, at which point a "
Compromis de vente
" is drawn up and signed by both parties. This is generally drawn up by the agency or by the seller's "notaire", though it is perfectly legal for a seller to produce his own "compromis de vente", and there are models available on Internet. However, since this is a legally binding document, indicating the price of sale, and will probably involve large sums of money, it is very advisable to use a notaire or an agency for this purpose.
It should be noted that the price indicated in the compromis de vente will not include the agency fees; so if you have agreed to buy a property for 150,000 Euros, you should not be surprised to see that the price indicated in the compromis is put down at, say, 139,000 Euros. Somewhere else on the form it will be indicated that 11,000 Euros are due to the agency, over and above this sum (see above).
Yet the buyer in this case may even find that the price indicated on the document is not even 139,000 €, but just 121,000 Euros, particularly if the house is sold with a certain amount of furniture included. Sellers often like to consider a few thousand euros of the sale as being for furniture, rather than for the house; this can be to everyone's advantage, as the lower basic cost means less taxes on the transaction, and for the seller (if selling the property at a profit) the possibility of less capital gains tax.
Once a compromis de vente has been signed, there is no going back (without a hefty penalty). In other words, from the moment a sale is pre-agreed, gazumping is not possible in France. The notaire (or, if buyer and seller have different notaires, the seller's notaire) then draws up the contract of sale, and goes through the necessary formalities involved. Generally, a couple of months will elapse between the signing of the compromis, and the day on which the sale actually goes through.
Doing without an estate agent
It is quite possible to buy and sell without using an estate agent, and plenty of property sales in France are concluded in this manner. Particularly in rural regions, many "
Notaires
" do the job of estate agents, though they cannot charge a commission in the way that estate agents do. They do however charge an additional "emolument" for services rendered ( particularly if they take prospective customers to visit a property), though this is unlikely to amount to anything like the commission charged by an agency.
Alternatively, it is quite possible for a private individual to organise the sale of his own property, by advertising in the local press, on Internet and by any other suitable means. Websites and small ads media, such as Paru-Vendu and de Particulier à Particulier (PaP), have large sections devoted to property sales; but whatever method the seller uses to find a buyer, the actual transaction
has to be drawn up by a notaire
.
Some tips:
Buyers
: unless you have just won the national lottery or money is no object for you, check out the online property sites such as PaP, or check out local notaires and local small ads newspapers first; then check out local estate agencies, or local branches of national chains. If you use the services of estate agents targeting an international clientèle, be wary of the prices. It is quite common to find the same property being offered by different agencies, at slightly different prices.
Click here for useful information on
Selling houses and property in France